This week's big news is all about pre-orders. I don't know if they felt some pressure from Disney Infinity or if they just decided to change things up, but even more preorders are now available for Trap Team:
We also received some more concrete news this week about the Micro Comic Fun Packs. With this news we got our first look at a Legendary Trap (which will naturally be exclusive to Toys R Us). There is certainly a lot to look forward to in Trap Team.
———
Oftentimes if you have a question about something, you're probably not the only one.
Here at SCL I get dozens of emails each week with questions from readers like you. Even though only a few dozen take the time to write in, I am guessing that many more of you have the same questions.
So here in the SCL Q&A I hope to answer some of these questions in a more public forum so that all of you may benefit. I hope to make this a weekly post, but that all depends on you. Please keep sending me any Skylanders questions you may have. I will still reply to all of your emails, but I will also post some of the answers here.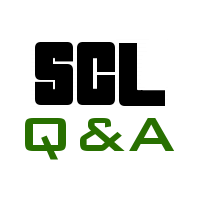 Will you be making a Day 1 shopping list like you did for SWAP Force?
Yes.
I am gathering as much information as possible right now, but in the next week or two you can expect to see a Day 1 Trap Team Shopping List.
I will make sure it's out at least a week before launch day so you will still have plenty of time to plan your shopping.
Do you need a Trap Master from each element to access all areas?
Yes.
It was confirmed by Lou Studdert (Trap Team Production Team) that there are Traptanium Elemental Gates. So you will need Trap Masters of all the elements to access all the areas in the game.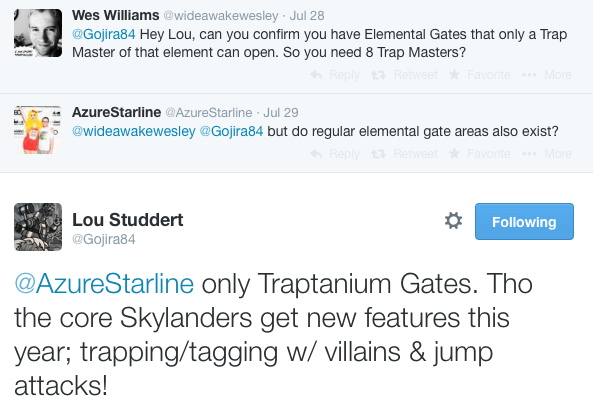 What makes Trap Masters so special?
I know a lot of people have been wondering why Trap Masters have the higher price point. The simple answer is that they are this year's "gimmick" Skylanders. First it was the Giants and then the Swappers. This year it's the Trap Masters.
Additionally though here's a few more reasons:
As mentioned in the question above, Trap Masters will be needed to open Elemental Gates.
In addition to the gates, there are other Traptanium shards hidden throughout the levels. Only Trap Masters can break these shards. Breaking these shards will either grant access to new areas or uncover some collectible item.
Trap Masters do more damage when fighting trappable Villains. This means that it will be to your advantage to have a Trap Master on the Portal when you encounter the escaped Villains. While it is still possible to trap these Villains with Core Skylanders, Trap Master will simplify the job.
I thought Krypt King and Wallop were in Wave 1, why aren't they in the pre-order list?
Both Krypt King and Wallop still appear to be in Wave 1. In fact, they are listed on Amazon.com, but they just don't have a pre-order option right now. I'm not sure why that is…
As an alternative you can currently pre-order Nitro Krypt King from Target.com, but there is not alternative for Wallop at the moment.