For months now people have been debating whether or not SuperChargers figures will come with the standard Card and Sticker that we've all become so accustomed to.
After E3 when we got our hands on the first packaged figures, they were opened up and only a sticker was found. While this didn't convince everyone that the cards were gone, it certainly didn't bode well.
On another note though, the back of the Sticker included with the E3 Hot Streak contained some mysterious information.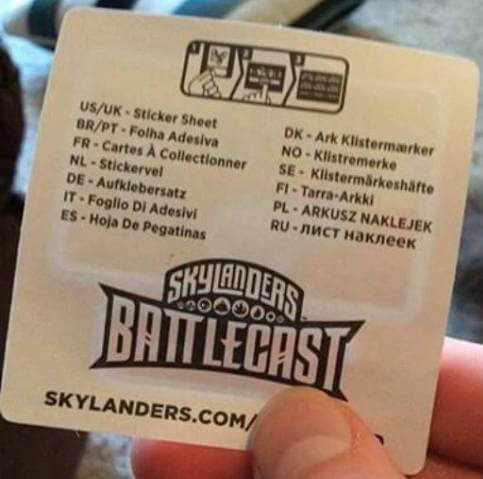 As of today, we now know what the mysterious Battlecast is…
Skylanders Battlecast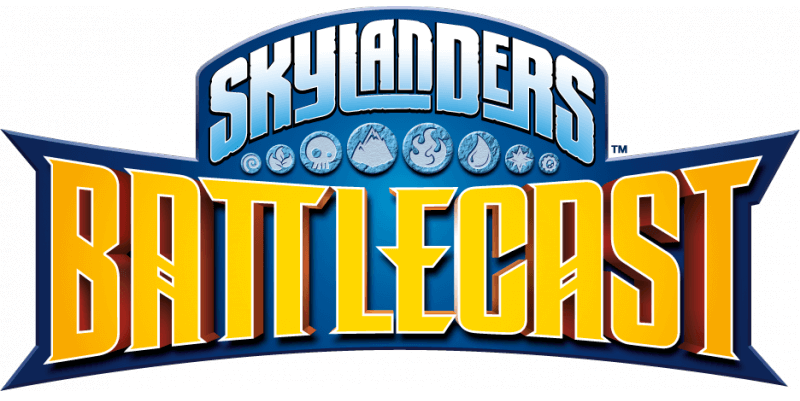 What is it?
Skylanders Battlecast brings cards to life in a new free-to-play mobile adventure, set within the Skylanders universe. The game offers everything from collectibility to strategic card combat, online PvP and an exciting single-player campaign, appealing to both Skylanders fans and classic card battle enthusiasts. Skylanders Battlecast lets players create a team of their favorite heroes and build the ultimate deck for battle. Fans can master strategic card combinations to become a champion of Skylands.
From what I've seen and heard the basic single-player campaign sounds like Skylanders Battlegrounds that was released back in the Giants era.
No real confirmation or good video of actual gameplay so far, but I imagine it will be something similar.
Do the cards come with the figures?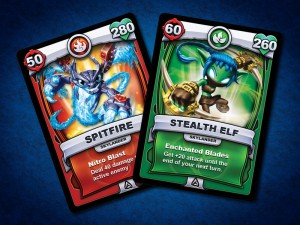 No.
These cards (and the Battlecast game) are completely separate from Skylanders SuperChargers.
For Skylanders Battlecast, players can purchase physical card packs at retail, as well as digital card packs in-game. Players will experience a magic moment by scanning cards with their mobile devices and watching them come to life.
I'm thinking that they may be excluding cards from the character packs this year so that they are not confused with the Battlecast cards.
You mentioned PvP?
Not a lot of details on this yet…
What's more, when two Battle Cards are scanned side-by-side, players will also be able to engage in duels and interact with the characters through augmented reality.
Augmented Reality has been around for a while, but not a lot of companies have found great use for it.
I guess we'll just have to wait and see what Activision can do.
When will Battlecast be available?
We have some waiting to do for the full release, but we could get a sneak peek in about a month.
While Skylanders BattleCast won't arrive until 2016, we're giving fans a sneak peek with the launch of a preview app on September 20, available via the App Store, Google Play, and Amazon Appstore.
Official Battlecast Trailer