GameStop is at it again. On December 5th they will be hosting another Skylanders Day.
Whether or not you normally shop at GameStop, you should definitely consider it on the 5th because they are having some spectacular deals.
Starter Packs
To start off, all Skylanders SuperChargers Starter Packs (excluding the Dark Editions) are 50% off. This basically matches the prices we've been seeing at other stores for Black Friday.
But just to sweeten the pot a little more, if you buy a SuperChargers Starter Pack you can also get another Starter Pack (excluding the Dark Editions) from Spyro's Adventure, Giants, SWAP Force, or Trap Team for FREE!
I know there are plenty of you out there who are just getting into Skylanders so this would be a great opportunity to try out one of the earlier titles.
But even if you have all the previous games you can still pick up your free copy and give it to a friend. If you get them hooked then you can play together.
Dark Editions
In any case, I mentioned that the Dark Editions are excluded from the sales above, but they do have a sale of their own.
You can save $40 on all SuperChargers Dark Edition Starter Packs. I think this is the best deal we've seen on these to date.
Vehicles
The vehicle sale is pretty straight forward, but it's definitely a good sale:
Buy 1, Get 1 Free
So you have to buy them in pairs to get the discount, but they're basically 50% off. Once again this is better than any deal we saw on Black Friday.
SuperChargers
The figures have the same sale as the vehicles:
Buy 1, Get 1 Free
However, there are two figures that you'll want to pay special attention to. I'm really hoping GameStop is doing this right and not just taunting us or they're gonna have a mob on their hands.

We already knew Missile-Tow Dive-Clops was coming to GameStop first, but according to this image it appears that they will be getting Nightfall as well.
With a Buy 1, Get 1 sale this is the perfect time to pick up these two new figures.
Other Deals
There are a number of other awesome deals like:
50% off the Sea Action Pack
$5 off the original Eon's Elite figures
You can take a closer look at those and more in the full ad here: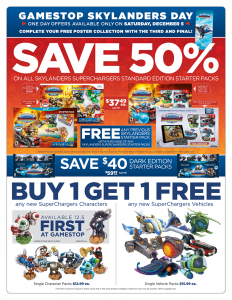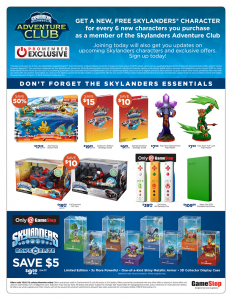 The important thing to keep in mind is that these are one day only sales. You must get there on December 5th.
Good Luck!