That's right, we have another Skylanders Day coming up this weekend at GameStop.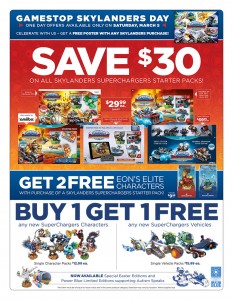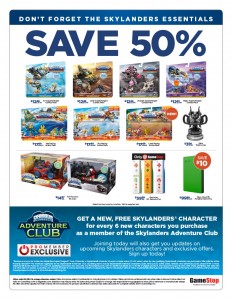 Once again they have some awesome sale prices, the only question is, how much stock will they have come Saturday? If you have the time, it might not hurt to stop by today and check out what they have in stock. With that being said though, some stores have been known to get last minute shipments in (the morning of the sale) so it can be hard to predict.
In any case, here are some of the sales you can look forward to:
Save $30 on all Skylanders SuperChargers Starter Packs and get 2 free Eon's Elite figures
Buy 1, Get 1 Free SuperChargers
Buy 1, Get 1 Free Vehicles
50% OFF Combo Packs
50% OFF Action Packs
50% OFF Kaos Trophy
A few notes:
1) I believe the two free Eon's Elite figures must be from the first generation (the figures released alongside Trap Team) however, this may vary by store.
2) I do not believe the Nintendo Combo Packs are included in the 50% off sale. There are four Combo Packs pictured and named in the ad so I believe these are the only packs being discounted.
You can click on the images above for a closer look at the full ad.
Enjoy!