Once again this year Black Friday will begin on Black Thursday. A day which was formerly known as Thanksgiving Day and was a time to be spent with family. But before I start ranting too much, let's move on to the deals.
One thing I am thankful for is that retailers have started to put out their Black Friday ads sooner so we can all plan ahead for one crazy day of shopping.
Below you will find all the Skylanders Black Friday deals that I know about. This article will be updated as necessary.
Store hours, prices, and availability may vary by location. Check with your local store and local ad for details.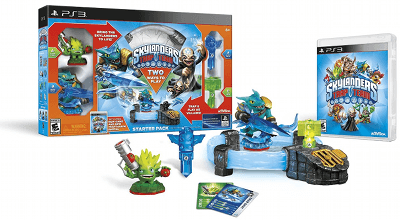 Best Buy (Click here for full Black Friday ad)
Walmart (Click here for full Black Friday ad)
Trap Team Starter Pack – $37
Trap Masters – $9
SWAP Force – $9
Giants – $9
Target (Click here for full Black Friday ad)
Trap Team Starter Pack – $39.99
Trap Masters – $10
Toys R Us (Click here for full Black Friday ad)
From 5PM – 9PM on November 27th
Trap Team Starter Pack – $37.50
Trap Team Figures – Buy 1, Get 1 70% off
Trap Team Traps – Buy 1, Get 1 70% off
From 5PM on November 27th – Close on November 29th
Spyro's Adventure Single Packs – 4 for $10
Giants Single Packs – Buy 1, Get 1 70% off
SWAP Force Single Packs – Buy 1, Get 1 70% off
Wii U SWAP Force Bundle – $199.99
From 7AM on November 28th – Close on November 29th
Trap Team Starter Pack – $49.99
Trap Team Figures – Buy 1, Get 1 40% off
Trap Team Traps – Buy 1, Get 1 40% off
GameStop – (Click here for full Black Friday ad)
Nightmare Express Adventure Pack – $19.99
Trap Team Official Strategy Guide – $9.99
Sam's Club (Click here for full Black Friday ad)
Trap Team Starter Pack – $37.88
Shopko (Click here for full Black Friday ad)
Trap Team Starter Pack – $49.99
Meijer (Click for full Black Friday ad)
Trap Team Starter Pack – $49.99
Skylanders Figures – Buy 1, Get 1 50% off