There are a lot of Skylanders news outlets out there. Sometimes it hard to keep track of them all. Right now though at least three of us are hosting Skylanders giveaways.
SCL Skylanders Giveaway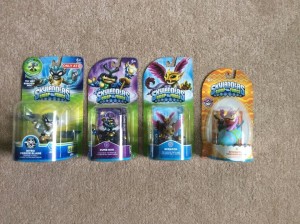 This giveaway will begin when we reach 1200 Facebook fans on SCL's Facebook page.
When this occurs more details will be reveal on the Facebook page. So all you need to do right now is like us on Facebook and tell all your friends about it. We're very close…
You can check out the original giveaway post here.
UPDATE: We've made it to 1200 fans! You can find out how to enter the giveaway here.
Skylanders Family Giveaway
Skylanders Family is also trying to grow their Facebook community. In their giveaway, you can win:
Fryno (Spring Edition)
Punk Shock (Spring Edition)
Springtime Trigger Happy (Spring Edition)
Scarlet Ninjini
Legendary Trigger Happy
You can read more and find out how to enter here.
Skylanders Twitter Giveaway
The Official Skylanders Twitter stream is also hosting major giveaway right now to celebrate the 25th Anniversary of Toys For Bob.
During this giveaway they will be selecting 5 winners each day for 5 days (25 winners). These lucky folks will each be able to win a RARE Skylander.
You enter and read the Official Rules here:
A lot of chances to pick up free Skylanders.
Good Luck!