With less than two weeks to go until the official launch of Skylanders Imaginators it's good to see that product is making it into the stores.
Toys R Us
The first reports I got came from Toys R Us.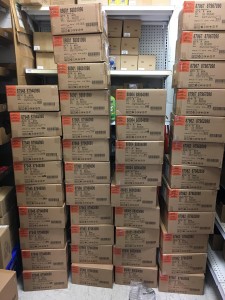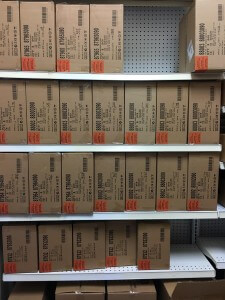 From these initial shipments we learned many things:
1) Wave 1 and Wave 2 will be available at Toys R Us on Day 1.
In these images we can clearly see figures from both Wave 1 and Wave 2. All the boxes are marked to go out on October 16th. TRU stores should have all these figures on Day 1.
2) Sensei figures come 6 per case. Adventure Packs come 6 per case. Creation Crystals come 12 per case. Mystery Chests come 24 per case.
Not a big deal for now and it's not all that surprising, but it's always nice to have the facts.
3) Each Sensei ships individually.
Now this is a bit odd. We've seen individual variants ship on their own before, but never the standard figures.
In the past these figures always showed up as part of an assortment. Not only did this make it harder to keep track of stock numbers, but it also made some figures harder to find than others.
Shipping these figures individually could potentially fix both of these problems.
4) Creation Crystals ship as an assortment.
This is the kind of shipments we've gotten used to over the years. So once again I would expect that we'll see some artificial rarity pop up because of these assortments.
With all that being said, here are some numbers to consider:
42 Wii U Starter Pack
24 Xbox 360 Starter Pack
36 Xbox One Starter Pack
12 PS3 Starter Pack
30 PS4 Starter Pack
12 Hood Sickle
18 Barbella
18 Wolfgang
24 Chopscotch
24 Starcast
24 Mysticat
24 Dr. Krankcase
24 Aurora
24 Ember
36 Tri-Tip
48 Tae Kwon Crow
48 Ambush
54 Legendary Tri-Tip
30 Gryphon Park Observatory
120 Mystery Chests
100-200 Creation Crystals
This was a larger TRU location so you may not see numbers like these in your store, but it certainly looks like we shouldn't have too much of a problem with stock.
However, I have to remind people every year that stock and availability of specific characters varies greatly by location.
Sometimes one figure sells better in an area so it's harder to find, but sometimes it's because stores receive different numbers of inventory.
What happens in California won't necessarily be what happens in Wisconsin or North Carolina.
In reality, they're changing up a lot this year. So it's possible that what happens at Toys R Us may not happen at Target or Best Buy or Amazon.
Target
Unfortunately, I don't have as much behind-the-scenes information about Target.
However, we do know that many Target stores have set up their Skylanders Imaginators displays and therefore the figures are out on the shelves already (even though you can't buy them).
One of the first to discover the new display at Target was my good friend Rob over at Coin-Op TV.
If you take a minute to analyze this video, you may notice that (not including Kaos) there are only Wave 1 figures on the shelf.
Even more interesting is the ratio of figures.
In the past we have typically seen the figures come in an assortment case of 12.
In this video we see 12 figures. This includes:
4 Tae Kwon Crow
2 Chopscotch
2 Wolfgang
2 Dr. Krankcase
1 Ambush
1 Barbella
I can't confirm anything at this point, but it's very possible that the other major retailers may only be getting Wave 1 on Day 1.
It is also possible that they may be receiving figures in assortments and not individually as we've seen at TRU. If this is the case, take note of the "rare" figures in Wave 1.