Today is officially the press day at Gamescom 2016 and that means the embargo has been lifted.
While some of this news leaked out earlier this week, we still have a lot to cover and a lot of new video footage to share.
A big thank you to Andy Robertson of Family Gamer TV for getting all this footage ready to go.
Sensei Kaos
We already learned a lot about Kaos from the images that leaked yesterday, but here's a few updates.
Kaos Pre-order
In North America, fans who pre-order and purchase the Skylanders Imaginators Starter Pack will receive a playable Kaos Sensei toy for free while supplies last between October 16 – 22, 2016.
This is poorly worded, but it simply means that you MUST pre-order a Starter Pack. Then you MUST pick it up (and pay for it) within the first week: October 16-22, 2016.
UPDATE: According to Activision PR:
1) The free Kaos figure with pre-order promotion will be available at all retailers.
2) You will be eligible for a free Kaos figure with the purchase of ANY Skylanders Imaginators Starter Pack. This includes the Crash Edition and the Dark Edition.
The key is, the offer is only good WHILE SUPPLIES LAST.
Why do we get to play as Kaos? Who is the bad guy?
Kaos is still our main villain in Skylanders Imaginators. Here's the full story:
With Kaos having discovered the power of Mind Magic to create Doomlanders, one of his first creations was none other than a clone of himself! Figuring that no one in the universe, including the Skylanders, could ever stand up to more than one Kaos, he unleashed his clone in his quest to take over Skylands. But to Kaos' surprise, the clone – also being Kaos – wanted victory for himself! As a result, he fights against his creator, in turn helping the Skylanders in their endeavor to defeat the real Kaos!
I know I heard a few people theorize this scenario, so congratulations to those of you who guessed correctly.
We also found out that Kaos' attacks will rotate through all 10 Battle Classes.
Villain Sensei Dr. Neo Cortex
We've also recently learned about Dr. Neo Cortex coming to Skylanders Imaginators, but now we have a lot more details.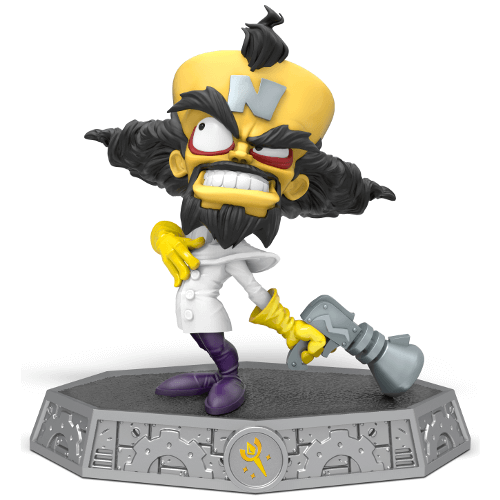 At launch Dr. Cortex will be available in the PS3 and PS4 Crash Edition Starter Packs.
He will be playable on all consoles.
Additionally, the Crash Edition will provide you with access to a brand new Thumping' Wumpa Islands (Crash Bandicoot themed) level.
The Thumpin' Wumpa Islands level will be available to players who purchase the Skylanders Imaginators Starter Pack featuring Crash Bandicoot for PlayStation consoles at launch.
Thumpin' Wumpa Islands Adventure Pack
Crash, Dr. Cortex, and the Thumpin' Wumpa Islands level will be available outside of the Crash Edition Starter Pack in time for the holiday season.
The level will also be available to all platforms via purchase of the Skylanders Imaginators Thumpin' Wumpa Islands Adventure Pack this holiday for the suggested retail price of $29.99. The Skylanders Imaginators Thumpin' Wumpa Islands Adventure pack also will include Crash Bandicoot and Dr. Neo Cortex as fully playable toys.
In fact, according to Erik Kain (a contributor to Forbes.com), the PlayStation exclusivity is only going to last 30 days…
The exclusivity of this content is short. Just 30 days. Then you'll be able to purchase the content in an adventure pack for Xbox systems and the Wii U.
How did Crash and Dr. Neo Cortex get to Skylands?
In the game, a "Synchronization Celebration" has aligned the world of Skylands with the Wumpa Islands. Upon arriving, Spyro and Mags discover that Dr. Neo Cortex (voiced by Lex Lang) has created a terrible machine to harness the rhythmic power of the island's celebration for his newest evil scheme! When the machine goes awry, something occurs that throws the whole party out of sync. Crash (voiced by Jess Harnell) must team up with the Skylanders and his old enemy Neo Cortex to restore the celebration before the Wumpa Islands are syncopated right out of existence!
As you should expect by now, they have a story for everything and most of the time it's pretty entertaining.
Imaginite Mystery Chests?
There is a bit of a mysterious line at the end of the press release that isn't fully explained.
Last but not least, Portal Masters will soon be able to collect Imaginite Mystery Chests. These chests will unlock new creation pieces, such as gear, weapons, and parts for players' Imaginator characters.
We have seen some leaked images of chests so I assume that this is what they're talking about.
However, I'm still unsure on exactly how they will function in the game.
Skylanders Imaginators Gameplay – Gamescom 2016
Skylanders Racing
All 12 of the tracks from Skylanders SuperChargers will be immediately available on the Skylanders Imaginators game disc.
You will be able to race with the vehicles you own or you can use virtual vehicles.
The racing mode will provide the only online functionality in Skylanders Imaginators.
Other News