Wave 3 has always been a little bit quirky.
Everything from the release date to its contents, we're never quite sure what's going to happen until it actually happens.
As we inch inevitably closer to the release of Wave 3, a few more concrete details are popping up, but we still have some questions.
Wave 3 Creation Crystals
The Wave 3 Creation Crystal assortment has already been spotted at some Toys R Us and Walmart locations.
Since the Crystals share the same UPC as the previous Waves, they are available for immediate sale.
Each case of Wave 3 Crystals should include:
2 Fire Acorn ***
1 Life Rocket ***
1 Light Fanged
1 Magic Pyramid
2 Tech Armor ***
2 Undead Fanged
1 Water Fanged ***
2 Water Rocket
*** First Appearance
So there are four brand new Crystals to collect while the rest are replenishment of Waves 1 and 2.
Enchanted Elven Forest Adventure Pack
The third and final Adventure Pack for Skylanders Imaginators is the Enchanted Elven Forest.
It contains:
While not for sale just yet, it has made it into the back room of multiple TRU locations. It is currently labeled to "Hold for 11/27 Ad".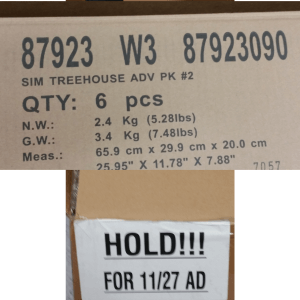 Possible Split Wave?
No word yet on the Wave 3 Single Pack Sensei figures.
They could just be on a separate shipment, but it is also possible that we will see a split wave as we've seen in past years.
This just means that we get the Adventure Pack and the Crystals now and the Sensei figures will show up in a few weeks.
Only time will tell at this point.
Variant Figures
I said it before and I'll say it again.
Variant figures do not belong to any particular Wave.
Occasionally they are released alongside a Wave, but they are completely independent. Just because a new variant figure is being released, that does not mean that a new Wave is coming.
With that being said. Legendary Pit Boss is now available in most Toys R Us locations.
Solar Flare Aurora will be at Target this weekend. Her DPCI number is 207-03-0275.
You can go to BrickSeek with this number to check if your store has them in stock. If you can't find her in store, give the DPCI to a Target employee and they should be able to help you.
Jingle Bell Chompy Mage is also expected this weekend at all major retailers.