A few weeks ago I had a few questions about the Micro Fun Packs. At that time we really didn't know much except for the fact that they were going to exist.
This week we finally have some more information.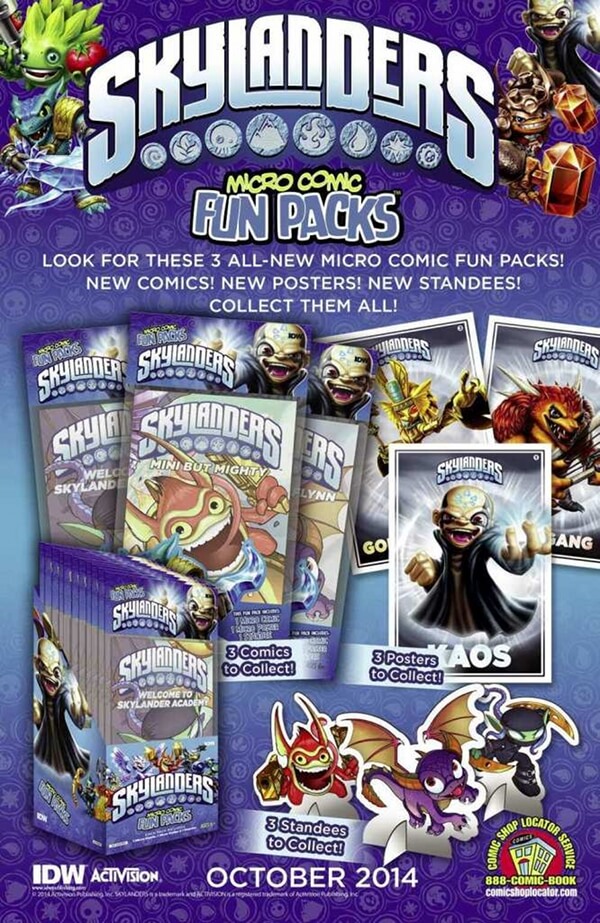 As you can see each Micro Comic Fun Pack will include a miniature (Micro) version of a comic book, a poster, and a standee.
The article first spotted on IGN states:
Skylanders Micro Comic Fun Pack – These three grab bag packs reprint one of the first three Skylanders issues in a smaller digest size along with extras like posters and cardboard standees. These packs will be sold at Gamestop with the launch of Trap Team and at comic shops starting on October 8th.
Still no mention of a price point, but I can't imagine they'll charge too much.
———
The really exciting news though is about an exclusive Legendary Micro Comic Fun Pack. As you may have guessed, this Legendary pack is only available from Toys R Us.
Skylanders Toys R Us Legendary Micro Comics Fun Packs – These packs include micro comics featuring new stories about Skylanders characters in their Legendary armor, as well as posters, standees, and exclusive Trap toys that won't be sold separately.
Exclusive Traps that won't be sold separately. This might be worth looking at.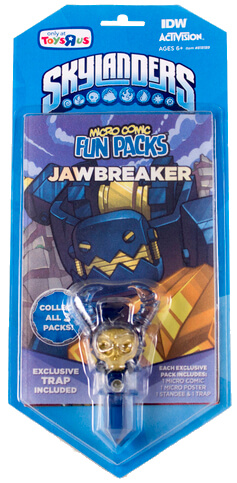 We've been wondering for a while now if there would be any more variant Traps and I think we have our answer.
You can clearly see that this is a Legendary Trap. Even though it is an Undead Trap, it seems to have the blue and gold Legendary color scheme.
This isn't the first variant Trap we've seen. The extra Trap included in the Dark Edition Starter Pack is actually a variant Trap known as the Ultimate Kaos Trap. We know the regular Kaos Trap will be sold separately, but the variant is only available in the Dark Starter Pack.
How many more variant Traps do you think we'll see?