So around this time of year it's common to hear a lot of, "What in the world is Activision doing?" and "Why are they waiting so long to release the last figures?".
Well, the simple answer is, because it's what they've always done. It's what they've done in the past and it has been quite a success for them.
Take a quick look at this timeline of past releases I've put together. (Click the image to enlarge.)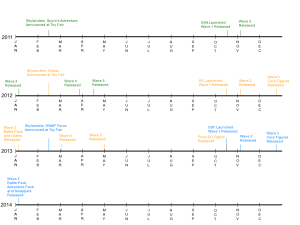 I think it's pretty easy to see (even from a distance) that there is a bit of a pattern here.
A new game has ALWAYS been announced at Toy Fair in February.
A new game has ALWAYS been released in mid-October.
Although Wave 2 has sometimes gotten an early release at stores like Toys R Us, it reaches all retailers by mid-November.
In both Giants and SWAP Force we saw a split release of Wave 3. (This did not happen for Spyro's Adventure because there were no "special" figures. All the figures were Core figures.) The Core figures were released just before Christmas and the remainder of the Wave just after Christmas. Wave 3 could be found at all retailers later in January.
Looking Ahead…
Now I can't guarantee anything, but I hope you can see that Activision does follow more of a "schedule" than you might think.
While I can't guarantee any of the following, this is what I'm looking forward to:
The new Skylanders game will be revealed at Toy Fair on February 16
Wave 4 will be released in March
Wave 5 will be released in May
The new Skylanders game will be released in mid-October
As soon as we have more information on any of this, you can be sure that you'll find it right here on SCL.
Stay tuned.