More and more it looks like the rumors of Skylanders 5 including vehicles is coming true.
Late Friday evening an Amazon listing was discovered for a new Skylanders game. This game bears the rumored title of Skylanders SuperChargers.

As far as I can tell, this looks to be a legitimate Amazon listing. The really interesting part is the first paragraph of the description that is included with this listing:
Starter Pack Includes: Video Game, New Portal of Power, 2 Skylanders SuperChargers – Spitfire and Super Shot Stealth Elf, 1 Skylanders Vehicle – Hot Steak, and Collection Poster featuring the complete set of Skylanders Superchargers and their vehicles.
What Does This Tell Us
1) New Portal of Power
As expected, the new Starter Pack will be a requirement as there is a new Portal of Power.
2) 2 Skylanders SuperChargers – Spitfire and Super Shot Stealth Elf
I could be wrong, but I have a feeling that this is just poorly worded. I think Spitfire is going to be a SuperCharger, but Super Shot Stealth Elf is a Core Skylander.
Honestly, I am quite surprised that they are bringing Stealth Elf back for another game.
3) 1 Skylanders Vehicle – Hot Steak
I have no idea what a vehicle named Hot Steak is going to look like, but I think that this is pretty solid proof that vehicles are coming to the Skylands.
What Else Does It Say?
The next bullet point in the description isn't quite as exciting. However, it does appear that Kaos is once again in the middle of the mess that the Skylanders need to clean up…
Skylands is in peril! Kaos has unleashed his most evil weapon yet – the Doomstation of Ultimate Doomstruction.
So who is in charge of stopping Kaos this time around? Well, the SuperChargers of course…
With all of Skylands on the verge of collapse, a special team called the SuperChargers has been assembled to pilot an unstoppable fleet of incredible vehicles.
As you might expect the SuperChargers get to have all the fun and will be able to pilot the main attraction, the vehicles.
Don't Give Up Just Yet!
While I wasn't super thrilled about vehicles, this last bullet point made me think again.
Now you and the SuperChargers must embark on epic adventures over land, under sea, and through the sky to stop Kaos and save Skylands!
Under Sea and Through the Sky?!?
This gives me great hope for the new game. I guess we'll just have to wait and see exactly how it's implemented, but involving more landscapes could allow for some great gameplay.
What's Missing?
This listing does not include a release date.
Also, Amazon currently has listings for: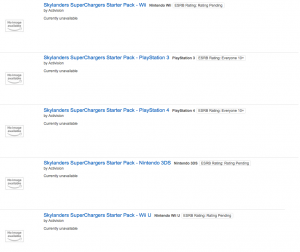 Not only am I surprised to see a listing for the Wii, but currently there's nothing for Xbox 360 or Xbox One.
I would imagine this is just an oversight that will be corrected in due time, but it stands out right now.
It's not a lot, but it'll do for now. We'll have images and more information next week.
Enjoy!