Amazon.com (as well as a few other retailers) have posted listings for SWAP Force Single and Triple Packs. We now know what to expect in stores on Day 1. This list does not take into account any store exclusives that will be available. This is a list of what you should be able to find at all stores during Wave 1.
SWAP Force Members
Free Ranger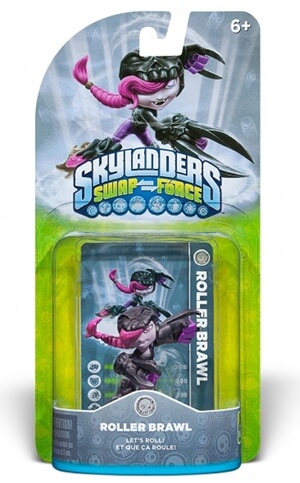 Hoot Loop
Magna Charge
Rattle Shake
New Characters
Countdown
Roller Brawl
Slobber Tooth
Zoo Lou
Returning Characters
Blizzard Chill (S2)
Lava Barf Eruptor (S3)
Mega Ram Spyro (S3)
Super Gulp Pop Fizz (S2)
LightCore Characters
Flashwing
Grim Creeper
Smolderdash
Star Strike
Warnado
Triple Packs
Triple Pack #1 – Lava Barf Eruptor, Slobber Tooth, Super Gulp Pop Fizz
Triple Pack #2 – Mega Ram Spyro, Blizzard Chill, Zoo Lou
Adventure Packs
Tower of Time – Pop Thorn, Battle Hammer, Sky Diamond
Battle Packs
Fiery Forge – Bumble Blast, Knockout Terrafin
I know this is list is significantly shorter than some people were predicting/hoping for, but I think it is plenty to keep us busy. Remember you can use all the characters you already own in SWAP Force as well. I would also guess that Wave 2 is not for behind.
These packs are not currently available for pre-order, but I will be sure to let you know if/when they are.