UPDATE: We now have some confirmation of what will be released in Wave 1. Check out this article for details.
It might be a little bit early for this yet, but I think it could be fun to see just how close I can get. Everybody wants to know, "Which characters will be released in Wave 1?"
Well, the truth is we might not know for sure until October 13th, but I think we can get pretty close.
Let's start with the obvious. We have the Starter Pack.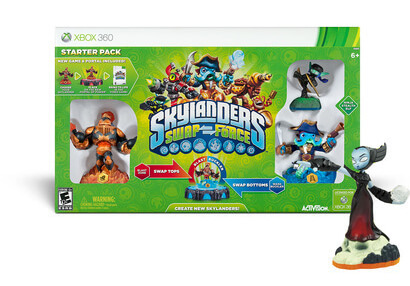 This will give us Wash Buckler, Blast Zone, and Ninja Stealth Elf. Although these figures may eventually make it into single packs, I do not think we will see them right away.
Then we have the 3DS Starter Pack.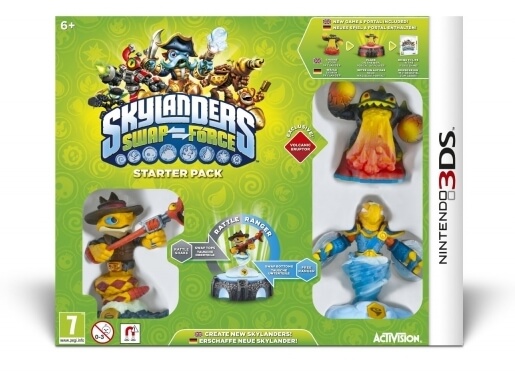 This will allow us to get our hands on two more SWAP Force characters, Free Ranger and Rattle Shake. This set will also provide easy access to your first variant, Volcanic Eruptor.
Then, to round out the Starter Packs you could also pick up the Dark Edition. This set will provide you with the same types of figures as the normal Starter Packs, but you won't actually get any base figures. The Dark Edition will allow you to pick up an amazing five variant figures at once.
The Dark Edition will include Dark Wash Buckler, Dark Blast Zone, Dark Stealth Elf, Dark Spyro, and Dark Slobber Tooth.
Next up we know about the Tower of Time Adventure Pack.
So we can add Pop Thorn to the list. I don't know for sure, but I'm going to guess that Pop Thorn will not be released in a single pack. I think it will be just like the SSA Adventure Packs that contained exclusive figures.
We also have the Fiery Forge Battle Pack confirmed.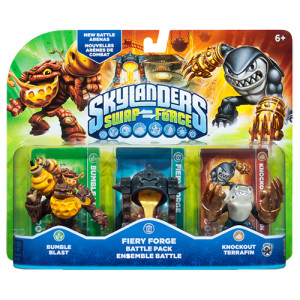 This means we can add Bumble Blast and Knockout Terrafin to our list. Here as well I'm going to follow the brief precedent they've set. I think Bumble Blast will eventually have a Single Pack (although not in Wave 1), but Knockout Terrafin will be exclusive to the Battle Pack.
Now that is the end of what we know at this time. However, based on other pictures, leaks, and tidbits I've heard so far I'll venture a few guesses.
I think Wave 1 will see four SWAP Force members in Single Packs:
Magna Charge
Stink Bomb
Hoot Loop
Doom Stone
These guesses are more hopeful than practical as this would give us one of each element in a SWAP Force member. This decision becomes even tougher if you try to figure in each of the eight movement types of the SWAP Force, but I'll stick with my guess for now.
I think we'll be able to find three new LightCore Skylanders right off the bat:
LightCore Smolderdash
LightCore Flashwing
LightCore Warnado
These are more educated guesses. Wave 1 of Skylanders Giants showed us three LightCore characters and I have already seen box art for these three figures.
This is where it get a little tougher. Just how big will Wave 1 be? Each year more and more figures are added so the size of each wave grows a little, but how much?
I'm gonna stick to the conservative side for now. If I recall correctly, I have seen box art for all of the following characters and I think eight sounds like a good number. To round out my predictions I give you:
Mega Ram Spyro
Super Gulp Pop Fizz
Blizzard Chill
Lava Barf Eruptor
Countdown
Roller Brawl
Slobber Tooth
Zoo Lou
Finally, I would imagine that we will see 3-4 Triple Packs at the launch. These could contain just about anything. If they contain any of the characters I listed above then I don't think we'd see that character in a single pack until a later wave. So basically, these Triple Packs could throw off my whole list.
Once again, I do not have any confirmation on the second half of this list. These are simply my predictions for Wave 1 of SWAP Force.
What do you think? Do you agree? What would you change?
Comment below.