It's just three short days after the release of Skylanders SWAP Force and you may be headed back to the store.
According to the latest email from Toys R Us, Wave 2 will be hitting shelves October 16th.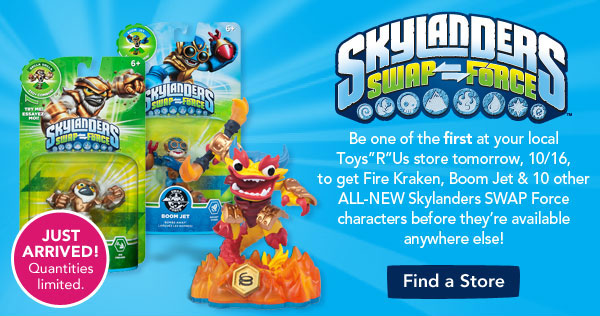 This announcement also states that Wave 2 can be found at Toys R Us before the other stores. All of this information reminds me a lot of the Giants release so I don't doubt it.
With that being said, there have been a few reports of Toys R Us putting this stock out early. So it might be worth it to stop by your local store today and take a peek.
Which characters are in Wave 2? Let's take a look…
SWAP Force
Boom Jet
Fire Kraken
Grilla Drilla
Night Shift
New Characters
Rip Tide
Scorp
Star Strike
Returning Characters
Anchors Away Gill Grunt
Big Bang Trigger Happy
Heavy Duty Sprocket
Knockout Terrafin
Twin Blade Chop Chop
So far there has been no sightings of more LightCore figures or Legendary figures.
UPDATE: Wave 2 expected at Target (and presumably other retailers as well) starting October 27th.