For some this may not be enough confirmation, but in the world of Skylanders, this is a pretty sure thing.
The box art for the Wave 3 SWAP Force figures have been discovered. I first saw them on this German Skylanders fan site.
Shortly after the release of SWAP Force, we already had a good idea of what to expect for Wave 3 when information was leaked on Amazon.fr. Now we have the Wave 3 Box Art which is usually a little more accurate. Surprisingly, there are a few small differences between these lists.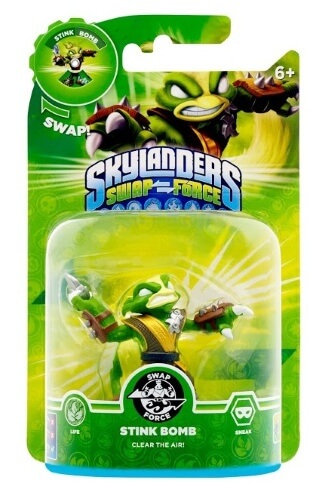 According to the box art we've seen, this is what Wave 3 should contain:
SWAP Force
Spy Rise
Stink Bomb
Rubble Rouser
New Characters
Dune Bug
Smolderdash
Returning Characters
Phantom Cynder
Hyper Beam Prism Break
Horn Blast Whirlwind
LightCore
Wham-Shell
Countdown
Triple Packs
Triple Pack #5 – Rip Tide, Whirlwind, Prism Break
Triple Pack #6 – Dune Bug, Cynder, Terrafin
Adventure/Battle Packs
Arkeyan Crossbow – Grim Creeper, Camo
Sheep Wreck Island – Wind Up
We still do not have an official release date, but I am still expecting Wave 3 to show up in mid-late December.