It's been a long time coming. Actually with only two weeks left before launch day, it seems a bit late, but we finally have information about the 3DS version of Trap Team.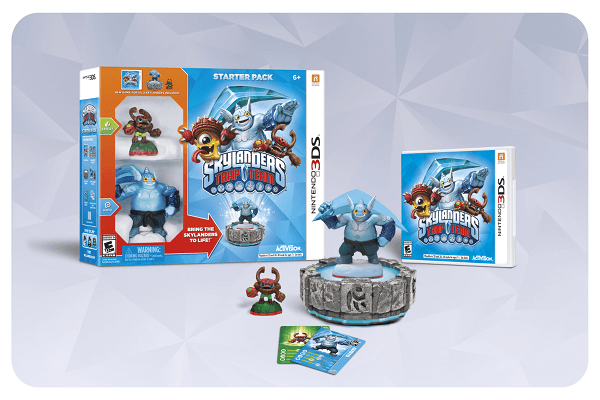 Above you can see the contents of the 3DS Starter Pack. Most of us have seen this picture before, but it has now been officially announced and therefore confirmed to be correct. This pack will include:
Since there are no Traps included in this pack (more on this later) it will sell for a reduced price of $64.99 at most retail locations.
Exclusive 3DS Villains
As usual, the 3DS version of the game will follow its own storyline and have its own Villains. In the case of Trap Team, there are 14 exclusive, trappable Villains. These Villains include:
Dream Sheep
An ill-tempered sheep and master of nightmares from the Realm of Dreams – who is on a quest to become ruler of Skylands!
 
Bobbin Rood
This frighteningly accurate Nightmare Elf can shoot the middle out of a gold piece and have it rain down change… which he then puts in his own pockets.
 
Runys Pointyboots
A fortune teller from the Nightmare Fair with a hidden flair for evil… and shoes.
 
Shelshock Sheldon
Sick and tired of turtles being pushed around, Sheldon started the Secret Turtle Liberation Front… of which he is still the only member.   
 
Baron von Smashbeak
This armor plated bird was an absolute nightmare growing up… much to the delight of his proud parents.
 
Spike McPokerton
A menacing invader of dreams that should be approached with extreme caution partly because he is dangerous, but mostly because he has never taken a bath.
 
Birdo Chesterfield
What this bird sorcerer lacks in size he more than makes up for with his extraordinary magical abilities… not to mention his remarkable fashion sense.
 
Marf Gargaroots
Plagued all of his life by chronic foot odor, it's been said that when Marf invades peoples' dreams, they often wake with fright from the smell alone. 
 
Olaf Crushersson
Olaf has always been an avid bird watcher, and while it's true that he ate many of those birds, some say that this was a sign that he wasn't ALL bad.
 
Russel Purplestache
Originally a captain in the Nightmare Navy, this Nightmare Pirate left the service when he accidently cut the pants off of an admiral while trying to shake his hand.
 
Boris Blisterbottom
This Nightmare Chompy leaves a trail of fire wherever he goes… which excludes him from participating in his favorite pastime – snowball fights.
 
Grunkin Gobsprout
While this Nightmare Troll may not be physically imposing, his skill as a marksman is legendary – as is his appetite for waffles.
 
Bucktooth the Tiny
During his downtime from being a Nightmare Villain, Bucktooth is actually the lead singer for well-known band Purple Nightmare Funk Parade.
 
Big Bertha Bubblethorn
Not much is known about this Nightmare Chompy, especially since most everyone who comes in contact with her is mysteriously eaten.
Why are there no Traps?
The whole point of the 3DS system is that its small and easily portable. Last year with SWAP Force you were able to leave the Portal at home once you loaded all your Skylanders into the game (the same is true with Trap Team).
Now this year you won't have to worry about bringing a handful of Traps on the road either.
Skylanders Trap Team takes advantage of the interactive features of Nintendo 3DS in fun ways. For instance, after villains are defeated in combat, players can use the bottom Touch Screen to pull them out of the game and trap them in the Traptanium Vault. Then, once captured, players can use the Touch Screen and microphone to poke, tickle and spin villains to make them dizzy.

Throughout the game, Portal Masters can summon captured villains to unleash devastating attacks and fight side-by-side with their Skylander. They can also play as captured villains in 13 unique villain "bootcamps" created by the evil Dream Sheep, the master villain in the game.
These "bootcamps" sound much the the Villain Quests that will be available in the console version. In the console version these quests will upgrade the Villains abilities. I could see this being a similar feature for the 3DS version.
Original Skystones Returns
In the console version we've already been shown a new Skystones game called Skystones Smash.
However, in the 3DS version it appears that we may get a unique chance to play the original Skystones once again.
The Nintendo 3DS version of Skylanders Trap Team also introduces the ability to play Skylanders Skystones against their friends using Wi-Fi connectivity, marking the first time Portal Masters can play a multiplayer version of the fan-favorite card game.
The best part of this news is that we will be able to play Skystones against other humans!
———
That wraps up what we know about the 3DS version of Trap Team. Will you be pre-ordering?