It's the first day of Gamescom (huge trade show in Germany) and this is just the first Skylanders news we're getting. There will be more…
———
While you've already been able to explore the Skylands on mobile devices with games like Lost Islands, Cloud Patrol, and Battlegrounds, you've never seen a game quite like this.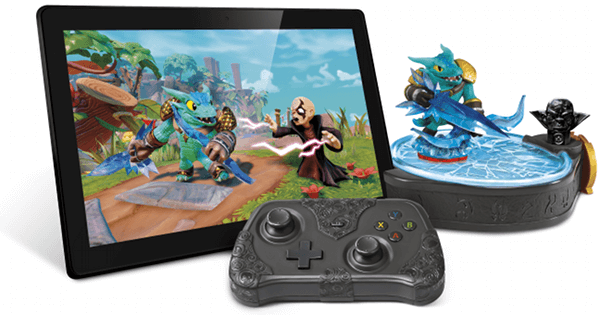 This year with Skylanders Trap Team you will be able to get the same full Skylanders game that is available for your home console on your tablet.
Tablet Starter Pack
The Tablet Starter Pack includes all the same goodies that you can find in the normal Starter Pack. The difference comes in the Portal and controller.
Yep. That's right, not only will you get a redesigned, bluetooth, Traptanium Portal, but you will also get a Bluetooth Controller. You can get the full Skylanders experience on the go and there are no messy cords to deal with.
The Portal has been redesigned with travel in mind. It is more compact and even has a slot to store the controller on the underside. It also has a small notch on the side in which you can rest your tablet. This way you can easily view the screen without having to hold the tablet yourself.
Compatibility
Skylanders Trap Team will be available for a number of Android and iOS devices. This includes:
Apple iPad 3rd Generation, iPad 4th Generation, iPad Mini Retina, iPad Air
Kindle Fire HDX (7" & 8.9")
Google Nexus 7 (2013)
Samsung Galaxy Tab Pro (8.4", 10.1", 12.2")
Samsung Galaxy Tab S (8.4", 10.5")
Samsung Galaxy Note 10.1 (2014), Galaxy Note Pro 12.2
Controls
While a brand new Bluetooth controller is included, it is not necessary to play.
At any time during gameplay you can switch over to on-screen touch controls. This will come in handy when your play space is limited.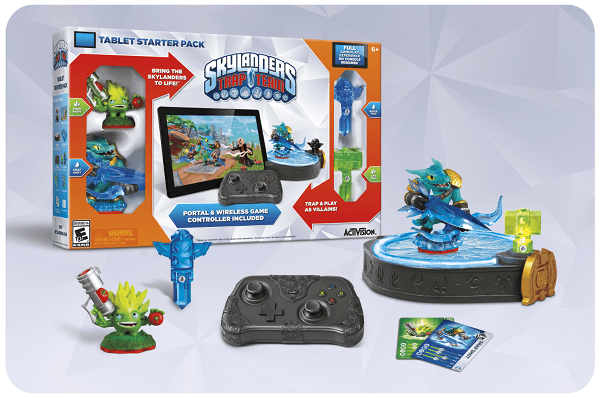 Digital Components
They can also play the full game on their tablets using touch controls and two digital Skylanders characters and two digital Traps.
The above statement, taken directly from the press release, makes this an even better solution for Skylanders action on the go.
They are allowing the use of two digital Skylanders and two digital Traps (I have to assume that these digital components correspond to the Starter Pack contents).
This is great news just in case you:
Don't have a lot of room to play
Forgot to bring your Portal
Didn't bring extra batteries for your Portal
What I'm saying is that as long as you can power up your tablet, you will be able to play.
Release
The Trap Team Tablet Starter Pack will release on the same day as the normal Starter Pack (October 5, 2014 in the US).
It will retail for the same price ($74.99) which is a great deal when you consider that they're giving you a Bluetooth controller in addition to the normal Starter Pack contents.
———
What do you think? Are you ready to play full-length games on your tablet?