It's not a rumor anymore, there is once again a Dark Starter Pack for Skylanders Trap Team.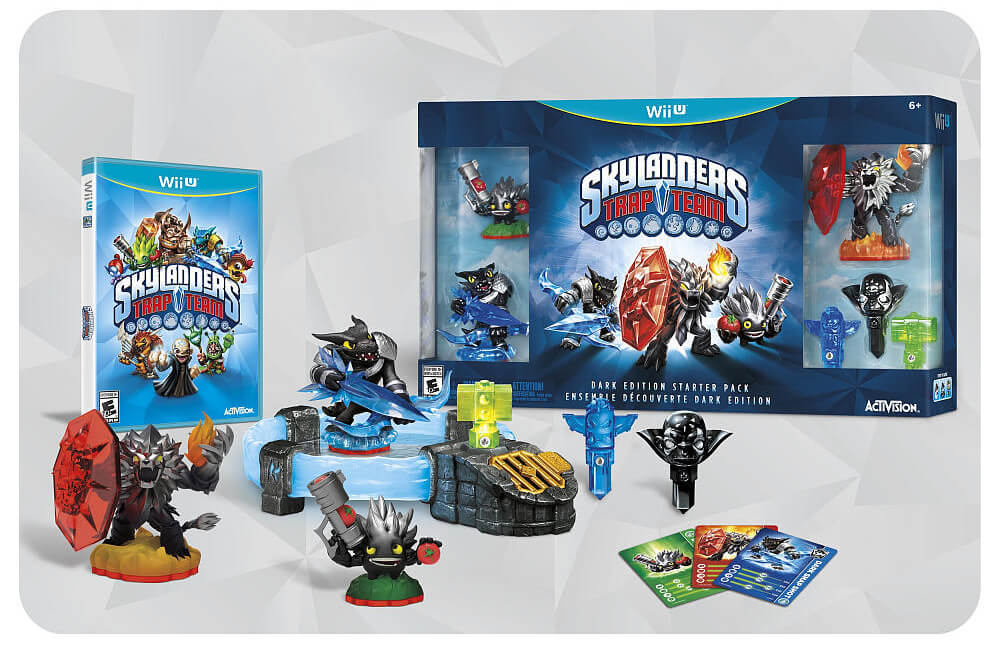 As you can see from the image above the Dark Starter Pack will include:
WHAT?!? The Kaos Trap! Yep. There it is.
Interesting Notes
This pack is currently up for pre-order on the Toys R Us website (for $99.99).
UPDATE: Now also available on Amazon.com.
Currently, it is only listed for the Wii U. (I hope this changes, but keep in mind that the figures will still be playable on all systems.)
UPDATE: The Dark Edition Starter Pack will be available for Wii, Wii U, PS3, PS4, Xbox 360, and Xbox One.
This pack gives us our first look at some In-Game Variants for Trap Team.
Finally, this pack includes the Kaos Trap. We were wondering how soon we would be able to get our hands on this Trap. Well, it looks like it will be available on Day 1, but I have a sneaking suspicion that you might have to buy the Dark Starter Pack to get it that soon.
I do not have details to confirm this yet, but it sounds like something Activision might do.
UPDATE: While the Dark Starter Pack is the only way to get the Ultimate Kaos Trap, the normal Kaos Trap will also be available in limited quantities at launch.
With that being said, here's a few more pictures.