Ding Dong the Wii is Dead
Whether you like to hear it or not, the Nintendo Wii is a dying console.
Did you know that for the remainder of 2014, there is just ONE game that will be released for the Nintendo Wii?
If you're reading this, I'm sure you already know what that one game is, but just to clarify, it is Skylanders Trap Team.
Nintendo Fail
Skylanders and Nintendo have always been very close. In fact, back before anyone knew what Skylanders was, Activision approached Nintendo and offered them exclusive rights to the franchise. But for some unknown reason, Nintendo declined.
Regardless of the lack of exclusivity, Nintendo and Skylanders still share the same target audience. Therefore Activision sees tremendous sales of the Nintendo Wii Skylanders Starter Pack.
Activision Shows Some Love
Because of the high sales volume in the past, Activision has decided to create one more game for the Nintendo Wii (unlike Disney Infinity who dropped support for the Wii this year).
Activision is aware that the Wii is dying, but instead of just completely dropping support they are trying to help their loyal customers make the transition to the next generation.
If you look closely at the Wii packaging for Skylanders Trap Team you might notice a bright green seal near the top. Let's take a closer look at the seal…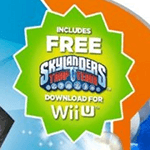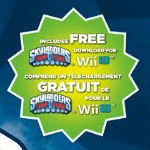 Can you make it out?
If you buy the Skylanders Trap Team Starter Pack (or the Dark Edition) for the Wii you will also receive a free download of the game for the Wii U.
I don't know about you, but I think this is a great way to show your fans that you're thinking of them. You may not be ready to upgrade right now, but when the time comes, your Skylanders will be waiting for you.