[box type="alert"]While the information in the article below is still true, an updated article has been written which fully explains the question marks. You can find the
updated article here
.[/box]
Activision has really decided to let loose at Gamescom this year. We've had more news every day and today's might just take the cake.
Today we got a really good look at the Trap Team character poster.
———
Air Skylanders and Villains

New addition here are Trap Master Thunderbolt, Fling Kong, and the official image of Blades who I believe is in one of the Adventure Packs.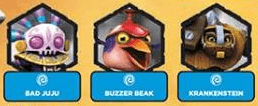 Earth Skylanders and Villains

You can get a better look at some of these guys here, but we already knew all their names. What's interesting to note though is that there is currently no reposed Earth Skylander.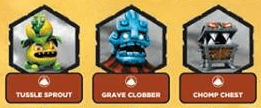 Fire Skylanders and Villains

The only newbie here is Trail Blazer and unfortunately, he has already been compared by many to the My Little Pony series. Not quite what I look for in a Skylander. We'll have to hope that his gameplay makes up for that.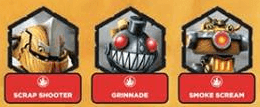 Life Skylanders and Villains

New Life Skylander is Trap Master Tuff Luck. As far as we can see this appears to be another female Trap Master.
The question mark for the Core Skylander is for the Frito-Lay figure. The winner of this contest has not yet been announced so they are not revealing official names yet, but that's the figure you can expect to see in that slot.

Magic Skylanders and Villains

A couple of cool guys here I think. Added to lineup we have Trap Master Enigma and Cobra Cadabra. I'm liking both of these so I hope their not duds.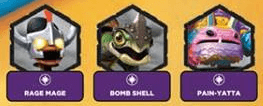 Tech Skylanders and Villains

From past leaks and reveals we already know about all of these Tech Skylanders. Like the Earth Skylanders though, it appears that we do not have a reposed Tech figure this year.

Undead Skylanders and Villains

Only new one here is Trap Master Short Cut who I'm looking forward to seeing some gameplay from. I think he could be a fun little guy to play.
You will also notice a question mark for the second Core Skylander here. This is another slot for one of the Frito-Lay contest figures.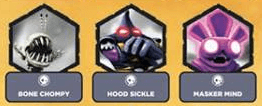 Water Skylanders and Villains

Only one new guy here as well. Echo is the first Core Water Skylander in Trap Team. The second (the question mark) is the final slot for the Frito-Lay contest figures.

Super Villains

While there are many, many trappable Villains, as you've seen in the pictures above, there are a select few that have been classified as Super Villains.
According to the poster it looks like there will be 10 Super Villains. This should include one Villain from each of the 8 Elements, Kaos, and then there's still one empty slot. I guess this is something to look forward to.
Blank Spaces
We've already looked at a few question marks on the poster, but here are a few more that bring up some questions.

These question marks are on the Skylanders half of the poster. The way they're split up it would seem to indicate two new elements. This is a very popular theory among the hardcore fans, but personally I have my doubts.
Adding two new elements right now would really throw a wrench in the works right now. There's enough to keep track of in this game with the Traps and Minis. I don't think they need to add in anything else.
On the other, it's not completely out of the question to add elements. It has been done before in series like Pokemon.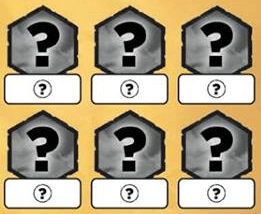 The question marks in the Villain section are a little easier to swallow. It seems that the largest groups have one Super Villain and 5 "common" Villains. Right now there are a few Elements that only have 3 "common" Villains. So these question marks could help to fill in those gaps.
I know the numbers don't quite work out evenly, but it will be close.
Final Analysis
While this is probably not the final poster that we will receive in the Starter Pack it appears as though not everything will be as clear cut as in the past. I've always like that figures came in multiples of eight. (I'm sure I won't be the only one twitching if this doesn't happen.)
I would also like to note that there seems to be an absence of LightCore figures on this poster. This is a change I can live with.