Although there are still many unanswered questions about Trap Team, there is perhaps just one that is preventing you from actually putting in your order.
Moving into the fourth year of Skylanders most of us have learned to wait and see which retail outlet can provide us with the most attractive pre-order bonus.
In the past, Toys R Us has often won out (if you have one in the area) given their close connection with the Skylanders franchise. So let's take a look and see what we know so far about the Trap Team pre-order bonuses.
Target
A few weeks ago pre-order cards started appearing in Target stores. They offered a $10 Gift Card (when you picked up your order).
If you think about it, that's not bad. For $10 you can get a new figure. You wouldn't say no to a free figure would you?
—
More recently though another pre-order offer has been spotted at Target.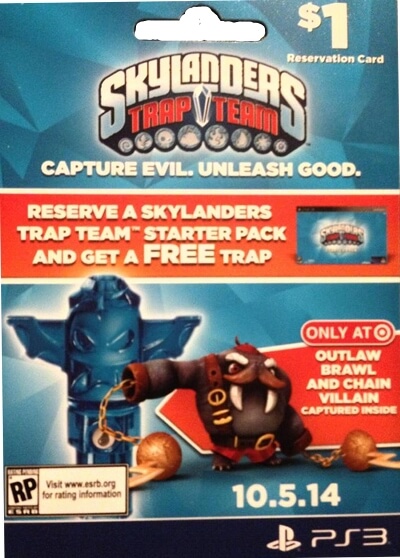 As you can see this card offer a free Villain. Brawl and Chain will come pre-loaded in a Trap. This means that you'll be able to play as a Villain from the very beginning if that's what you want to do.
NOTE: It is a little unclear as to whether you will receive an additional Trap (for a total of 3) or if Brawl and Chain will simply be loaded onto one of the two Traps included in the Starter Pack. The card states that you receive a Free Trap, but it's confusing because the Trap in the picture is a Trap that is already included with the Starter Pack.
Toys R Us
The only other offer we know about seems to be connected to Toys R Us.
If I understand this offer correctly, there are actually two parts.
First there is a contest/sweepstakes. According to the Official Rules no purchase is necessary to enter this portion. So in reality I wouldn't really call it a pre-order bonus, just another giveaway.
There are some decent prizes though, so it might be worth entering anyway.
The second part of the offer does relate directly to your purchase of Skylanders Trap Team from Toys R Us.
Inside the box there will be an insert with a barcode. The first 75,000 people to bring this barcode back to Toys R Us and get it scanned by an employee will win some undisclosed, random Skylanders toy or accessory.
Some people are guessing that this might be just be Toys R Us trying to get rid of their unsold Skylanders merchandise, but we don't really know at this point.
My Thoughts
Even if I had a Toys R Us in my area, I don't think this would be enough to entice me.
Target is looking pretty good with either the Gift Card (a.k.a. free figure) or the trapped Villain.
I have yet to hear anything from Walmart, Best Buy, GameStop, or Amazon. As soon as I do, I'll let you know.