This is the information that Skylanders distributors give to stores that sell Skylanders. While nothing is 100%, I think it gives us an idea of what we can expect to see in stores for Skylanders Trap Team.
| Item Name | MSRP |
| --- | --- |
| Traps (Single) | $5.99 |
| Traps (3-Pack) | $13.99 |
| Single Characters | $9.99 |
| Trap Masters | $14.99 |
| Triple Packs | $24.99 |
| Mini Character 2-Packs | $13.99 |
| Trap Level Pack | $24.99 |
A Variety of Trap Packs
After much debate, it seems that they have decided to offer Trap Triple Packs. This is very good news especially since these packs come with a small discount.
Now I'm just hoping that they're packaged well so that I can buy two 3-Packs and have one of each element (if you include the two Trap from the Starter Pack).
I think we'll just have to wait and see what kind of variety and choice we have in these packs, but I think it was a very good decision to make some sort of multi-pack.
Standard Packs
As you would expect, the Core Character Single Packs are still $9.99. The Trap Masters (or this year's gimmick figures) are still $14.99. Then we also still have the Triple Packs at their standard $24.99.
Nothing new here. No surprises which is probably a good thing.
Mini Character 2-Packs
While no one I've talked to has a definite answer as to what these are, I think we have a pretty good idea.
During E3 we saw an image that showed the Skylanders Sidekick Barkley in the 3DS Starter Pack. We have also seen Mini Jini incorporated into the Trap Team logo artwork.
Basically, Activision has been teasing us with Sidekicks for weeks now and it appears they may be playing a bigger role in Trap Team.
[box style="rounded" border="full"]
THEORY
In the Q&A section on the Official Skylanders website they have noted that we can expect 16 Trap Masters and 18 all new characters. I always thought 18 was a strange number because it isn't divisible by 8.

So far there have been 8 Sidekicks, but they only cover 6 Elements.
Air: —
Earth: Terrabite
Fire: —
Life: Whisper Elf, Barkley
Magic: Mini Jini
Tech: Trigger Snappy
Undead: Eye Small
Water: Gill Runt, Thumpling
What if these extra 2 "all new characters" are two new Sidekicks to cover all the Elements?
I don't know about you, but that makes me feel a lot better about that 18.[/box]
Trap Level Pack
Once again we're not 100% on this, but it seems fairly obvious. These are the Adventure Packs.
They add a Level to the game and they have the right price point. I welcome their return.
What's Missing?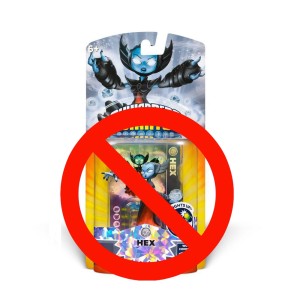 Have you noticed anything missing from the lineup?
I think there are two notable omissions:
LightCores
Battle Packs
Personally I would not lose a wink of sleep if both of these were tossed aside for Trap Team. I've never liked them and I don't think they sold particularly well as they are often clogging up the shelves.
I also think it makes sense to let some thing go because they need to make room for the Traps and Mini Character 2-Packs on the shelves.
Wrap-Up
Like I said at the beginning, there is a lot of conjecture going on here, but a lot of it lines up nicely with other things we've seen and heard.
I'm sure we'll hear some more about these additions and omissions in the coming weeks.
Stay tuned.