This weekend GameStop has decided to extend their typical Skylanders Day into a Skylanders Weekend.
As usual there are plenty of good deals to be had and even better, this time they can be had in store and online.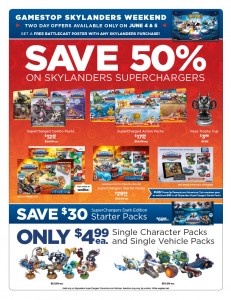 Just to highlight a few:
50% off SuperChargers Combo Packs
50% off SuperChargers Action Packs
All SuperChargers – $4.99
All Vehicles – $4.99
They are also handing out free Battlecast posters this weekend in store.
Finally, don't forget that GameStop is your location to pre-order the new Skylanders Imaginators Dark Edition. If you do that, you'll be able to pick up a free copy of the Book of Kaos.
All in all it should be a good weekend.
Enjoy!