I can't count the number of times I've been asked this so far.
Up until now it's been a complete mystery. We've had a lot of theories, but the answer may surprise you…
Birthday Bash Big Bubble Pop Fizz
Here's the official story on this mysterious variant.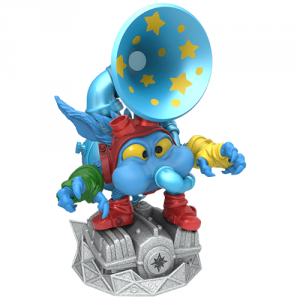 [box]It is customary tradition at the Skylanders Academy for all of the Skylanders to gather around and sing the birthday song to the guest of honor.
For fun, any Skylanders that arrives late must sing the birthday song solo in front of the entire Academy.
But rather than seeing this as an embarrassment, Pop Fizz continues to see this as an opportunity to show off his new Big Bubble party instruments, and so he arrives late every time![/box]
So remember to visit the Academy on your Birthday and Pop Fizz will be Happy to see you. (As soon as he gets there…)
Availability
Birthday Bash Big Bubble Pop Fizz was released first at Toys R Us last week.
He will soon be available from all major retailers.