A few weeks back we heard rumors of these Single Packs, but they're finally here.
Wind Up Single Pack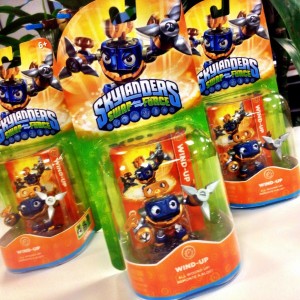 Last weekend (June 21st) was Skylanders Day at GameStop. As part of their event a Single Pack of Wind Up was made available.
Previously Wind Up was only available in the Sheep Wreck Island Adventure Pack. This is an atypical move from Activision as these "exclusive" figures were always a big selling point for the Adventure Packs.
The Wind Up Single Packs have only been sighted at GameStop. Although they do not sport a GameStop Exclusive label, I suspect that they will not be showing up at other stores.
Pop Thorn Single Pack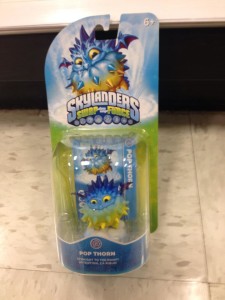 Once we saw the Wind Up Single Pack, it was only a matter of time before the Pop Thorn Single Pack surfaced.
That has happened this weekend. (Thanks to SCL Reader Mark P. for the pic.)
Pop Thorn can be found at your local Target. Although I have heard that the actual street date on this figure is July 1st (which makes sense because Target resets their video games on Tuesdays), some folks have found and were able to purchase this figure today.
Similar to Wind Up, Pop Thorn was previously only available in the Tower of Time Adventure Pack.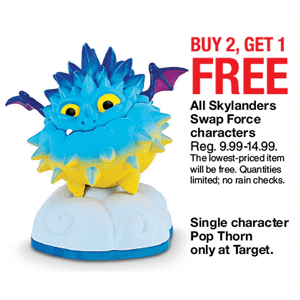 Finally, the wording in Target's weekly ad is a little questionable, but it seems to imply that the Pop Thorn Single Pack is a Target Exclusive, even if it isn't labelled as such.
(You might also notice that Target is having a Buy 2, Get 1 Free sale this week. This seems to be the only major Skylanders sale this week.)
Jade Fire Kraken
The seemingly unannounced store exclusives of Wind Up and Pop Thorn got me to thinking…
Has anyone found Jade Fire Kraken outside of Walmart?
I've talked with employees at GameStop and Target. Neither have any knowledge of Jade Fire Kraken and could not find any expected shipments that might contain him.
Is it possible that Activision granted exclusive rights to these last few figures?