A lot of information has been shared in the past few days regarding newly found and newly released SWAP Force variants. Some of this information has been confusing or even conflicting. So I would like to take a few minutes to clear up what I can.
Enchanted LightCore Star Strike
Enchanted Star Strike is now available in the United States. It is a Walmart Exclusive. There wasn't really an official release date. It just depends when your store received their shipment.
If you see a display similar to the picture below, it has (or had) some Enchanted Star Strikes in it. It might not be a bad idea to ask an employee to check the back room for more.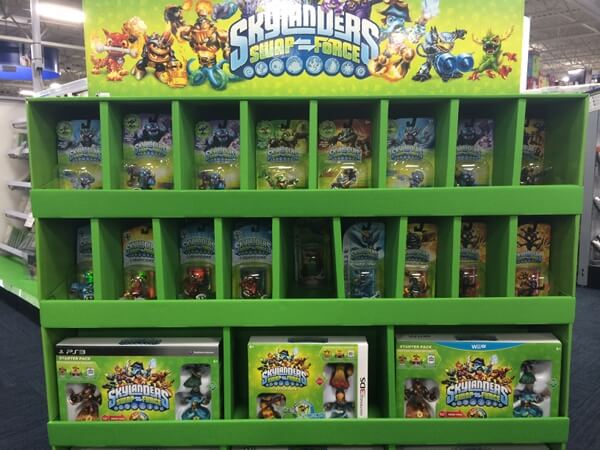 Springtime Trigger Happy
Once again it seems like Walmart has gotten an early pass on the Spring Editions (Easter packaging) which includes Springtime Trigger Happy (and Punk Shock).
These figures will eventually be available at other retailers, but I've found out Best Buy and Toys R Us have the figures street dated for April 6th.
If you can't wait, it seems like Walmart is your only chance right now.
Nitro Freeze Blade
Target's website stated that the release date was March 23rd. Upon entering Target on Sunday morning the vast majority of you found nothing on the shelves. If you asked an employee about 80% of you were rewarded with the Nitro Freeze Blade you were looking for.
The other 20% of you were told that he was not being released until Tuesday (March 25th). While this is unfortunate, I understand the reasoning. Tuesday has historically been "New Video Game Release Day" at all retailers. I know Skylanders don't usually follow that schedule, but I'm sure that's what the employees were thinking (or were told).
All I can say is check back on Tuesday.
Nitro Magna Charge (Single Pack)
Oddly, enough the Nitro Magna Charge Single Pack was also listed on Target's website with a March 23rd release date. To my knowledge though, no one was able to find him.
There must have been a change in plans here. You're not alone.
Bronze Trap – Silver Shadow
Finally, a new variant was discovered by one of our SCL readers in Germany this week. The first sighting was in an auction on ebay.de.
While the auction has since been taken down, I can assure you that this is a real variant. We have confirmation from Activision that this variant is real.
If you find this or any other new variants, please let me know about it here.