Now that SWAP Force has finally been released, variants have become a very big topic of conversation. So today I decided to write a simple post about what we do and don't know at this point.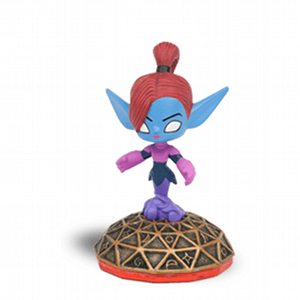 Skylanders Giants Sidekicks
No, these are not directly SWAP Force related, but I thought it would be good to note them here. The initial promotion ended October 20, 2013. At this time there has been no word of a secondary promotion. So, for the time being, the only way to get your hands on these figures is online through sites like Amazon and eBay.
Halloween Fright Rider
This was the next Frito-Lay promotion we discovered. These chip bags have been significantly harder to find nationwide. In fact, I have yet to see any of these bags in my area. This promotion runs through November 16, 2013 so you still have an opportunity to get your hands on this figure without paying an arm and a leg for it online.
Dark Edition
There are a small number of Dark Editions still available (exclusively at GameStop). At this time only the Xbox 360 and Wii versions are available on GameStop's website, but some stores have a few copies as well. There is a rumor that a few more copies will be produced for Black Friday, but this has not been confirmed.
Enchanted Hoot Loop
While Enchanted Hoot Loop sold out at some Walmarts, my local store has plenty even two weeks after the release. No word yet on the release date for Enchanted LightCore Star Strike.
Green Rip Tide
This figure was first discovered on the official Skylanders YouTube channel. In a weekly episode of Skylanders Boomcast, this figure was shown, but no details were given. We still do not know when or how this figure will be released.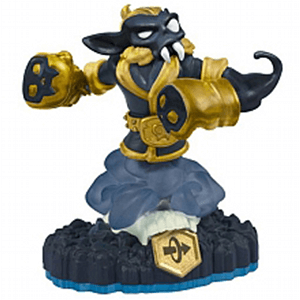 Legendary
As you know, Legendary LightCore Grim Creeper and Legendary Free Ranger were released on Day 1, exclusively at Toys R Us. We now know that Legendary Zoo Lou will be available on November 3rd and Legendary Night Shift will be available on November 10th.
Legendary Zoo Lou is currently available for pre-order from the Toys R Us website.
Nitro Magna Charge
Similar to Enchanted Hoot Loop, I have had no trouble finding Nitro Magna Charge in my area. Even two weeks after the release, this Target exclusive can be found in stores. No word yet on a release date for Nitro Freeze Blade.
Quickdraw Rattle Shake
Finally, we have one more Frito-Lay promotion to cover. Quickdraw Rattle Shake chip bags have started to appear in stores across the nation. This promotion does not begin until November 3rd and will end on December 31st.
While this is another Frito-Lay promotion, the wording on these packages is a bit different. It states that Quickdraw Rattle Shake will be an exclusive figure until December 31, 2013. This seems to imply that after December 31st this figure may be found elsewhere. No confirmation on this yet, but I think there is some hope.
Exclusive Wash Buckler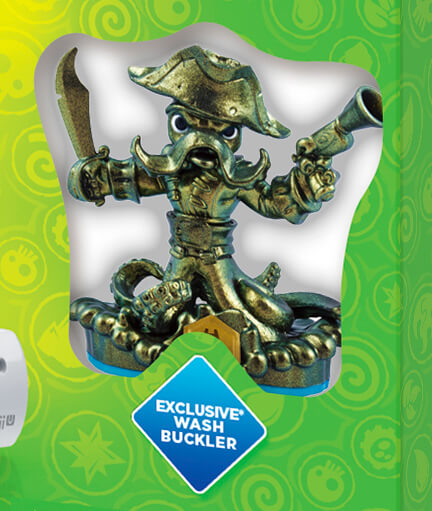 This is the newest of the variants that we know about. It is so new that I don't even know what to call it. (You can leave your suggestions in the comments below.) It reminds me of the Special Edition Gill Grunt paint job with a little more gold. It might just be the lighting of the picture or it could be a different color, I don't know.
This Exclusive Wash Buckler has been spotted as part of a Wii U bundle set to release sometime in November. At this time it looks like this figure will be exclusive to this bundle.
Other Variants
At this time we still do not have any more information about Jade Fire Kraken, Jolly Bumble Blast, Kickoff Countdown, or Springtime Trigger Happy. They are confirmed variants, but we have no new information about how or when they will be released.