Many of you have already purchased a Starter Pack and are now focused more on the release of new figures, but I know this is not the case for everyone.
Around the holidays, in particular, there is always a steady stream of parents looking to purchase Starter Packs for their children and with so many options out there, it can get very confusing, very quickly. So today I have decided to bring all of your options together.
If you're thinking about getting started with Skylanders or you're ready to upgrade to the next game, these are your choices. (Also, don't forget to check out the Black Friday Deals as many of these Starter Packs are part of these sales.)
Standard SWAP Force Starter Pack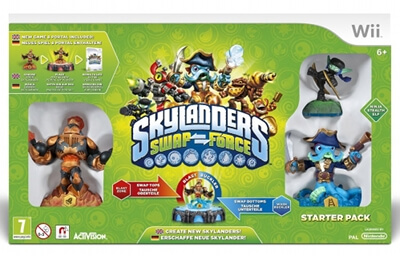 This is the pack that the majority of Skylanders fans have purchased. It is now available for six different systems and is readily available at most retailers. This is also your cheapest option with a suggested retail price of $74.99.
NOTE: Only the game disc and Portal of Power are console-specific. All figures, whether purchase in a Starter Pack or individually, can be used on any system.
This pack includes:
This pack is available for:
PS3
PS4
Wii
Wii U
Xbox 360
Xbox One
Standard 3DS SWAP Force Starter Pack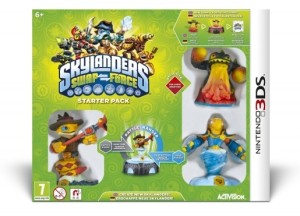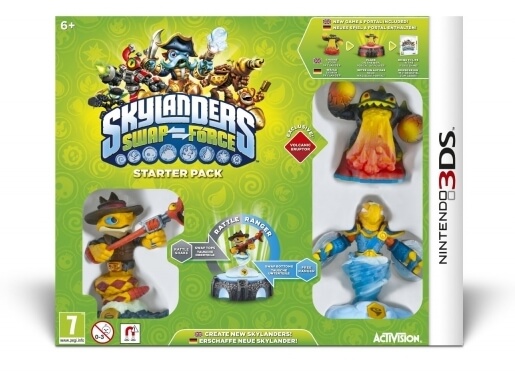 As with previous Skylanders releases, the Nintendo 3DS version varies from all others. What I mean is that the game itself actually follows a different storyline.
As a small "reward" for choosing the 3DS version, players will receive a different set of characters in this Starter Pack. This includes Volcanic Eruptor who is an in-game variant and exclusive to this Starter Pack. This pack also has a suggested retail price of $74.99.
This pack includes:
This pack is available for:
Dark Edition SWAP Force Starter Pack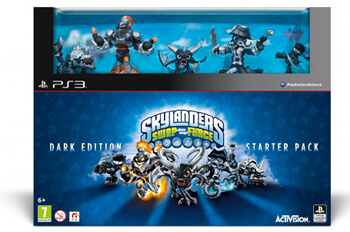 Up to this point, the Dark Edition is probably the most sought after Starter Pack of them all. The Dark Edition is a limited edition Starter Pack that is exclusive to GameStop. If you're interested in this pack, I would suggest acting quickly while you can still find a few in stores and online.
While this pack comes with a suggested retail price of $99.99, there is a good reason for it. First, as I mentioned before, it's a limited edition set. Second, it comes with two additional figures. Third, all five of these figures are actually in-game variants. When was the last time you had the chance to get your hands on five variants at retail price?
This pack includes:
This pack is available for:
Wii U SWAP Force Starter Pack Bundle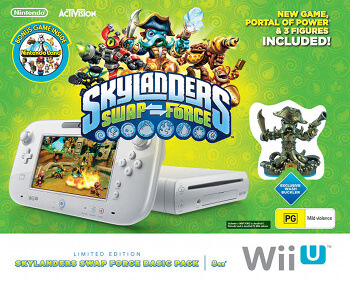 Now we start getting into the bundles. These bundles will include the SWAP Force Starter Pack plus various other goodies depending on which bundle you choose.
So far this is the only bundle that includes a system along with the game. It is also worth noting that instead of the regular Wash Buckler, you will receive a special variant version of Wash Buckler that is exclusive to this bundle. (This is NOT an in-game variant.)
This bundle has a suggested retail price of $299.99.
This pack includes:
1 8GB White Wii U Gaming System
1 Skylanders: SWAP Force Game
1 Portal of Power
3 Skylanders Figures (Gold Wash Buckler, Blast Zone, and Ninja Stealth Elf)
1 Poster
3 Stickers
3 Trading Cards
1 Nintendo Land Game Disc
This pack is available for:
SWAP Force Super Bundle Starter Pack
Finally, we have the Super Bundle Packs. These bundles are created to give you a better selection of characters to play with along with a small discount for purchasing in bulk.
NOTE: The items found in these bundles can often all be purchased individually. However, if there are no sales, these bundle can provide a small discount.
Generally I do not think these bundles are very appealing to existing fans, but they are the perfect gift for someone just getting started.
Within the Super Bundle Packs category you have a number of options to choose from. Be careful though because these bundles are not available for all systems. Each bundle is exclusive to one store and some can only be purchased online.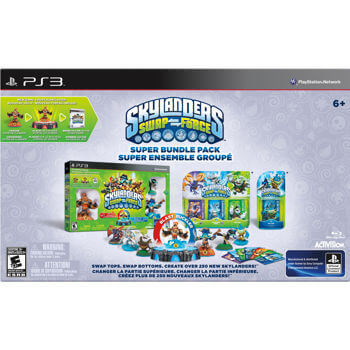 Walmart
In addition to the Standard Starter Pack, this bundle includes four additional characters. Three of these characters comprise the Magic Triple Pack which is a Walmart Exclusive. This bundle has a suggested retail price of $99.99.
This pack is available for: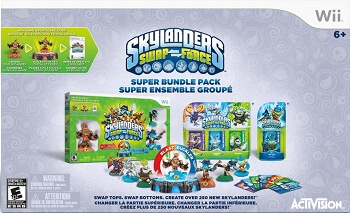 Sam's Club
The Sam's Club bundle is very similar to the bundle found at Walmart. This bundle also contains an additional four figures, but they are a different four figures. This bundle also has a suggested retail price of $99.99.
This pack is available for: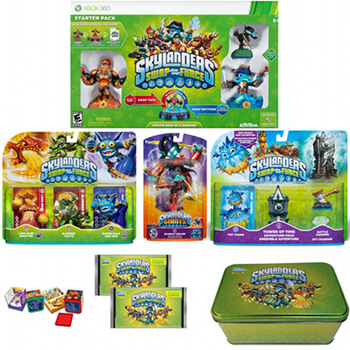 Target
Target has taken a different route with their Super Bundle Pack. They try to give you a little bit of everything.
While this bundle does include more figures, it also includes a sizable amount of non-gaming merchandise. So you'll have to decide if that's something you're interested in. Personally I stick to the game and figures, but I know a lot of people who love all things Skylanders related.
You have to choose between the Adventure Pack or Battle Pack, but everything else is the same. This bundle has a suggested retail price of $164.99.
1 Standard SWAP Force Starter Pack
1 Triple Pack #1 (Lava Barf Eruptor, Slobber Tooth, Super Gulp Pop Fizz)
1 Fiery Forge Battle Pack (Bumble Blast, Fiery Forge, Knockout Terrafin)
OR
1 Tower of Time Adventure Pack (Pop Thorn, Tower of Time, Battle Hammer, Sky Diamond)
1 SWAP Force Trading Card Tin (includes 4 Packs of Trading Cards and 1 Dog Tag)
2 Additional Packs of Trading Cards
2 SWAP Force Qubi 3D Picture Cube/Stamps
This pack is available for: