[box type="alert"]An updated article has been written which fully explains the question marks mentioned in the article below. You can find the
updated article here
.[/box]
Over the past month I've slowly been gathering pieces of the puzzle. Now I think it's time to put it all together and see what we've got…
It Starts with a Question Mark
A few weeks back we got a good, close up look at the Skylanders Trap Team poster. While it was fun to look at, it was a little troubling because it contained something new: Question Marks.

These simple little question marks caused a lot of speculation. As it turns out, a lot of this speculation turned out to be right.
Two New Elements
There are in fact two new elements being introduced in Trap Team.
So why haven't we heard more about this?
Well, as I've stated multiple times this year, Activision is really trying to keep a tight lid on the game this year. They have some sort of information release schedule and they are doing all they can to stick to it.
Unfortunately, a mistake was made in the unveiling of the 3DS version of Trap Team.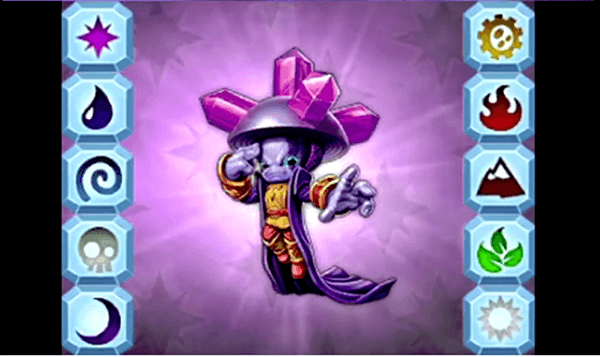 As you can see in this 3DS screenshot, there are 10 elements shown. Up until this point the bottom two squares had been shown as question marks.
Now we know that the new elements are represented by a Sun and a Moon.
What we still don't know is what they plan on calling them officially. Sun and Moon? Day and Night? Light and Dark?
Filling in the Blanks
We now know that the four question mark spots belong to:
Knight Light ("Sun" Trap Master)
Knight Mare ("Moon" Trap Master)
Blackout ("Moon")
Spotlight ("Sun")
If you check the site frequently you may have noticed that I slipped these four characters on to the main Trap Team page earlier this week.
While you can find screenshots of these characters online, I have chosen not to post them here to respect the privacy Activision was trying to keep.
More Villains Too?
Naturally, with more good guys come more bad guys.
You may recall that there were also question marks on the poster for the Villains. These question marks should correlate to all the "Sun" and "Moon" Villains.
So far we know about:
Blaster-Tron
Eye Five
Eye Scream
Fisticuffs
Lob Goblin
Tae Kwon Crow
This should take care of 6 of the 8 question marks on the poster.
The other thing you should keep in mind is that if there are trappable Villains with new elements, we're going to need Traps with new elements.
Additional Content
In addition to new elements and new characters, we also know that we'll have to new levels. These new levels will come in some sort of Adventure Packs, but we don't know much more than then names of the levels at this point.
You can look forward to seeing:
Sunscraper Spire ("Sun" Adventure Pack)
Midnight Museum ("Moon" Adventure Pack)
This was confirmed in the game menu in the Magic Items section.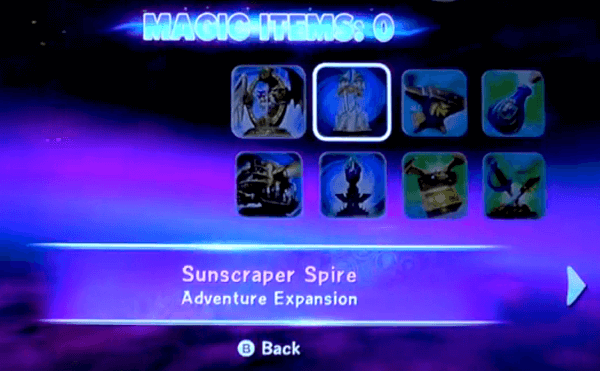 When will the Question Marks Disappear?
Well, there's not much you can do about the questions marks on the poster. That is the final version of the poster that is being shipped out with the game.
The question marks in the game though should disappear eventually. The question is when and how…
Option 1
Around the time of the scheduled release, Activision will "patch" the game and unlock the new elements.
This seems unlikely because the game is still on the Wii which they would not be able to patch.
Option 2
There is some sort of time release built into the code of the game.
I'm no programmer, but I would imagine they could do something like this nowadays. We have the technology…
Option 3
The elements will unlock in-game when you place a Sun/Moon element figure on the Portal.
I think this option is the most likely. This is basically when the Adventure Pack levels already do. The information is on the disc, but you need to place something on the Portal to unlock it. In this case it will just unlock more.
When will the new elements be released?
Simple answer: We don't know.
If we're really lucky I think there's a small chance that we could see them just be the holidays. However, I think the plan is probably to release them next year some time.
I think by releasing next year they will keep more fans interested longer. Instead of just waiting to pick up the last few characters for your collection, you'll be waiting to unlock two new levels as well as new areas in the game.