Our first Chase Variant of Skylanders SuperChargers came out in Wave 2. This was Patina High Volt.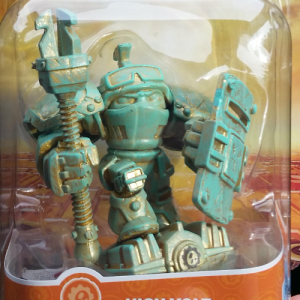 When Wave 3 got it's initial release in Italy a few weeks back, we started to see the second variant pop up. This was Patina Lava Lance Eruptor.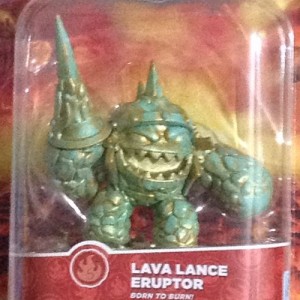 Now this weekend as the Wave 3 vehicles are starting to show up in more international locations there have been a few sightings of a third Patina variant. After seeing a second Patina figure show up, this was definitely expected as, those of you who have been around Skylanders for a while know, these variants tend to come in threes.
The third variant appears to be Patina Shield Striker.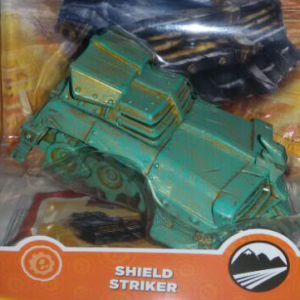 Of the three, I personally think that the Patine Shield Striker looks the best. It could very well be the sole reason they decided to use the patina look in the first place.
Why are they called Patina?
The Chase Variants are not officially named by Activision. Their packaging reflects that of their normal counterparts. So it has been left up to the fans of Skylanders to name the Chase Variant figures as they are discovered.
Some are naturally easy to name like Clear Tuff Luck, Red Drill Sergeant, or Green Scorp. However, others like Sparkle Hot Head, Stone Whirlwind, and White Flocked Eruptor take a little more imagination and in some cases knowledge of a particular design.
The Patina series is one of the more difficult to name. Some simply call it "Copper" and I understand why, but without a visual it can be misleading. Others have gone with "Rusted", but in my mind that would be all brown and not so much green. And yet others have tried "Green and Gold", but I like to stick with shorter names when available.
So if you look up a definition for Patina, you'll find something along these lines:
A green or brown film on the surface of bronze or similar metals, produced by oxidation over a long period.
And a quick Google image search will provide you with hundreds of images like these: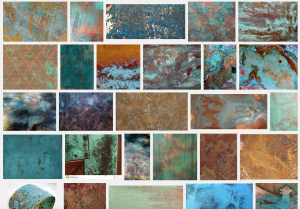 With all this in mind, I can hope you see why I decided to stick with the Patina name. It's short and sweet and it definitely describes the look of the figures.
We still don't have a US release date for a mass release of Wave 3, but be sure to keep your eyes peeled.
Happy Hunting!