So sometimes I neglect to cover some of the Toys R Us Skylanders news because I do not have a Toys R Us near me. I believe the closest one is about a two hour drive (one way).
However, this week, Toys R Us is really, really trying to capture our attention and hopefully our wallets in the process. Here's everything you need to know about Toys R Us as October 13th (Day 1) approaches.
The Wave 1 Legendary figures are now available for pre-order.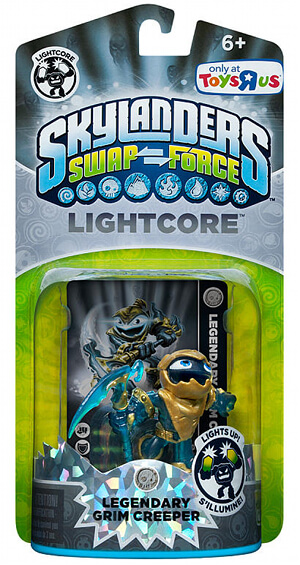 This will include Legendary Free Ranger and Legendary LightCore Grim Creeper. Legendary Night Shift and Legendary Zoo Lou are still planned, but will be released in later Waves.
Many Toys R Us locations are planning a Midnight Release for SWAP Force.
While this includes most major locations, this does not apply to all stores. You can check the official list to see when your store will be opening.
Toys R Us seems to be the only retailer with a Day 1 discount on Skylanders.
If you've been shopping at Toys R Us for a while, this sale should seem familiar to you. All Skylanders should be Buy One, Get One 40% Off. It's a good way to save some money early in the game.
In addition to this sale Toys R Us has another special offer for their Rewards Members. If you spend $100 on Skylanders (does not have to be all at once), you will receive a Special Edition Gill Grunt. At this time we do not know what this Special Edition is. Many are hoping that it is the Metallic Green Gill Grunt that was released at GameStop and EB Games conventions earlier this year, but this has not been confirmed.
Dino-Rang Returns
Finally, according to the press release that announced the Legendary figures, it seems we will once again see Dino-Rang. I think Activision got the message that there is still a huge demand for some of the Series 1 figures and they are slowly rolling them out again through various avenues.
The press release indicates that Series 1 Dino-Rang will be re-released in the coming months as a Toys R Us exclusive. I do not think this is a variant, just another opportunity to pick up a figure you may still need to complete your collection.