Another question I've been getting quite frequently over the past few weeks is:
What can/should I pre-order for Skylanders Trap Team?
Well, you can pre-order three (or maybe four depending how you count) different items.
What you should pre-order really depends on how patient you are and how much of a collector you are…
Possible Trap Team Pre-Orders
As I mentioned above, there are three basic items that you can pre-order at this time. The first should be obvious. It is the Skylanders Trap Team Starter Pack.
The Starter Pack is a typical pre-order and a necessary purchase if you wish to play Trap Team.
The Starter Pack is available for all major consoles including: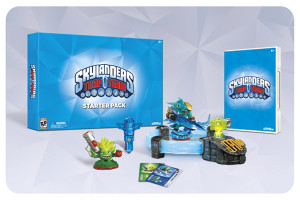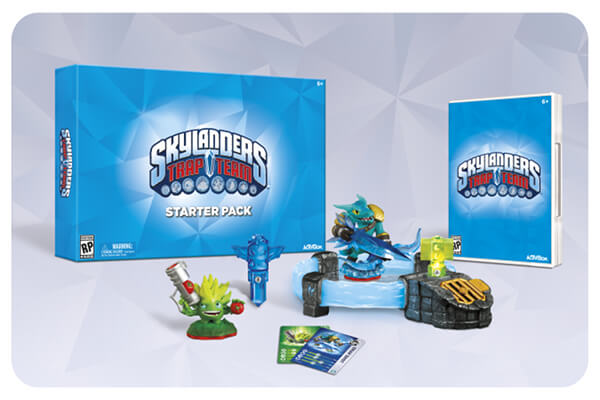 A few notes:
First, the Wii version comes with a free download of the Wii U version.
Second, little information is currently available for the 3DS version. In the past the 3DS version of the game used a separate storyline and gameplay.
Nothing has been revealed about Trap Team for 3DS yet. In addition to a different game, the 3DS Starter Pack has always contained different figures. An early leak displayed a Starter pack featuring Trap Master Gusto and Mini Barkley. While the existence of the Mini Skylanders has been confirmed, the official contents of the 3DS Starter Pack have not.
In the past the 3DS Starter has contained an exclusive variant. This is why there may be four items to pre-order instead of three. However, if the leaked contents hold true, then there may not be as much of a reason to pick up the 3DS Starter Pack (unless, of course, that's the only gaming system you own).
—
The second item you may want to pre-order is the Dark Edition or the Collector's Edition Starter Pack.
The Dark Edition first became a reality last year with Skylanders SWAP Force. It was originally a GameStop (or EB Games in other countries) Exclusive. Over time though it was made available from a few online retailers via eBay and Amazon.
I think last year's Dark Edition was a trial run which proved to be quite successful. This year the Dark Edition will be available from all major retailers.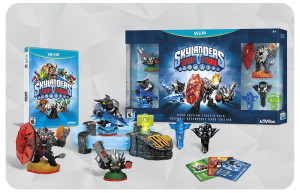 The Dark Collector's Edition is available for:
The biggest difference here is that it is not available for the 3DS and Tablet versions. This makes complete sense as these version contain alternate components that would not mesh with the contents of the Dark Edition.
Don't want to buy more than one Starter Pack? Check out my Starter Pack Comparison here.
—
The final item you can pre-order for Trap Team is a brand new female Trap Master named Gearshift.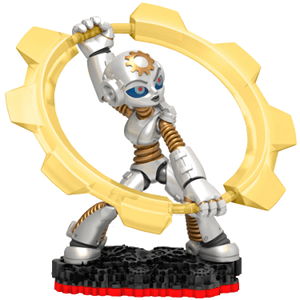 This is huge because never before have you been able to pre-order individual Skylanders figures.
Note: I know in the past some GameStop locations have allowed pre-orders for Skylanders figures, but this is not the norm. It was dependent on your location and was restricted to GameStop.
If you pre-order Gearshift she will be available on Day 1. However, if you do not pre-order you will have to wait until the regularly scheduled release which does not come until 2015.
This is where your patience factors in. If you can wait until 2015, it's not a big deal. But if you're one of those who needs to get as many characters as fast as you can, then you will need to pre-order Gearshift.
—
I think that about wraps it up. There is more available to pre-order this year than in any year past and the best part is that all the items should be available from all major retailers.
Happy Shopping!
UPDATE: I almost forgot one item (because I don't usually buy it myself) that I know many folks like to buy. The Skylanders Trap Team Strategy Guide is also available for pre-order at this time.