Variants are nothing new to Skylanders fans.
So it should not come as a surprise that variant leaks are starting to show up.
Halloween Chopscotch
Most years we got some kind of Halloween variant. This year it looks like it's going to be Chopscotch.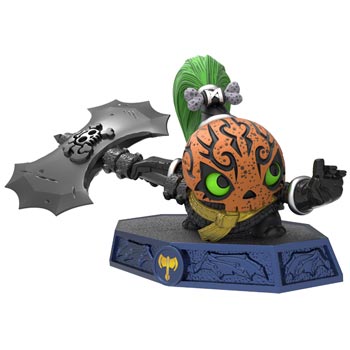 We don't have the official name of this figure yet and we don't know where it will be available.
Typically the Halloween variant is available from all retailers, but occasionally it will be a timed exclusive somewhere.
Last year, the Halloween variant (Frightful Fiesta) was available on Day 1. It was a timed exclusive at GameStop, but was soon released at all retailers.
They like to get this variant out prior to the holiday, so with the game releasing in mid-October I definitely expect this figure to be available immediately.
Steel Hood Sickle
Additionally, myskylanders.de is reporting a second new variant.
This was discovered in the GameStop system over in Germany and was listed simply as Steel Hood Sickle.
We don't have an image of this figure yet. We don't know if that's the full name or even the official name.
I highly doubt the figure above is simply called "Halloween Chopscotch" even though that's how it's listed in the same GameStop system. So I think it's possible that there could be more to "Steel Hood Sickle".
It reminds me of Steel Plated Smash Hit that we got last year which was also a Day 1 release.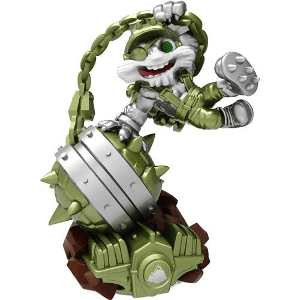 If it turns out that it is Steel Plated Hood Sickle, I certainly hope that they do not used that same green color. That certainly would not look good on Hood Sickle in my opinion.
However, I do think an actual shiny, gray, steel-colored Hood Sickle could look good and extra menacing.
Steel Plated Smash Hit was a Best Buy Exclusive here in the US, but that doesn't mean that Hood Sickle would have to follow the same pattern even if it shares the same name.
We'll keep an eye out and let you know as soon as we know more about either of these variants.