A Bust at Toys R Us
As many of you found out the hard way this morning, Toys R Us (TRU) had nothing new to release.
At this point it's hard to say if the March 2nd date was a typo on the TRU info sheet or if the product was delayed due to the West Coast Dock Strike last month.
No matter what the case is, we now know that TRU does not have new Skylanders in stock.
Blackout Delayed at Best Buy
Last week we reported that everyone who had pre-ordered Blackout
from the Best Buy website received an email that set the release date at March 8th.
Unfortunately, it seems that this date has been pushed back.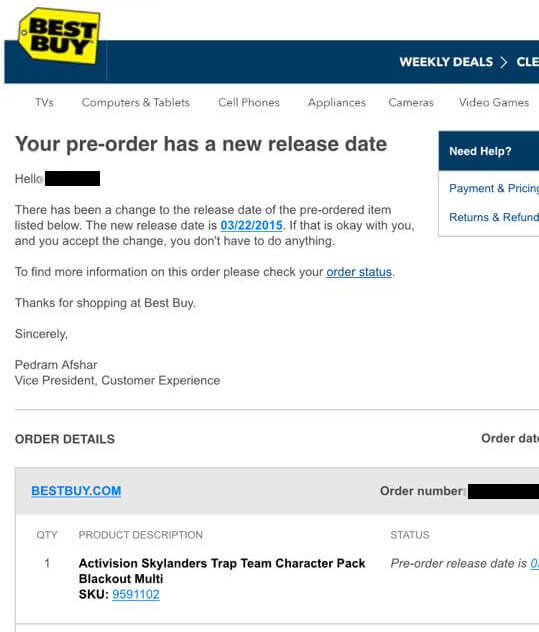 Those who pre-order received another email today pushing the release date back to March 22nd.
Final Thoughts
In the big picture, the March 22nd date makes a lot more sense for everything.
As many of you noted and questioned with the March 2nd date at TRU, historically Skylanders typically release on a Sunday. So a Monday release date was already questionable.
While we're still unsure if Best Buy is only releasing Blackout on the 22nd or if they will have more Wave 4 Skylanders, I think you should definitely keep March 22nd in mind.
Happy Hunting!