[box type="alert"]While all the information in the following article is still true, I have also written an updated article for those of you who are still looking for a Kaos Trap. After reading the article below, I recommend you check out the
updated article here
.[/box]
It's that time of year again and parents are frantically searching high and low for all the "most wanted" items on their children's wish lists.
For many of you, this list includes the ever elusive Kaos Trap.
What is the Kaos Trap?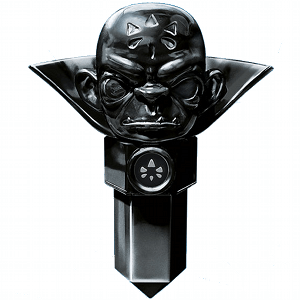 The Kaos Trap is similar to all the other Traps in Skylanders Trap Team, but as you might expect, it can only Trap one specific Villain. (That would be Kaos.)
When was the Kaos Trap Released?
The Kaos Trap was actually released on Day 1 (with a limited supply, just as Activision warned us about).
It was most often found at Toys R Us, but I got a few reports of folks finding Kaos Traps at Target as well.
In most cases, stores only received one case of 24 Kaos Traps. Some larger stores received 2 cases. However, especially in major metropolitan areas, even 48 Kaos Traps is simply not enough for the hundreds and thousands of Skylanders fans in each city.
When Wave 2 rolled in (about a week or two later) some stores were able to put out another case of Kaos Traps, but as you know those disappeared just as quickly as the first cases.
Are there different Kaos Traps?
There are in fact two versions of the Kaos Trap. There is the regular Kaos Trap which you can buy in a Single Pack and there is the Ultimate Kaos Trap which is available exclusively in the Dark Edition Starter Pack.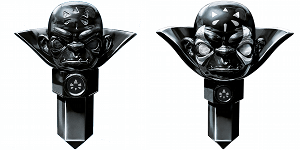 The Ultimate Kaos Trap has a larger head and paint on Kaos' face.
However, in the game, the two Traps function exactly the same.
The Dark Edition Starter Pack is rapidly disappearing, but it is still currently the most cost-effective way to get your hands on a Kaos Trap. This is precisely why I recommended the Dark Edition to anyone and everyone who asked me about it back in September and October.
How many times have you walked down the Skylanders aisle looking for a Kaos Trap and walked right by a Dark Edition Starter Pack?
More Kaos Traps are Here…
Just this past week most Toys R Us locations got a new shipment of Sklyanders in. This included the Wave 3 Minis:
Gill Runt & Thumpling
Small Fry & Weeruptor
and a surprise shipment of Wave 2.5 Traps:
1 Air Hourglass
2 Air Screamer
1 Air Toucan
2 Earth Hourglass
1 Earth Toucan
2 Fire Screamer
1 Life Toucan
1 Magic Axe
1 Magic Hourglass
2 Tech Angel
2 Tech Hand
2 Undead Axe
2 Undead Hand
1 Water Angel
1 Water Axe
2 Kaos
That's right there are 2 Kaos Traps in each case of 24 Traps. Most locations received multiple cases and I know a few of you had some luck getting your Kaos Trap this time around.
I think most TRU stores have sold through these cases quickly, but I would keep an eye out especially at other retailers to see if they get the same Wave 2.5 cases in soon.
Even more Kaos Traps Coming Soon…
I announced this a while ago, but we know that there will be more Kaos Traps coming out with Wave 3.
However, it will be very similar to the Wave 2.5 scenario. There are only 3 Kaos Traps per case and they will probably sell out in the same day that they are put on the shelf.
Follow Me to be Notified of More Kaos Traps
I do my best to stay on top of all the latest Skylanders news. Around this time of year I especially try to stay on top of new shipments coming into stores.
As I mentioned above, I know my latest notification of the Wave 2.5 shipment helped some of you secure your very own Kaos Trap. I'm glad that I was able to help out.
When I hear about a new shipment, whether it's on Amazon.com or at Toys R Us or some other retailer here's what I do:
1) I post about it on the SCL Facebook Page
2) I tweet about it on @sclmatt
then if the news is big enough (which more Kaos Traps would certainly qualify as "big enough")
3) I send out an email to the SCL Mailing List
So, if you're still waiting to get your Kaos Trap (at a decent price) or if you want to be the first in your area to know about new release Skylanders, I would highly recommend following SCL on Facebook or Twitter or joining the Mailing List (you can use the form at the bottom of the left-hand column on any page).
Thanks for reading. Happy Hunting!