You may have already heard about this since I know a few of you have mentioned it to me. Now that I've finally got around to reading the Official Rules, I still thought it was worth posting about.
We have news about the next joint venture between Skylanders and Frito-Lay. I know some of you have not been too fond of Frito-Lay promotions in the past, this one is a bit different.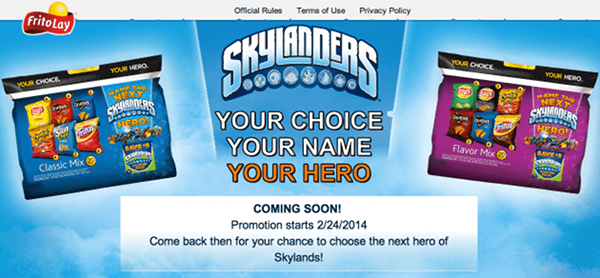 This promotion begins on February 24, 2014. At that time they will reveal three Skylanders from upcoming (yet-to-be-named) Skylanders game.
Once the contest begins you will be able to go to this site to view the new Skylanders. You must choose one of the three Skylanders, provide your idea for a name as well as your inspiration behind the name.
At the conclusion of the entry period, the judges will select three finalists. From these three finalists the grand prize winner will be selected by a vote.
You can read up on all the nitty, gritty details in the Official Rules here.
———
While this may seem like a lot of work, I think it's well worth it if you can make it to the final three. Just take a look at the prizes:
7. PRIZE DETAILS: Grand Prize (1): Grand Prize winner will receive a $100,000 Scholarship in the form of a check or wire transfer payable to winner. Approximate Retail Value ("ARV"): $100,000. First Prizes (2): Each First Prize winner will receive a Skylanders® prize package (contents to be determined at a later date by Sponsor, in Sponsor's sole discretion). ARV: $1,000 each. Winners must accept prizes as stated by Sponsor or prizes will be forfeited and awarded to an alternate winner. Total ARV of all prizes is $103,000.
But whether or not you decide to enter, I'm still looking forward to February 24th because we are guaranteed to see three brand new Skylanders.
I'm excited.