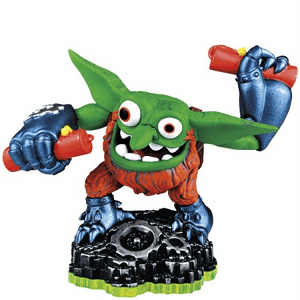 | | |
| --- | --- |
| Element: | Tech |
| Released With: | Spyro's Adventure |
| Series: | Series 1 |
Boomer was one of the 32 original Skylanders. He was released in Wave 1 in October 2011.
Series 1 Boomer was available in a Single Pack as well as a Triple Pack (with Prism Break and Voodood).
Boomer is a member of the Forgotten 8. These are the 8 characters that did not get a reposed (Series 2) figure in the sequel, Skylanders: Giants. As you may already know, Boomer is often considered to be the rarest of the Forgotten 8. Why?
With 32 brand new characters in Spyro's Adventure, a few were destined to be duds and fall to the bottom of the pack. Unfortunately, Boomer was one of these characters. He was considered a poor fighter and was just not as fun to play as the others. With so many options available, players could be picky.
For a long time Boomer was nothing more than a shelf-warmer at many stores. Late in the release, however, people started to realize that these figures were not just a game accessory, but they were collectible figures. With this concept in mind even duds like Boomer became an essential purchase. It didn't take long before he disappeared from the shelves.
Once the shelves were empty, Boomer's resale value skyrocketed. There were no more being produced and no more to be found in retail outlets. Boomer remained as quite the commodity throughout the remainder of Spyro's Adventure and all the way through Giants.
During the SWAP Force release though some fans received some reprieve as Boomer was found for a short time at some Toys R Us locations. Naturally these disappeared from the shelves quickly as (now three years into the franchise) there were more collectors than ever.
To this day Boomer remains one of the most coveted SSA figures on the market.
| | |
| --- | --- |
| Spyro's Adventure: | |
| Giants: | |
| SWAP Force: | |
| Trap Team: | |
| SuperChargers: | |
| Imaginators: | |