Skylanders Packaging
If you visit the Skylanders aisle in any store, you will immediately notice that there are a variety of different packages available.
Starter Packs
If you've never played Skylanders before this is what you're looking for. It will typically include the game, the Portal of Power, and a few Skylanders to get you started.
Portal Owner's Pack (a.k.a. Booster Pack)
We were introduced to the Portal Owner's Pack with the release of Skylanders: Giants. The original Portal was still compatible with the new game so if you owned there first game, there was no need to purchase a second Portal.
This Booster Pack included the game and just one figure. So some people opted to buy the Starter Pack just to get the extra figures.
To date, Skylanders Giants is the only game that offered a Portal Owner's Pack.
Single Packs
These packs simply contain one playable Skylanders character to add to your collection. Most (but not all) characters will be available in a Single Pack at one point or another. However, Triple Packs actually offer a more affordable solution.
Double Packs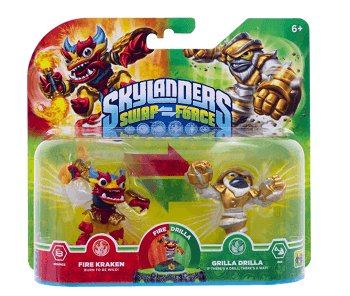 Double Packs first made an appearance for Skylanders SWAP Force. These two-packs include two of the featured swappable SWAP Force characters. These packs were initially a Target Exclusive and the only way to get your hands on Nitro Magna Charge. In later waves, though, more double packs were released to all retailers.
While there were a limited number of Double Packs for Skylanders SWAP Force, there were more created for Skylanders Trap Team.
In Trap Team, the Skylanders Minis were made available through 2-packs. With a few exceptions, these 2-packs were the only way to get the Minis at the retail level.
Triple Packs
These are similar to the Single Packs, but instead of one figure, you get three different Skylanders characters. The best part about the Triple Packs is that they retail for less than the price of three Single Packs.
Unfortunately, not all the Skylanders characters will make it into a Triple Pack. So if you're trying to collect one of each figure, then you will still have to purchase some singles.
Adventure Packs
There were four Adventure Packs released with Skylanders Spyro's Adventure. These packs included one figure (exclusive to the Adventure Pack), a new level to play through in the game, and two "power-up" items to aide you throughout the game.
There were no Adventure Packs associated with Skylanders Giants.
In Skylanders SWAP Force two more Adventure Packs were added to the mix. During their initial release the figures included in these packs were exclusive to the set. However, late in the year both Pop Thorn (Tower of Time) and Wind Up (Sheep Wreck Island) were release in Single Packs.
Skylanders Trap Team decided to move heavily back into the Adventure Packs. In total Trap Team featured four Adventure Packs.
Battle Packs
In Skylanders Giants, the Battle Packs took the place of the Adventure Packs. These packs included two playable Skylanders characters and a brand new battle arena.
Battle Packs will made a second appearance in Skylanders SWAP Force. While there were Adventure Packs in SWAP Force, two more Battle Packs were also added.
In Skylanders Trap Team though the Battle Packs were left behind and Adventure Packs were the only additional content.