Every new Skylanders figure comes with three small bonuses: A Trading Card, Code, and Sticker.
Skylanders Codes
Each figure comes with a unique 10-digit alphanumeric code.
In Spyro's Adventure this Code came on a small black and white card.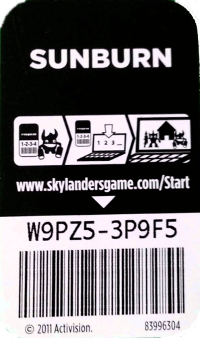 From the second game, Skylanders Giants, onward though the Code was included on the Sticker sheet.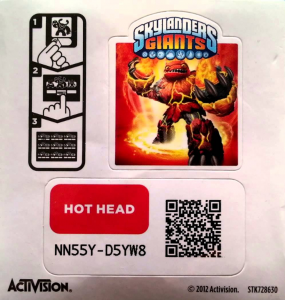 These Codes can also be found by placing your Skylander on the Portal and opening the Skylander menu in the game.
What do these Codes do?
These Codes are used to unlock Skylanders in other (non-console) Skylanders games.
This includes games such as:
Lost Islands is by far the most popular of these games and therefore the most common use for these Codes, but the same Code can be used for both games.
Each Code can be used five times.
NOTE: It is my understanding that this is five times per game. Meaning that five different people could use the same Code for Lost Islands and five different people could use the Code for Battlegrounds. If this holds true, each Code could actually be used 10 times. However, I have not been able to test this thoroughly to confirm it.
Skylanders Stickers
The Stickers included with each Skylander do in fact have an intended purpose.
Included with each Starter Pack is a Skylanders poster which displays all the Skylanders being released with that particular game. The Stickers were designed to be affixed to the poster. This way you could keep track of who was in your collection and you would know who you still needed to collect.
However, not everyone uses the poster and kids will be kids. They're just Stickers. They can be used for whatever you want.