A few of you may have already started to see mysterious emails from a company called Trustpilot.
The email may seem a bit suspicious, but I promise you it's legitimate.
The subject line of the email should read: How many stars would you give skylanderscharacterlist.com?

This email is being sent automatically seven days after you place an order here on SCL.
In most cases that seven day delay is long enough for you to receive your order. However, I understand if you would like to wait until you receive your order before leaving a review.
I am running a small business here on SCL and the SCL shop is very, very new at this point. (It officially launched May 16, 2021.)
I am extremely grateful to everyone who has trusted me in the early stages of the business, but as it grows and I am able to reach more people (people who haven't followed me since 2012), I want them to rest assured that this is a legitimate business.
So I ask that when you see this email, you take a couple minute out of your day to leave a quick rating and review. It is greatly appreciated.
In case you're wondering, the contents of the email will look something like this: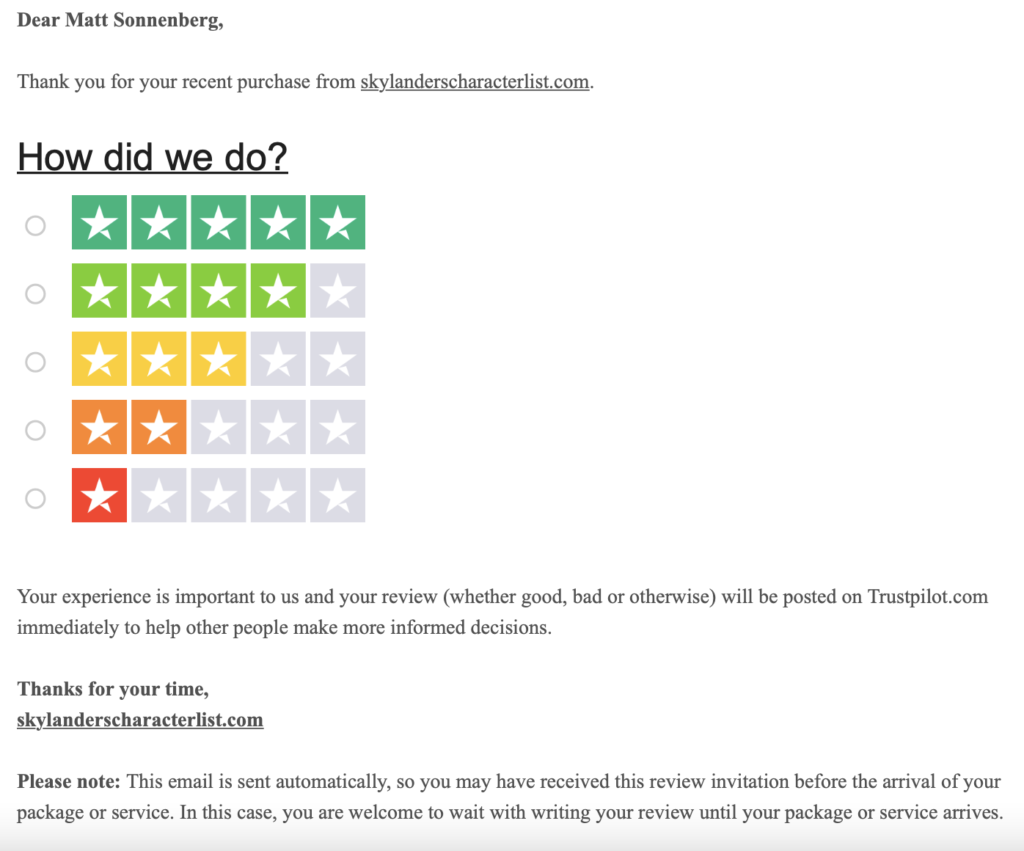 Like I said, I know it looks a bit suspicious, but it's not fake.
Rating the site through this email will also give your review the awesome little "Verified" checkmark on Trustpilot.

However, if you would like to proactively leave a review (or you don't plan on placing an order soon), you can do so through the link below.
Leave a Review for Skylanders Character List
Thank you for all your support and, as always, if you have any questions please feel free to reach out.