As you probably already know, Skylanders SuperChargers was officially announced today. Here's a quick look at the official trailer.
Now on to all the juicy details.
Characters
The characters in this year's release are called SuperChargers. This group will include many new faces as well as some old.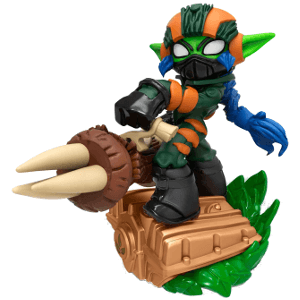 For example, we have Spitfire and Stormblade who are brand new, but we also have Super Shot Stealth Elf. All three of these Skylanders are SuperChargers.
[box]As of now they purposely seem to be avoiding attaching a Series number to Stealth Elf. I think they are trying to avoid some confusion and clean up the mess the Series numbers have become.[/box]
I am also trying to avoid referring to the Stealth Elf figure as Series 4 or repose because this figure is more like Stealth Elf 2.0. Super Shot Stealth Elf will introduce you to a new set of powers/abilities along with her new look.
Activision has stated that there are a total of 20 SuperChargers to be released. At this point it does not seem as if there will be any Core Skylanders this year. (This is a good sign for your wallet.)
Vehicles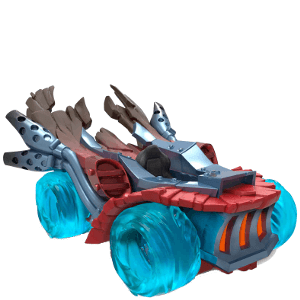 In addition to the SuperChargers there will also be 20 Vehicles.
I think part of the reason for keeping the character count low is because the Vehicles are like characters themselves.
Each of the Vehicles are restricted to one type of terrain (land, sea, or air) and each Vehicle is elementally aligned. For example:
The really good news is that any Skylander can drive any Vehicle.
The bad news is that only one Vehicle is allowed on the Portal at a time. When two players are playing, one player will be the driver while the other takes control of auxiliary weapons/gadgets.
Throughout the game you will have the ability to collect and purchase upgrades for your Vehicles.
SuperCharger – Vehicle Interaction
While it's good to know that any Skylander can drive any Vehicle, there has to be a catch right? There has to be something that makes the SuperChargers special.
Indeed there is.
Each Vehicle has its Signature Driver. When a Signature Driver is paired with its Vehicle, the Vehicle becomes SuperCharged.
So Spitfire has the ability to supercharge Hot Streak. Stormblade can supercharge the Sky Slicer. Dive-Clops can supercharge the Dive Bomber. Hurricane Jet-Vac can supercharge the Jet Stream.
I think you get the idea.
Gameplay
While Vehicles are the focal point of Skylanders SuperChargers, the gameplay seems to be pretty well balanced.
Most (if not all) levels will start you out on foot. Along the way you may encounter areas that require a vehicle to enter. Each of these areas will require a specific type (land, sea, or air) of Vehicle.
The majority of these areas will be side quests. This means that you will be able to progress in the story without exploring them.
The only mandatory Vehicle areas will be of the Land type. So you will be able to complete the entire main storyline with just the contents of the Starter Pack.
Portal
There is a new Portal for Skylanders SuperChargers, however it is not a necessity!
The new Portal was designed simply to give you more space, as a Vehicle, two Skylanders, and perhaps even a Magic Item could get crowded on an older Portal.
However, if you do not wish to purchase a new Portal, this means you have options. Skylanders SuperChargers will be released digitally on the consoles (details below). So if you choose to go this route, you can supplement the digital version will an older Portal.
In any case, aside from being larger, the new Portal does provide a Trap Slot. This Trap Slot is similar to the one in Trap Team, but the speaker has been removed and the Traps will not light up as they do with the Traptanium Portal.
Traps
This may not be the answer you were hoping for, but Traps will serve a small purpose in Skylanders SuperChargers.
If you insert a Trap you will get some sort of elemental weapon or ammo.
If you insert a Trap will a Villain trapped inside, you will unlock a Skystone of that Villain.
Unfortunately, the Villains will not be playable in SuperChargers. This is part of what makes Trap Team unique.
Base Color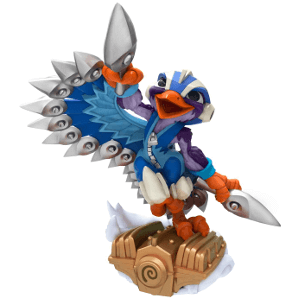 Spyro's Adventure figures had green bases. Giants figures has orange bases. SWAP Force figures had blue bases. Trap Team figures had red bases.
Therefore, SuperChargers figures have… **drumroll**
ENGINE BASES!
That's right. There are no colored bases this year. This is probably a good thing for the long haul. They would run out of good color choices eventually.
This year all the SuperChargers can be found standing on an engine. Their elemental color/design will be found underneath, wrapping around the side and back of the base.
I am not opposed to this design change at all. I think the new figures look awesome.
Online Play?
You've been asking for it for years and it looks like we finally got something.
Nothing was mentioned about online play in the official press release, but there's still hope.
First, take a look at the front of the box. In the corner, just below the ESRB Rating, you can see that it says:
Online Interaction Not Rated by the ESRB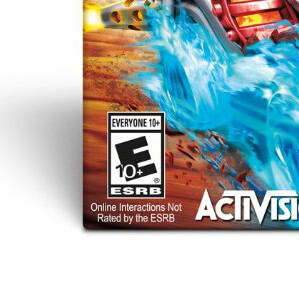 As far as I can remember or find, this warning has never been on any other Skylanders packaging.
Secondly, the GameStop listing gives us a bit more information than the Amazon listing we found earlier this week.
Right in the middle of GameStop's description we find:
Play with friends – NEW Online Multiplayer Race and COOP Modes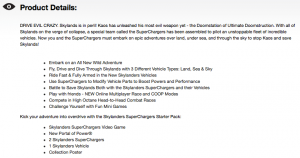 Now since Activision hasn't addressed this directly, I'm going to prepare for the worst and hope for the best.
Worst Case: We get online multiplayer racing, but only local co-op.
As you can see in the GameStop listing, this is just a bullet point. They don't expand on it at all. The bullet point is just telling us about the different modes. They could just be saying that you have 2 ways to play with friends. One is a NEW way and one is something we've been able to do for years.
Best Case: We get online multiplayer racing and online co-op.
As much as you want it, I still think online co-op is a bit sketchy. Unless they did away with the Magic Moments, I don't think we're going to see online co-op.
However it works out, I'm glad to see that they're giving online a shot.
Light and Dark?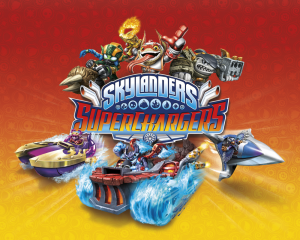 While Light and Dark figures (or Vehicles) have not been officially announced for SuperChargers, I think there's a good chance they're in.
Take a close look at the artwork I shared on the Facebook page yesterday.
The Light and Dark elements do not appear in the logo, but they do appear in the background.
Additionally, the fact that we have 20 SuperChargers and 20 Vehicles would fit very nicely if we had 10 Elements.
Starter Pack
The Skylanders SuperChargers Starter Pack will include:
1 Game Disc
1 Portal of Power
1 SuperCharger – Spitfire
1 SuperCharger – Super Shot Stealth Elf
1 Vehicle – Hot Streak
1 Collection Poster
If you've been following Skylanders for any amount of time, this Starter Pack is just like all the others.
Which Systems?
Skylanders SuperChargers is currently coming out for:
PS3
PS4
Xbox 360
Xbox One
Wii
Wii U
3DS
iPad
A few notes here.
Gameplay content, features, and functionality will differ for Wii and 3DS platforms. Details to be announced.
We do not have specifics on how the Wii version will differ, but there is a good chance (I think) that it will be the same as the 3DS version this year. As stated above, "Details to be announced".
Also, please note that there is a version specifically for iPad. They are not calling it the Tablet Version this year. They are making it specifically for the iPad.
I don't know if this is a compatibility issue or a programming hassle or if this stems from data they gathered from the tablet usage last year, but this is where it stands right now.
No word if they plan to make it available on other devices later.
Digital Version (Portal Owner's Pack)
As I mentioned earlier, there will be a Digital Version of Skylanders SuperChargers available. This version will essentially take the place of the Portal Owner's Pack that we saw in Giants.
Along with the digital version of the game you will get Instant Spitfire and Instant Hot Streak.
If you played the Tablet Version of Trap Team (where you got Instant Food Fight and Instant Snap Shot) this should sound familiar.
These Instant characters are preloaded into the game and therefore do not require a Portal to play. With just Instant Spitfire and Hot Streak you will be able to complete the main storyline.
Now if you still want to try out the new characters you can just pull out your old Portal of Power to use with this Digital Version of the game. As I mentioned above, the old Portal might get a little bit crowded, but it is an option for you.
Pricing
Finally, let's talk money.
As usual, the console Starter Packs are listed at $74.99.
Just like last year, the 3DS Starter Pack will be $64.99.
Individual Vehicles have an MSRP of $14.99 while the Individual SuperChargers are just $12.99.
So if we really are just looking at 20 SuperChargers and 20 Vehicles, I think this could actually be one of the cheapest games yet.
| | |
| --- | --- |
| Starter Pack (2 SuperChargers, 1 Vehicle) | $74.99 |
| 19 Vehicles | $284.81 |
| 18 SuperChargers | $233.82 |
| | |
| Total | $593.62 |
Release Date
Skylanders SuperChargers will be release on:
September 20th in the US
September 24th in Australia
September 25th in Europe
Pre-Orders
Both Toys R Us and GameStop has pre-orders available now.
Amazon has their listings up once again, but you cannot pre-order yet and pre-orders are now available.
Wrap-Up
While we're still waiting on some information (as always), this looks like it will be another solid entry into the Skylanders series.
What do you think?
What questions do you still have?