[box type="alert"]I now have an entire section devoted to Getting Started with Skylanders. This section is updated regularly as needed. You can find this section by click on Getting Started in the main menu or by
clicking here
.[/box]
If you got started with Skylanders back in 2011 with Spyro's Adventure, then this article is not for you.
Now 2 years, 3 games, and hundreds of figures later, it's a whole different story. If you're just getting started with Skylanders now, in 2013, it can be very confusing. It was already confusing when I started back in 2012.
First, if you haven't already, I would recommend that you read Skylanders Characters 101. It contains a lot of valuable information for collectors and players of any level.
What Do I Need?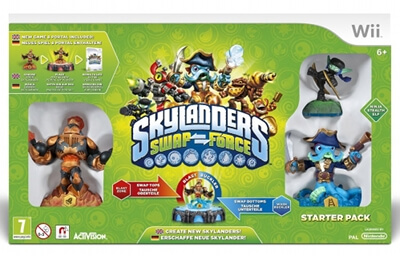 The Starter Pack is the only item that is console-specific. You need the game disc (or cartridge) and Portal of Power that is compatible with your system. All figures will work with any console.
With the purchase of a Starter Pack you will be able to play through the entire game from beginning to end. You will also be able to finish all Achievements (Xbox) and obtain all Trophies (PlayStation) with just the contents of the Starter Pack.
So, in all reality, you never need to buy more than just the Starter Pack.
Which Game Should I Buy First?
In 2013 (or even in the first half of 2014) I always recommend starting with the Skylanders SWAP Force Starter Pack for a few reasons:
1) Unlike some other series, there is no reason or advantage to playing the games in the order they were released.
2) SWAP Force, being the most recent game, is easy to find and readily available.
3) The Portal of Power that comes in the SWAP Force Starter Pack can be used in all three games. (The first two Portals can only be used for the first two games.)
4) Any figure you buy, no matter which game it was released with, can be used in SWAP Force.
Why Would I Want To Buy More?
There are many reasons people buy additional Skylanders. For example:
1) Collect them all – The amount and variety of figures available can turn a simple video game into a full-time hobby for some. If this interests you, you might want to check out the Skylanders Checklists.
2) Obtain 100% completion in the game – As I mentioned above, it is possible to finish the game with just the Starter Pack. However, if you're a perfectionist or a completionist, you will need a few more figures. For the first two games you just need one character from each element, but in SWAP Force it gets a little bit trickier. You can find a quick overview of the Minimum Characters Needed here.
3) Complete all in-game achievements – Past finishing the game and past getting 100% completion, there is still plenty to be done in Skylanders. However, in order to complete all of these achievements you will need access to nearly all of the Skylanders that are out there.
What Did You Do?
Personally, I got started in the early part of 2012. SWAP Force had just been announced so it wasn't even an option.
I was lucky enough to find someone selling their collection locally on Craigslist. It contained:
1 Portal of Power
2 Games (Spyro's Adventure and Giants)
12 Skylanders (including 2 Giants and at least one Skylander from each element)
This was a great start to my collection as it allowed me to play through both games and complete them 100%.
What you want to buy is completely up to you. It all depends if you decide to collect them, if you want to complete the game, or if you just want to buy a few figures you think look cool.
Whatever you choose, I'm sure you will have a lot of fun along the way.
Enjoy!