As I'm assuming you probably watched the above video before coming to this page, I'll try not to duplicate too much information, but here's the basics.
What is GCU?
Gamer's Club Unlocked (GCU) is a subscription-based program offered by Best Buy.
What does membership in GCU give me?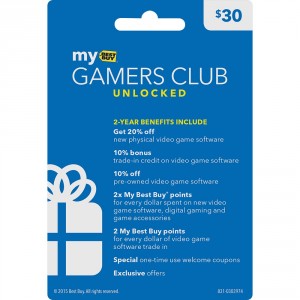 As long as you are a member of GCU, you will receive the following benefits:
Get 20% off new physical video game software (excludes pre-owned video game software and digital gaming)
Get 10% bonus trade-in credit on video game software
Get 10% off pre-owned video game software (excludes PC game software)
Get 2x My Best Buy points for every dollar spent on new video game software, digital gaming and game accessories
Get 2x My Best Buy points for every dollar of video game software trade in
Additionally, when you sign up, you will receive these one-time use benefits:
Get a special welcome coupon: Buy Two, Get the Third Free offer on pre-owned games (lowest priced game is free)
Get a special welcome coupon: Save 50% on a new strategy guide
Can I get discounts online?
Yes. Your discounts can be applied to qualifying purchases made on BestBuy.com.
How much does GCU cost?
After a drastic price cut, GCU membership now only costs $30 for 2 years.
After two years your subscription will automatically expire. If you wish to continue receiving the GCU Benefits listed above, you will need to purchase another $30 activation card.
If you know this is something you would like for the long-term, the subscription cards do stack. This means if you paid $90 now you could sign up for 6 years.
How do I sign up?
You need to get your hands on a GCU Activation Card.
These are available in-store and online
.
However, regardless of where you purchase your Activation Card you must physically go to a Best Buy store to activate your subscription.
Why do I recommend GCU?
I covered this pretty thoroughly in the video, but it's a great way to save money in an expensive hobby.
The 20% discount will not only apply to all Skylanders, Disney Infinity, amiibo, and Lego Dimensions, but to ANY new video games you purchase.
Even if you don't do 100% of your Skylanders shopping at Best Buy, over the course of 2 years you're almost guaranteed to save more than $30 which makes this purchase worthwhile.
As always, please let me know if you still have any questions.