UPDATE: Skylanders Battlecast Pre-orders Now Available
While we're all still waiting for the big reveal of Sky 6, I know many of you are also interested to know more about the upcoming Skylanders Battlecast.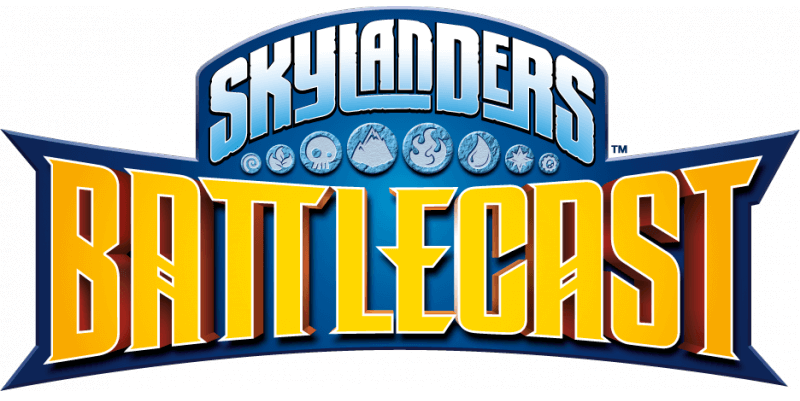 This long-awaited title has been teased since the launch of Skylanders SuperChargers when we all got a mysterious pack of two Battlecast cards. Since that time though, there has been very little said about the game and very little to do (if you live here in the US).
If you downloaded the Battlecast "Preview" App, you could scan in the Spitfire and Stealth Elf cards you received in your SuperChargers Starter Pack. You also then gained access to a couple of Quests for each character.
These Quests simply required you to scan the card again at a later date as specified in the app. These additional scans would allow you to upgrade your card in the game.
Before we go much further though, let's cover some of the basics.
What is Skylanders Battlecast?
Skylanders Battlecast is a new collectible card game (CCG) that Activision is putting out this year in addition to their standard video game release.
In keeping with the Toys-to-Life mantra that Skylanders started, they are touting Battlecast as Cards-to-Life.
Unlike many other CCGs, it will be very difficult or impossible to play Battlecast with the physical cards. In this sense it is much like Hearthstone (created by Blizzard Entertainment, a subsidiary of Activision Blizzard). It is meant to be played digitally.
As I mentioned earlier, you can already download the Skylanders Battlecast app for both iOS and Android, but you won't be able to play the full game just yet.
When will Skylanders Battlecast be released?
Initially they just told us that Battlecast would be released in 2016. Then at a convention earlier this year, they narrowed it down to Spring 2016.
Now if you're lucky enough to live in New Zealand or Australia, you've had access to the Beta version of the game for a few weeks already.
But thanks to my source at Toys R Us (TRU), we've discovered that the Battlecast cards are currently scheduled to release on May 24th. I would assume that Acitivison is planning to release the full app on the same day since the cards are pretty useless without it.
Battlecast Pack Types
There are currently two different types of packs that we know about.
Battle Packs
Battle Packs will contains 22 Cards and 1 Trading Shield. These are essentially Skylanders Battlecast Starter Packs.
From what we've seen so far, there are three "different" Battle Packs. You can easily differentiate these packs by looking at the Skylanders pictured on the front of the box.
I point this out because while most of the cards in the Battle Pack will be random, each pack includes guaranteed cards.
For example, the pack featuring Stormblade, Spyro, and Snap Shot on the box guarantees you 1 Stormblade, 1 Spyro, and 1 Snap Shot card.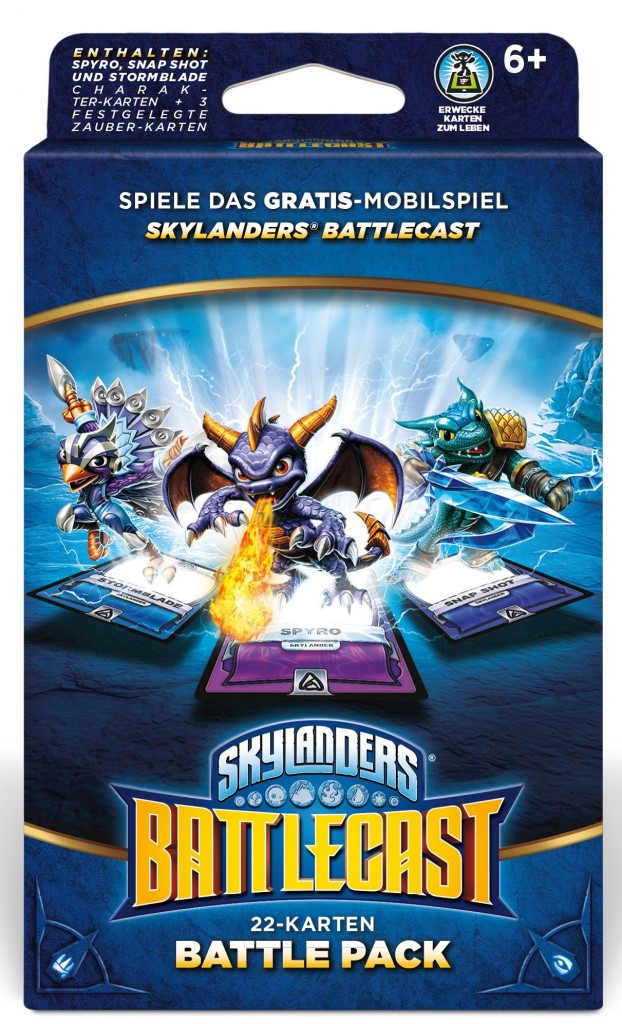 The Trading Shield is a critical component especially for people who plan on making any sort of unboxing videos.
Each Battlecast card can only be scanned into the game once. This limit is facilitated by a "code" printed around the outside edge of each card.
In the image below you can see two identical Spitfire cards. However, if you look closely you'll see that the sawtooth pattern on the red border varies between the cards.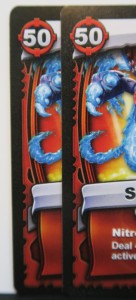 Click on the image for a larger view.
Booster Packs
The Booster Packs on the other hand are what I think of when I buy a pack of trading cards.
These packs contain 8 Cards. There are no guarantees.
Types of Battlecast Cards
As with any good card game, there are different types of cards. In the case of Battlecast, there are four types: Characters, Spells, Gear, and Relics.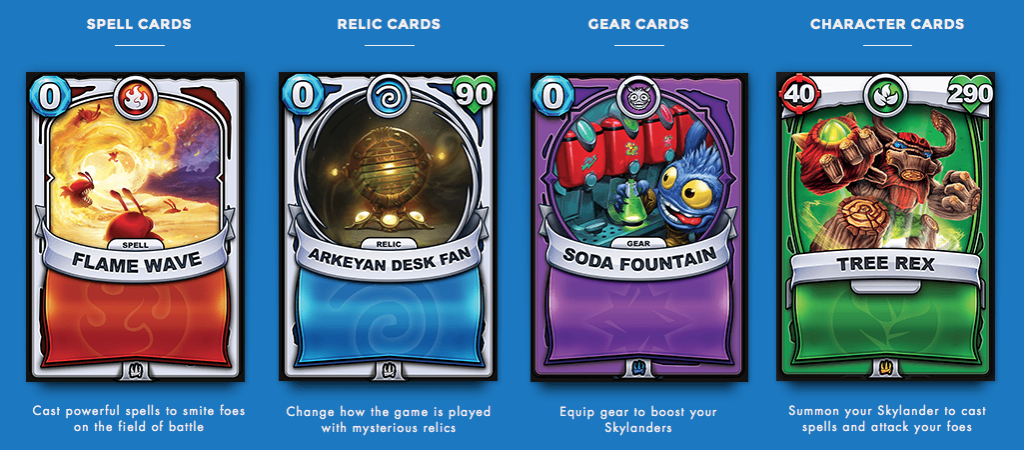 Characters
While there are over 300 cards to collect, only 24 of them are Skylanders. That's right, there are only 24 Characters in this "series". I suppose 24 is more than enough to work with, but leaves plenty of room for growth should they want to put out future series of Battlecast.
These 24 Characters include:
Countdown
Crusher
Eruptor
Flashwing
Food Fight
Hex
Hot Head
Jawbreaker
Jet-Vac
Krypt King
Ninjini
Pop Fizz
Rip Tide
Roller Brawl
Smash Hit
Snap Shot
Spitfire
Spyro
Stealth Elf
Stormblade
Tree Rex
Trigger Happy
Wash Buckler
Whirlwind
Spells
Spell cards will be your main method of attacking in Battlecast.
Gear
When a Gear card is played it will give one of your Skylanders (or perhaps one of your oppenent's Skylanders) an additional piece of armor or weaponry.
Each Skylander can only have active Gear card at a time and some of them have adverse effects. So choosing when and where to play them can be a critical part of your strategy.
Relics
Finally, when a Relic card is played it adds something to the battlefield. Sometimes Relics will only affect one player, but sometimes they can affect both players.
Here's a look at their brief descriptions in the Battlecast FAQ: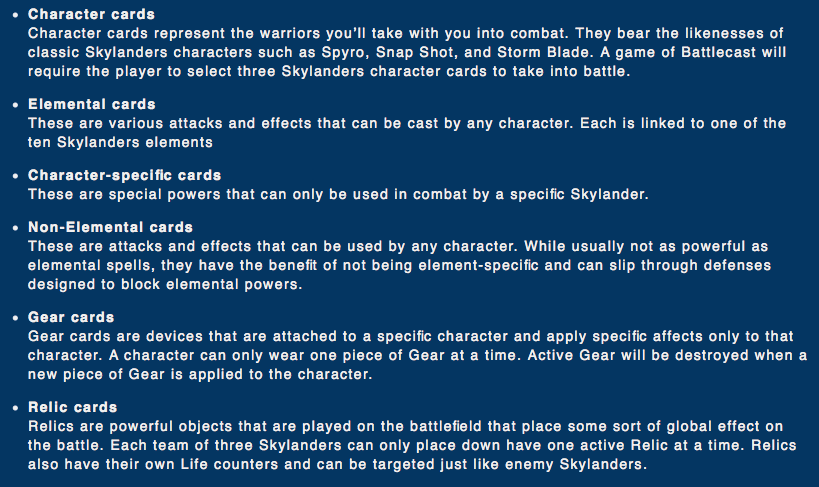 Inserts and Rarity
So we know that the base set contains at least 300 cards. However, just within this base set we have four levels of rarity: Common, Rare, Epic, and Ultimate.

Additionally, we know that some (if not all) of the cards have Silver and Gold Foil variants.
We do not know exactly how rare these inserts are, but I can imagine it will not be easy to collect them all.
Are Physical Cards required to play Battlecast?
NO.
Skylanders Battlecast is a free-to-play game.
If you wanted to, you could download the app and start up a new game. The game would provide you with some basic, digital starter cards.
Then by completing in-game Quests and Challenges and by defeating opponents online you can gain in-game currency.
It may take some time, but eventually you will be able to purchase digital packs of cards to further expand your digital collection.
So if collecting cards isn't for you and you just want to play Skylanders Battlecast, don't worry. There is a way.
Here's a brief look at Activision's reasoning for why you might want to buy physical cards:

Here's how I look at it.
1) Purchasing physical cards will allow you to unlock more cards faster.
2) Scanning duplicate physical cards into your game will allow you to upgrade your cards faster.
3) Rare Foil cards will allow you to start at a higher level.
4) Collecting is fun. It's in my blood. I want the physical cards.
How much will it cost?
Well as I outlined above, you could play the game without spending a single cent.
However, I know there are a good number of you, including myself, who are looking forward to collecting the physical cards.
My TRU source once again struck gold and found some prices. (All prices subject to change.)
Currently in the TRU system, the Battle Packs are listed at $9.99 and the Booster Packs are listed at $4.99.
I think these prices are reasonable, but it will be interesting to see if these are the actual MSRP or if these are inflated TRU prices.
Wrap Up
I think that covers just about all we know right now.
If you still have questions, please leave them in the comments below and I'll see if I can find answers for you.
Enjoy!
Additional Battlecast Resources: Official Glossary and FAQs