Just Getting Started with Skylanders?
If you're just getting started with Skylanders then I highly recommend that you check out the Getting Started section. It will provide you with all the basics of Skylanders and more details about previous games.
It is broken down into bite-sized pieces so that you can learn as you go and easily revisit topics at any time.
The information directly below fully covers the newest game, Skylanders SuperChargers, but it does assume that you have some general knowledge of what Skylanders are and how they work.
In any case, here's Skylanders SuperChargers…
A Brief Introduction to Skylanders SuperChargers
Skylanders SuperChargers is the fifth game in the highly successful Skylanders series.
All Skylanders from the first four games can be used in Skylanders SuperChargers.
SuperChargers Starter Packs
The Starter Pack situation has gone from confusing to convoluted this year. Most of the confusion is due to the sudden appearance of console-specific figures from Nintendo (more on this later), but don't worry, I'm here to help you sort it all out.
Standard Starter Pack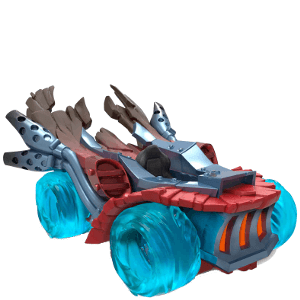 For now we'll just discuss the main Starter Pack. This pack includes:
This Starter Pack is available for:
Standard Wii U Starter Pack
Anyone buying the Wii U Starter Pack this year may be in for a bit of a surprise.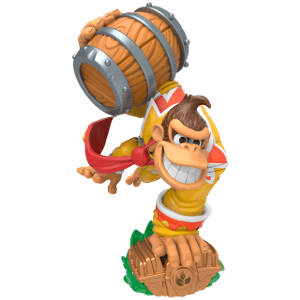 While you will still get the same game as PlayStation and Xbox users, you will also get some exclusive figures that can only be used on Nintendo systems (more on this later).
The Standard Wii U Starter Pack will include:
Skylanders SuperChargers Racing
Now if you carefully read everything above, you may have noticed that I haven't mentioned the Wii or the 3DS yet. There is a reason…
For the past four years, the 3DS has always received a different Skylanders game. While it came with the same title and was compatible with the same figures, it was a completely separate experience.
This year Activision has decided that the technical limitations of the Wii can no longer support the main title that the current generation of consoles will feature.
So this year the Wii will be joining the ranks of the 3DS.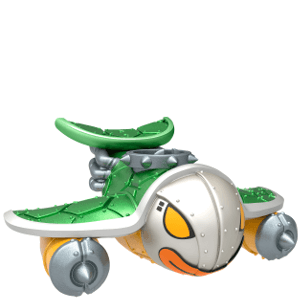 Additionally this year, the Wii/3DS game will have an alternate title: Skylanders SuperChargers Racing.
The Wii and 3DS versions of the Starter Pack will not only feature a different title, but they will feature even more console-specific, Nintendo Exclusive figures (more on this later).
The Wii and 3DS Starters Packs will include:
SuperChargers Dark Starter Packs
Now just in case having 3 different Starter Packs wasn't confusing enough, let's bring in the Dark Edition Starter Packs.
Just like we have 3 different Starter Packs, we also have 3 different Dark Starter Packs.
Standard Dark Starter Pack
This is the "main" Dark Edition Starter Pack. It will be available for: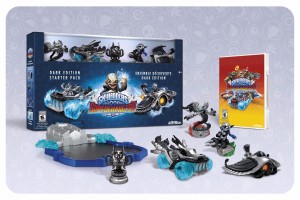 This Starter Pack will include:
This Starter Pack comes with the exact same game as its standard counterpart. It's only the figures that are different.
These Dark figures and Vehicles are what we call In-Game Variants. This means that they will appear Dark in the game. While they will have the same powers and abilities, they will register as a separate figure in the game.
Wii U Dark Starter Pack
The Wii U Dark Edition Starter Pack has a lot of similarities to the Standard Dark Edition, but there are a few unique pieces as well.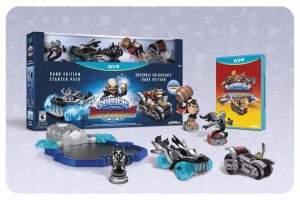 This Starter Pack will include:
The included game is the exact same game that is included in the Standard Starter Pack and the Standard Dark Starter Pack.
The difference here is that you get the Nintendo Exclusive Dark Turbo Charge Donkey Kong and his Dark Barrel Blaster. This is the only place you will be able to get these two figures.
Wii Dark Starter Pack
The Wii Dark Edition really starts to shake things up.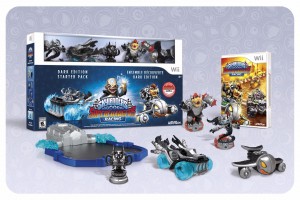 This Starter Pack will include:
The biggest difference here is that this pack comes with a different game: Skylanders SuperChargers Racing. This is the same game that comes in the Standard Wii and 3DS Starter Packs.
Additionally, this is the only place that you will be able to get your hands on Dark Hammer Slam Bowser and the Dark Clown Cruiser.
Finally, to make this pack even more unique, it is exclusive to Toys R Us in the US. (Exclusive to EB Games in Australia. Not exclusive to anyone in Europe.)
SuperChargers Portal
This is the first time since Skylanders Giants, that a new Portal is not required.
In fact, they have stated that you can use any existing Portal with Skylanders SuperChargers. (I have a feeling there may be some limitations with the older Portals, but at least they will be functional.)
The new Portal this year was designed with space in mind.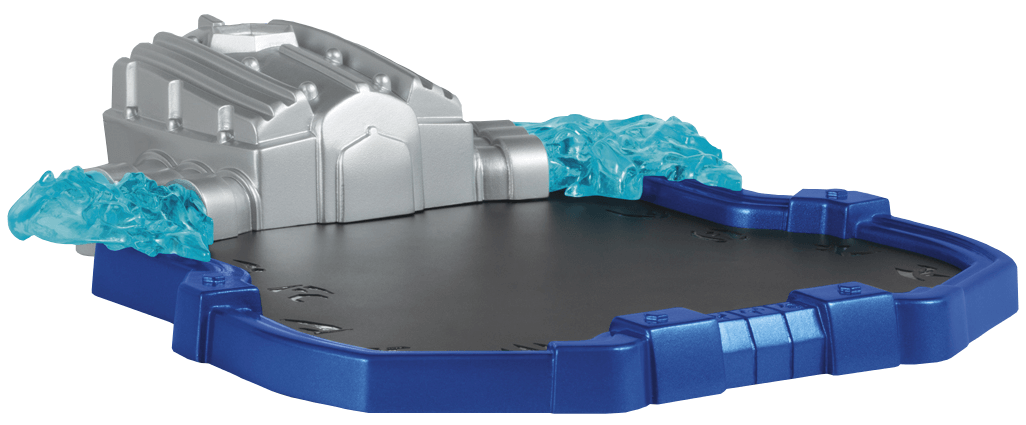 If you play solo this might not be a big deal, but imagine trying to fit 1 Vehicle, 2 Skylanders, and 2 Magic Items inside the ring of the Trap Team Portal.
It might be possible, but it's definitely a tight fit. The new design will give you some breathing room.
SuperChargers Characters
They've decided to keep things relatively simple this year.
No LightCore. No Minis. And believe it or not, from what they've told us so far, no Cores.
We're just looking at SuperChargers and Vehicles.
SuperChargers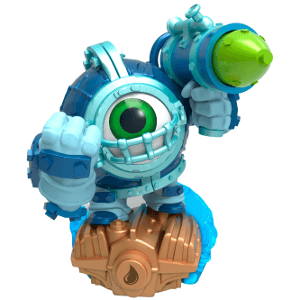 In total there will be 20 SuperChargers. This count includes:
10 New Characters
8 Re-imagined Characters
2 Nintendo Exclusive Characters
New Characters
The New Characters are similar to other gimmick-landers we've seen in the past (i.e. Giants, Trap Masters). There is one new character for each element, for a total of 10 New Characters.
Re-Imagined Characters
While I mentioned that we are not getting any Core Skylanders this year, you may still recognize some of these names.
However, even though they share a name, they are essentially new characters. These Re-Imagined Characters feature:
New Designs
New Moves
New Upgrade Paths
New Soul Gems
No Series Number (i.e. Series 1, Series 2, etc…)
So even if you didn't care for these characters in the past games, it might be worth checking them out now because they have been completely revamped.
Nintendo Exclusive Characters
Finally, there are two Nintendo Exclusive Characters.
Not only are these characters only available in the Nintendo Starter Packs (Wii, Wii U, and 3DS), but they can only be played with on Nintendo systems (Wii, Wii U, and 3DS).
SuperCharger Abilities
As you should expect, the SuperChargers have a number of unique abilities. These include:
Opening SuperCharger Gates
Modifying Vehicles
SuperCharging Their Signature Vehicle (Details below)
With the information they've currently provided, we know that there are SuperCharger Gates.
So far they do not seem to be elementally aligned which means that any SuperCharger will be able to open them.
We know that you will be able to collect Mods for each Vehicle throughout the game. However, only the SuperChargers actually be able to make the modifications.
Any SuperCharger can modify any Vehicle.
Signature Vehicles
Each SuperCharger figure is paired with a Vehicle. This is known as their Signature Vehicle.
When a Driver is paired with their Signature Vehicle, the Vehicle becomes SuperCharged. This gives the Vehicle a boost in power. (Currently unclear whether this is a weapons boost, shield boost, or just an overall boost in stats.)
Vehicles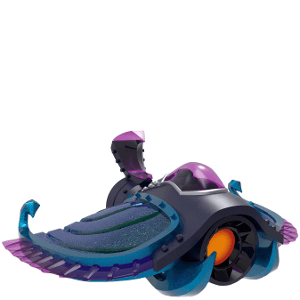 In total, there will be 20 Vehicles. There is one Vehicle for each of the SuperChargers.
While 18 of the Vehicles can be used on any console, there are 2 Nintendo Exclusive Vehicles (that pair up with the 2 Nintendo Exclusive SuperChargers) that can only be used on Nintendo systems (Wii, Wii U, and 3DS).
Unlike the SuperChargers and previous Skylanders figures, the Vehicles do not have any kind of base. This is intentional so that they look and feel more like actual toys outside of the game.
Most, if not all, of the Vehicles have some form of articulation. This could be wheels that turn, fins that flap, or propellers that spin. This is one more feature that is trying to put an emphasis on play outside of the game.
However, even though the Vehicles are meant to be played with outside of the game, they are not guaranteed to be waterproof. While they are sturdy, well-made toys I would keep them out of the bathtub.
Nintendo Skymiibo (Skylanders + amiibo) Exclusives
I've referenced the Nintendo Exclusive figures a number of times in the article above. Now it's time to take a closer look at these figures.
If you follow the "toys-to-life" genre, then you are probably familiar with Nintendo's amiibo line. So at first glance, it may seem odd that Nintendo characters are being used as Skylanders.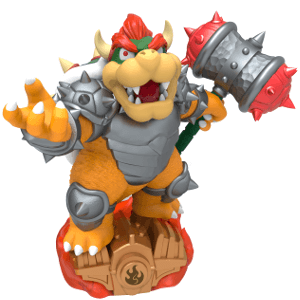 These figures are very special though.
The Skymiibo, as some fans have started to call them, have dual functionality.
These figures are being sold in stores exclusively with the Skylanders Starter Packs. However, with a quick twist of the base, they become amiibo.
In their amiibo state, DK and Bowser will have the same functionality as any other DK or Bowser amiibo.
You will be able to use them as amiibo whenever you want and with a simple twist of the base you can use them as Skylanders again without losing any data.
Overall, I think it's a pretty cool idea, but keep in mind: These figures will only be playable on the Wii, Wii U, and 3DS versions of Skylanders.
This is why they are being sold exclusively in the Wii, Wii U, and 3DS Starter Packs. They will not be available in Single Packs.
Eon's Elite
This year we also see the return of the Eon's Elite series.
For those of you unfamiliar with Eon's Elite, these are classic figures from Spyro's Adventure that have up to 3x their normal stats.
More power, more defense. Some might argue that they're invincible.
They do cost a little more, but they're designed for collectors as they even come in their own display case.
You can get all the details of this year's Eon's Elite here.
Trophies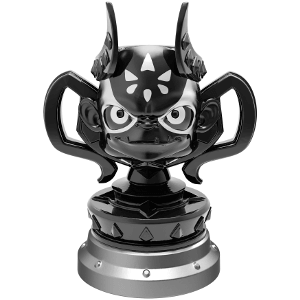 There will be a total of four different Trophies you can collect. These include:
The Land, Sea, and Sky Trophies will be available in Action Packs (described below).
Each of these Trophies will unlock 3 new Modes (SuperVillain Cup, Boss Pursuit, and Mirror Cup) and 2 new Race Tracks.
One of the new Modes will allow you to race against Boss Villains. If you beat them, you will be able to "capture" up to four of them in the Trophy and use them to race in other levels.
At this point it is unclear exactly what the Kaos Trophy will unlock, but it is only available in the Dark Edition Starter Packs.
Racing Action Packs
The Racing Action Packs seem to be taking the place of Adventure Packs and Battle Packs from previous years.
These packs will include:
1 SuperCharger
1 Vehicle
1 Trophy
The SuperCharger in this pack will always be paired with his Signature Vehicle.
The Trophies are explained above.
Online Play
It's finally here. We have online capabilities in Skylanders SuperChargers.
Online Co-op
For the first time ever you will be able to play through the main Adventure Mode online with a friend. The only requirement is that you need to be playing on the same type of console.
For example, if I'm playing on PS4 and you're playing Wii U, we will not be able to play together online.
Multiplayer Racing
Aside from the main Adventure Mode, there is an online Racing Mode.
Here you will be able to race with up to 4 players. Each race will contain 8 racers, but at least 4 of them will be computer players.
Voice chat will be available if the other players are on your Friends List, but otherwise you will not be able to communicate directly with other players in the game.