WARNING: It is likely that this article will contain far more information than you ever wanted or needed to know. However, I was super-excited about my first trip to E3 and spending a full week with Josh and Jason (from Toys For Games).
So while I do hope you enjoy reading about the journey, please know that this is also my way of documenting the trip for my own personal enjoyment.
Saturday – June 11, 2016
An Early Morning
The "fun" began at 3:30 AM on Saturday morning when my alarm went off.
Typically I'm a night owl so I really had to force myself to go to bed early the night before and I barely got four hours of sleep.
A Pleasant Surprise
My wife got even less sleep as she decided to stay up later and put together this nifty little case for my 3DS.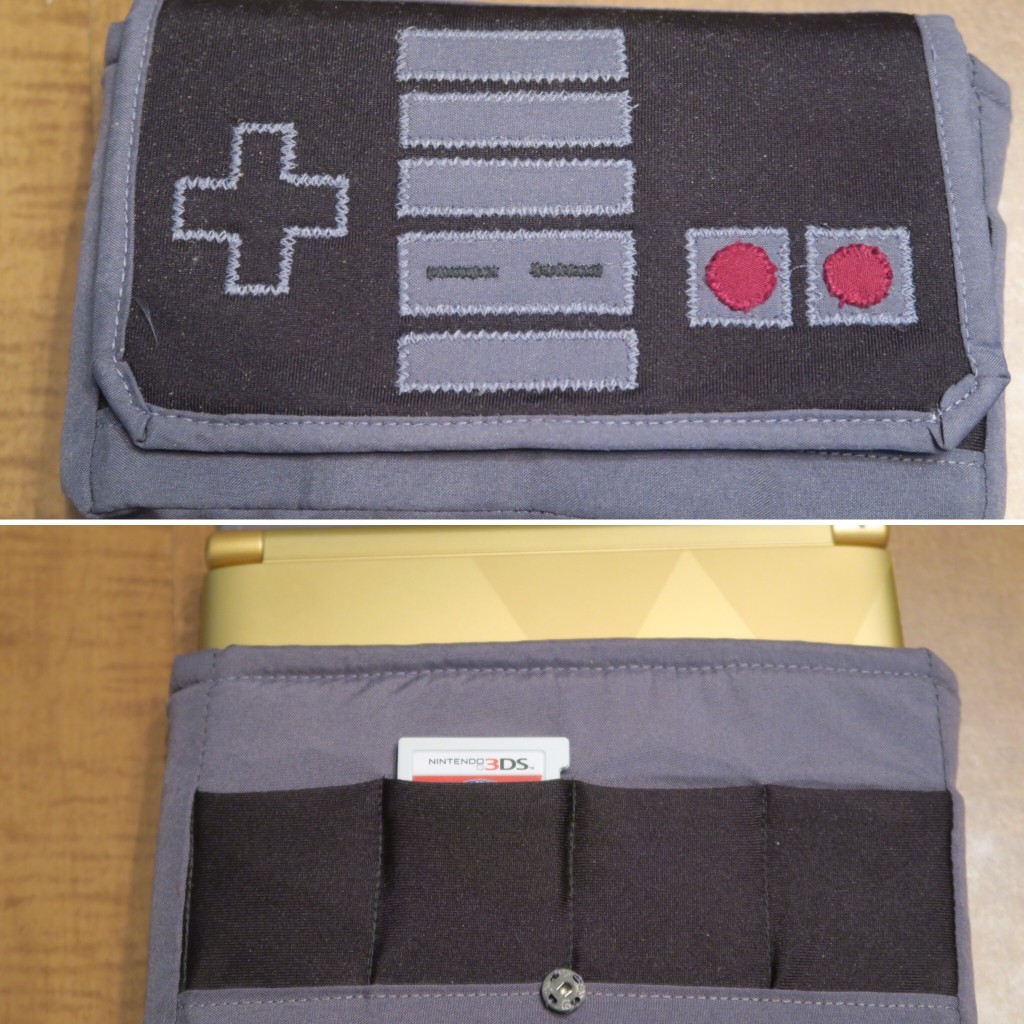 Apparently she had been planning on making it for Christmas, but she didn't know I was planning on taking my 3DS on this trip until I mentioned it the night before.
In any case, she stayed up almost all night to finish it and it worked perfectly. I love my wife.
The Big Flight
I had a 7AM flight out of Minneapolis/St. Paul (MSP). Unfortunately MSP is an hour and a half away from my house. That's why I had to get up ridiculously early.
But as excited as I was for this trip, I didn't really want to sleep anyway.
I landed at LAX about three and a half hours later, but we were a bit early and had to wait for a gate to open up before we could deplane. We spent a good twenty minutes on the runway just waiting.
While waiting I began to text Jason who had arrived (fresh from the Friday Night Lights reunion in Austin, Texas) about 10 minutes before me.
My delay on the runway though gave him plenty of time to collect his luggage and take the shuttle to meet me just outside my terminal.
Uber Time
Josh was scheduled to be our transportation throughout the week, but since he wasn't coming down until Sunday, Jason and I started working the local Uber drivers to get to our hotel.
Fun Fact: I don't know if it's legal, but a surprising number of Uber drivers also work for Lyft.
Saturday was mostly just a travel and get settled in day, but everyone's gotta eat. So after we dropped off our bags at the hotel, we got another Uber to (what should be) the number one stop on anyone's west coast trip, In-N-Out.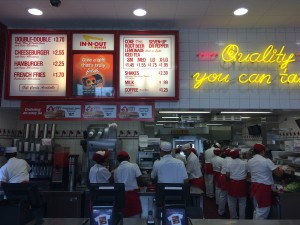 After we finished up there, we called our third Uber of the day to take us back to the hotel.
At this point there was still plenty of time left in the day and as you'll soon learn, Jason likes to fill up that time. A few hours later we ventured out once more which means we picked up our fourth Uber driver.
Game Time
For those of you who don't know, Jason enjoys watching soccer. However, he gets especially fanatical when watching the US National Team.
So when the USA was playing Paraguay Saturday night it wasn't good enough to watch the game in our hotel room. Jason had done his research and found the local bar where the American Outlaws meet.

If you don't know who the American Outlaws are, it's okay. I didn't either. Basically it's just a group committed to supporting the US National Soccer Teams. They designate a meeting place for each local chapter so all the fans can enjoy the game together.
Since it was just the two of us and the bar was crowded we shared a space with another group.
Partway through dinner someone made the comment that one of our table-mates resembled Matt Saracen (QB1 on Friday Night Lights). While I had to agree that the resemblance was there, this gave Jason the perfect opportunity to share his own recent Friday Night Lights experience.
In the end it was good to see the US win and there was a bar full of happy fans.
Then it was time to take our fifth Uber of the day back to the hotel.
Sunday – June 12, 2016
Delayed
We were expecting Josh to arrive late the next morning so he would be there in time to watch the EA Press Conference with us. That didn't happen.
We got a message from Josh early in the morning that the tire pressure sensor in his car had gone off yesterday and he wanted to get it checked out. He ended up getting new front tires and didn't arrive until later afternoon.
Thankfully he didn't miss much as the EA Conference didn't give us a lot to be excited about.
However, I will say that I am greatly looking forward to playing Battlefield 1. It might be the best game in the series since Battlefield 1942, potentially the best ever.
Questionable Connection
After checking into a hotel, the first thing I like to do is test out the WiFi connection. Not only did I want to catch up with the internet after many hours of travel, but I knew that we would be using the connection heavily during our stay so I wanted to make sure we didn't run into any problems.
In today's "connected" day and age it amazes me how much of an afterthought the WiFi connection is to many businesses.
Now it doesn't bother me so much if my local Walmart has a poor connection, but I don't think it's too much to ask for hotels (especially in major cities) to invest a little in their WiFi setup.
I don't care how big or small your hotel is, I've seen it done and I've seen it done well. So if I'm not able to sit in my room and check my email or stream Netflix or stream a live press conference without worrying whether or not my signal is going to drop halfway through, you've got some work to do.
It's 2016, get it done.
If you hadn't guessed already, our hotel's WiFi connection was a bit questionable. At its best it was acceptable, but that was only during the day when most people were out exploring the city.
As nighttime rolled around and people returned to their hotel rooms, there was a definite drop in quality. The connection started to lag and would occasionally drop altogether. We made it work, but I would hope that that's on someone's to-do list.
#FirstWorldProblems
Thankful
It was about this time that I decided I was very thankful that we flew in early and not just in time for E3.
Between Josh's car problems and figuring out how to best utilize a questionable internet connection, I was very glad that I didn't have to think about E3 quite yet.
Serenity No More
The two times I've had the pleasure of hanging out with Jason (without Josh) have been awesome. I think we get along well and enjoy each other's company.
However, Josh has a different connection with Jason that trumps any relationship that I may have started to build.
As much as they support the work that I do, as soon as Josh and Jason get together I become a sort of "third wheel" and the butt of every joke. It's a crazy phenomenon, but I don't think it's going to change any time soon. Their connection is too strong.
Just Another Conference
The second and final press conference of the day came from Bethesda.
For me it felt about the same as the EA conference. I don't play a lot of Bethesda games (although there are a few I'd like to try).
I will say I'm excited for the Skyrim remaster though. I greatly enjoyed playing through that game and would love to do so again on the PS4.
That wrapped up our second day though. Josh, Jason, and I were all together in one room again and it was just the beginning of a crazy week.
Monday – June 13, 2016
Casual Morning
Monday morning was pleasant as it was one of the few mornings that we didn't have to set an alarm super early.
Jason and I had appointments to play Battlefield 1 and Titanfall 2 at EA Play, but since Josh didn't have an appointment and our times overlapped with the Microsoft Press Conference we decided to skip EA Play.
It definitely would have been fun to get hands-on with Battlefield 1, but since that was my only interest I think I got more out of the Microsoft conference.
The Microsoft conference was pretty good. They kept it moving, which is always a good thing, but due to a number of leaks just hours before the conference, there weren't too many surprise announcements.
Nap Time
The second conference of the day started off well, but then it quickly took a turn for the worse.
Ubisoft started strong, but then they hit a slow gameplay demo. It really wasn't that exciting to watch and they kept playing for far too long. It didn't take long before they lost all the momentum they had built up to that point.
To make things worse this wasn't the only slow, drawn out demo in their presentation. It happened time and time again.
When all was said and done, Ubisoft had the longest conference of anyone and they might have shown off the least amount of games. Definitely not a recipe for success.
One Step Closer
After the Ubisoft conference finally ended, we rushed down to the Convention Center to pick up our E3 Badges.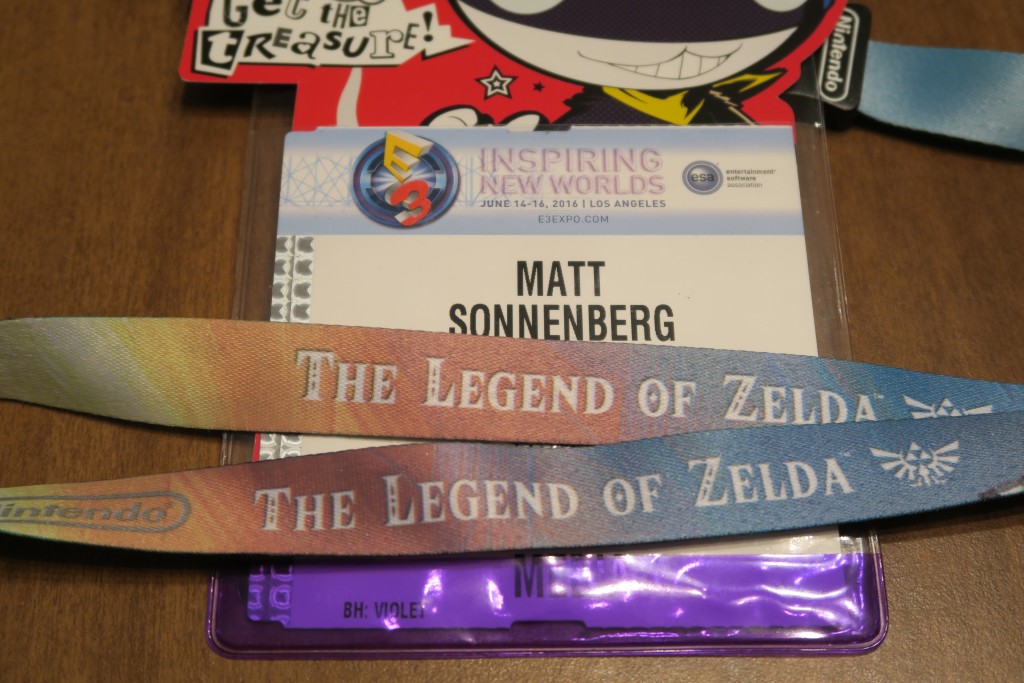 I wanted to get this done ahead of time so the next day I could focus completely on enjoying my first day of E3.
Everything went smoothly and we headed back to the hotel to catch the Sony Press Conference. This was the one I had been waiting for all day.
CRASHing the Party
While some people were debating whether or not there would be Skylanders news in the the Sony Press Conference, I had started writing the announcement article the night before.
Sony's conference started off fast and never slowed down. I have never seen so many games announced/previewed/demoed in such a short amount of time.
My only concern came about halfway through the conference and realized that after 30 minutes of hard-hitting, action packed, thriller-type game announcements like:
Farpoint (VR)
Star Wars Battlefront (VR)
Batman (VR)
How on earth are they gonna slow this train down enough to fit in a Crash Bandicoot (much less a Skylanders) announcement?!?
Well Sony found a way.
After a brief pause, the live orchestra started up again with the cheery, island-themed music you may remember from the late 90's. Shawn Layden (Sony Exec.) walked out on stage as a tropical background was revealed and Shawn's shadow appeared as Crash Bandicoot.
The perfection didn't stop there though. After nailing the entrance Shawn made a wisecrack about not wearing a t-shirt (at last year's E3 conference he was sporting a Crash Bandicoot t-shirt on stage), wisely chose to announce the remasters of the first three Crash Bandicoot games (this was directly following the announcement of a Call of Duty remaster), and then finished by announcing that Crash will also be making an appearance in Skylanders Imaginators.
The delivery was on point and led the audience in a way that allowed them to accept Crash becoming a Skylander.
If Crash as a Skylander had come any sooner, there would have been immediate outrage from the hardcore PlayStation fans and they wouldn't be listening to anything else that came afterwards. But by giving them the promise of not one, but three remasters, the fans were content and could accept the bonus of Crash visiting the Skylands.
I have to applaud whoever wrote the script for the Sony Press Conference. They did everything they had to and then some. Sony's conference was far and away the best conference of the week.
Dinner Break
Earlier in the day I had received a few reports that the Skylanders SuperChargers Happy Meal toys were being released in the US.
After the conference we were all ready for some food so we headed to a nearby McDonald's to see if we could get in on the Happy Meal action.
We were in luck. Jason and I each picked up the first two figures in the series and oddly enough all three of us ended up ordering Chicken McNuggets. Go figure…
Additional Viewing: Unboxing Skylanders SuperChargers Happy Meal Toys
The Crash Report
Sony had the final conference of the day. So once Jason and I had posted a number of articles, videos, and tweets for Skylanders fans like yourself, it was time for a brief podcast (Audio) (Video).
At this point we were already planning to record a regular episode of the Toys For Games Cast after we visited E3, but also reserved some time on Monday because we were counting on this Crash announcement coming from Sony.
Tuesday – June 14, 2016
The Fun Begins
Tuesday was another casual morning, but it was our last. Tuesday was the first official day of E3, but the doors didn't open until noon.
Thankfully Nintendo Treehouse Live started up at 9AM so we had plenty to keep us busy in the morning.
When we were all ready to go, we packed up our bags and headed off to E3. Well, actually we headed to the convention center to stand in line to wait for E3 to start, but you get the idea.
While waiting in this line I was amazed at how many familiar faces we saw walking by.
We purposely didn't schedule a lot of activities or meetings as we wanted to be flexible and see what opportunities arose. However, with Skylanders and Lego meetings scheduled for later in the day we wanted to see if we could get to the Nintendo booth first thing as that was projected to have the longest lines of the show.
They weren't wrong.
While waiting in this line though we found a few more familiar faces including Evilos. After chatting for a few minutes he gave us each one of these custom Disney Infinity pins that he made.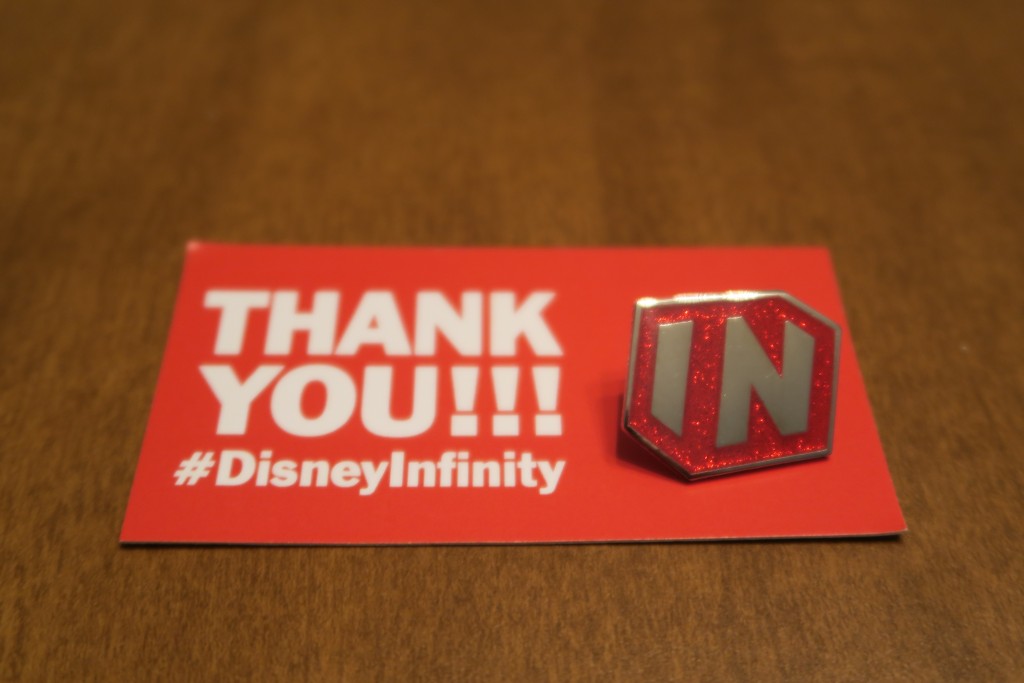 He a very talented artist and I'm glad to see that he's continually a part of the toys-to-life community.
The Nintendo Experience
So after standing in line for about an hour waiting to get into E3, we rushed into another line where we waited for nearly two hours just to get in to the Nintendo booth.
As you might expect, the wait was worth it.
As Zelda: Breath of the Wild was the only game that Nintendo brought to E3, this wasn't your standard booth. It was an experience.
As we approached the front of the line, we were handed a Golden Ticket. If we got two stamps on the ticket during the demo session we could turn it in for prizes.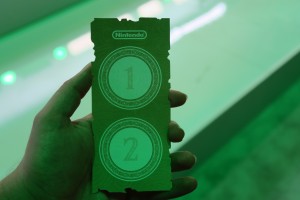 At the front of the line they were showcasing the new line of Zelda and Super Mario amiibo that they had just announced that morning. They look pretty spectacular and one of them is gaining some actual functionality in the new game.
Once inside the exhibit there were about 50 of us trapped in a small entryway. But even this entrance was themed for the new game. There was no visible way out except for the door we just came through.
There was a short video presentation (essentially the trailer we had seen earlier in the morning on Nintendo Treehouse Live), but at the end of the video a stone door slowly rose in the center of the screen. As the animated door opened, the screen rose simultaneously to reveal our exit right where the animated door had been. It was very slick.
Now fully inside the booth you are immediately immersed in the land of Hyrule. Every inch of this space (other than the hundreds of monitors) is thematically decorated. There was a castle wall, green grass on the ground, plants, and life-size statues of characters from the game.
If you stuck around long enough the occasional fog rolled through and there were even different weather effects. Halfway through my demo session there was a thunderstorm. It got dark and windy and there were flashes of lightning. It had everything except actual rain.
Setting aside, the demo of the game was amazing as well. It was a two part demo.
In part one we just got to run around a huge section of Hyrule, explore, and get used to the mechanics. The demo was on a timer and ran for about 15 minutes. Upon completion of this section we got one stamp on our Golden Ticket.
In part two we got actual gameplay. I believe we just started from the beginning of the game. There were items and objectives and it felt like a Zelda game, but at the same time, it didn't (it's hard to explain). This part of the demo was about 20 minutes long and upon completion we would receive the second stamp on our Golden Ticket.
During the second portion of my demo my guide was kind enough to point out that the man himself, Shigeru Miyamoto, was walking through the exhibit. He was in the next aisle over, I didn't have my camera ready, and he had an entourage of suits with him. So unfortunately, I wasn't able to stop him and get a picture, but it was a rare sighting that added to the overall experience.
When we were done playing we had the freedom to explore the exhibit and/or watch other people play for as long as we wanted. But on the way out we stopped by the ticket booth to claim our prizes. One stamp on your Golden Ticket would get you the t-shirt, but two stamps meant you got the exclusive coin in addition to the t-shirt.
As we were claiming our Zelda swag we also bumped into Andy Robertson of FamilyGamerTV. I had never met him before so it was a pleasant surprise. We only got to talk for two minutes or so, but we did make plans to meet up later.
Nintendo really did provide a great experience and I can't wait to get my hands on the final version of this game.
The Big Meeting
By the time we were done with Nintendo nearly half our day was gone.
We had a little bit of time to explore other parts of the show floor, but soon we had to head up to Activision's meeting room for Josh and Jason's appointment to view Skylanders Imaginators.
In the meeting prior to our they had apparently lost power, so there was a bit of a delay. But that worked out well because Robert Welkner from Coin-Op TV was on his way out so we got to chat for a few minutes. At the same time, Brandon Jones from Easy Allies (formerly from Game Trailers) was coming in for his meeting with Activision so we had a few minutes to chat with him as well.
Once they got things up and running again, they ushered us into a small theater room. Two Activision reps were there to give us a brief intro, demo the game for us, and answer a few general questions.
For some media outlets that presentation was enough, but naturally we wanted to delve a little deeper. So we took an interview with Jeff Poffenbarger, the Senior Executive Producer of Skylanders Imaginators.
The Other Big Meeting
Not long after our Skylanders meeting it was time to take a meeting with the great folks over at the Lego Dimensions booth.
At the beginning of the day I don't think we actually had a meeting set, but throughout the day we watched Jason work his magic and by the end of the day we meet with the head of Marketing and got to interview both of the Game Directors (Arthur Parsons and Jimmy McLaughlin)
The basic format of our meeting here was about the same as that of the Skylanders meeting.
They ushered us into a small room with a big screen. They gave a short presentation in tandem with a video presentation. Then afterwards we got to speak with Arthur and Jimmy who also provided us with the elusive Green Arrow figures.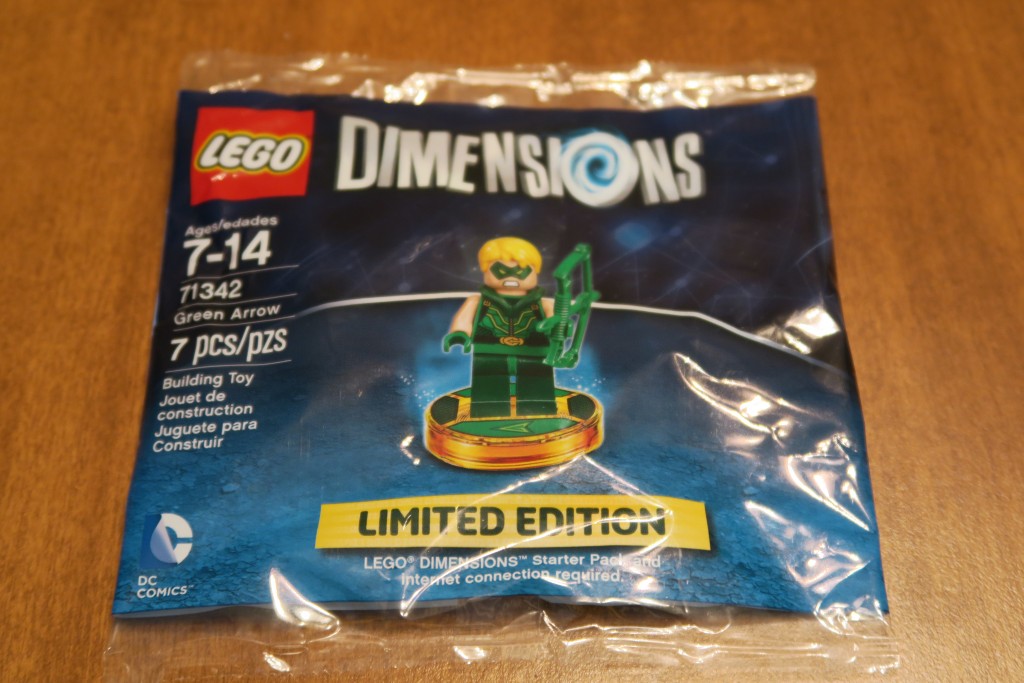 We wanted to stick around and get some hands-on time with the game, but it was already 6PM and that's when the E3 show floor closes. So it was time to call it a day and head back to the hotel.
But Wait, There's More…
As you may have caught on by now, when traveling with Jason there's not a lot of down time.
After a very brief stop at the hotel to drop our stuff off, we jumped back in the car and headed down to Anaheim. On the way we got in contact with Brett (one of the Executive Producers of Toys For Games).
We were headed down to Anaheim to catch an Angels game (as the Dodgers were out of town) and it just so happened that Brett lives directly adjacent to the Angels' parking lot. This was extremely convenient for us.
We walked from Brett's place right over to the stadium. As we were purchasing our tickets, the attendant kindly let us know that there was a free Flo Rida concert following the game so we should stick around.
We did.
I'm not a big fan of Flo Rida, but I think Josh summed up the performance nicely with these two tweets:
This dude is a damn pro at performing. Showmanship is top notch. #FloRida

— Josh *The Noyse* Brown (@TheNoyse) June 15, 2016
Extra, Extra Innings
As if a ball game and bonus concert wasn't enough to complete our night we decided to make one more stop at In-N-Out.
Even though Jason and I had already made a stop this trip, Josh was really craving it so we "gave in".
Now it was time to say goodnight to Brett and make the 60+ minute trip back to our hotel because we had another early morning planned as E3 Day 2 approached.
Wednesday – June 15, 2016
My Big Meeting
On the second day of E3, the first thing on the agenda was my personal Skylanders meeting.
Yes, I did sit in on Josh and Jason's meeting on Day 1, but when I scheduled my meeting Jason hadn't scheduled his yet and I wanted to ensure I got in to see Skylanders.
In any case, I decided to keep my meeting as well because it never hurts to get a second look at things and it gave me an opportunity to ask some additional interview questions.
Josh and Jason kept themselves busy on the show floor during my meeting and I met up with them again right after.
Four Experts Walk Into a Show…
I met up with them just in time to meet Andy Robertson again. This meeting was a bit more planned so we actually had some time to talk.
After chatting for a few minutes, Andy suggested that we shoot a quick video with the "experts" of the toys-to-life genre. It's hard to say no to that.
As we were wrapping up, Rob from Coin-Op TV caught up with us again. We only got to chat for a few minutes before Andy asked Rob to shoot a video with him as well. So that was our signal to head on out.
An Unexpected Guest
We explored a few of the smaller booths on the show floor before we decided to get some lunch. As we were heading to lunch, we met up with the second Executive Producer of Toys For Games, Jorge Torres.
Through his job Jorge was actually able to acquire a E3 Media Badge. So he not only had lunch with us, but he was able to join us at the show for the second half of the day.
Needless to say, but Jorge is a pretty cool guy and if you ever have the opportunity to spend some time with him, I'd recommend it.
A VR Nightmare
One thing I know Josh and Jason did in the morning while I was in my Skylanders meeting was set up appointments for a PlayStation VR demo.
The catch here is that you couldn't make appointments until the day of when the show floor opened. And since these appointments filled up fast all the only game they were able to try out was 100ft Robot Golf.
This also means that by the time I got out of my meeting and they let me know that they had made appointments the rest of the spots were taken. So I have yet to try out any kind of VR. I'm not super interested in it, but I would like to try a demo eventually.
In any case, I accompanied Josh and Jason to their appointments. Jason's demo went just fine, but Josh's was a bit more turbulent.
What I didn't realize, but makes a lot of sense the more I think about it, is that you need to calibrate the VR system each time you put it on.
Josh had done this as instructed and his demo was moving along smoothly. Just a few minutes into the demo though and that all changed. Josh's game glitched and threw the calibration way off.
Now keep in mind his eyes were covered because it's VR and because of the space we were in his ears were covered as well to fully immerse him in the experience.
I wouldn't recommend trying recreate this experience, but imagine that two of your five senses are cut off from the real world. Then in a split second everything you can see is thrown askew and no matter where you turn your head you can't bring it back into alignment.
I imagine you would have the same nauseating, I'm-going-to-fall-over-even-though-I'm-on-a-flat-surface feeling that Josh experienced first-hand.
While it definitely gave him a virtual reality, I don't think it's one he would want to experience again.
The Other Inquirer
After nearly two full days at E3, we had managed to see Jason #2 and the Nintendo Inquirer crew for just 30 seconds. It was glorious!
But they inevitably caught up with us and we spent some quality time together.
Side Note: For those who don't know, I don't want to give you the wrong impression. I love Jason, Lauren, and the rest of the Nintendo Inquirer staff. I love talking with them and hanging out with them. However, I (along with Josh and Jason) love picking on them every chance we get. It's become a thing…
Day 2 of E3 came to a close, but we weren't done with Nintendo Inquirer. So we decided to find some dinner.
There are plenty of restaurants in the vicinity of the Convention Center so we started walking. The first place we tried, at the suggestion of someone in group (I don't remember who because our group had grown from three to about ten in a matter of minutes) was booked for the night. So we kept walking.
Next door there was a sign for Lucky Strike (a bowling alley with a bar and restaurant). It sounded interesting so we followed the sign. The really odd part was that Lucky Strike was on the second floor.
I don't know about you, but I've never seen a bowling alley on the second floor of a building. I feel bad for whoever has the first floor property underneath them.
The Most Interesting Man
I mean no offense to anyone I know or anyone else that was on this trip, but TJ Cencula is definitely the most interesting man I have talked with in a long time.
Some of you may be familiar with Mii TJ and Dark TJ. Some of you may know him from his Warrior Showdown channel. Or you might know him from his Custom Conquest series that is now hosted on the Nintendo Inquirer channel.
I believe TJ is the only stunt person I know personally, but on top of that he is a very talented customizer and video editor.
So not only does TJ have two talents that are exciting to watch (stunts and customizing), but he has the ability to share his abilities in creative fashion with his video skills.
I had the distinct pleasure of sitting next to TJ throughout our dinner at Lucky Strike. I sincerely hope that we can meet again soon and perhaps someday we'll be able to find a project we can work on together.
Back to "Work"
After a relaxing meal with good company it was time to get back to work.
On Day 2 of E3 we had hit all the meetings we had scheduled and seen all the major sights. Now it was time to do some reporting or rather recording.
The Nintendo Inquirer crew headed back to their hotel to record their podcast and Josh, Jason, and I headed back to our hotel to record the Toys For Games cast (Audio) (Video).
E3 Wrap-Up
Until this year, I've never gone to any sort of big convention or trade show. We had PAX East at the end of April and now E3 in June.
So in both cases I was really only working with second-hand information. I really didn't know what to expect in terms of size…the size of the building, the size of the exhibits, or the size of the crowds.
Even though E3 reportedly had record-breaking attendance this year, I didn't think it ever felt TOO crowded. Granted I didn't really have anything to compare it to, but I was comfortable.
I was also amazed, considering how large the Convention Center was and how many people were there, at how many friends and acquaintances we ran into organically throughout the show. There were only a handful of people with whom we purposefully had to set up times to meet.
I am extremely thankful for the opportunity and experience and I hope that there will be more in my future.
Now that I have a much better idea of how these shows work, I feel much more confident in planning for next year.
Thursday – June 16, 2016
I Solemnly Swear That I Am Up to No Good
After last year, Josh and Jason had decided that two days was enough time to see what they wanted to see at E3. Since I had no idea, I deferred to their judgement while we were planning the trip.
So we skipped out on Day 3 of E3 and chose to head up to Harry Potter Land (a.k.a. Universal Studios Hollywood).
Jason and I are both huge fans of Harry Potter and although we've both been to Harry Potter World (a.k.a. Universal Studios Orlando and Islands of Adventure) we both jumped at the opportunity to check out the newly-built Harry Potter Land.
While Josh is not so much of a HP fan (he resolutely refuses to read the books and he's only seen the first movie) we brought him along because he was our driver for the week after all.
The day before we had also convinced the Nintendo Inquirer crew to join us at Happy Potter Land, so we met them at the park. This invite had some added benefits as TJ, in years past, had done some stunt work at the park and so he was very familiar with all of the ins and outs and best practices to get the most out of our one-day trip to Universal.
The majority of the morning was spent in Harry Potter Land. Naturally we hit up Harry Potter and the Forbidden Journey as soon as the park opened to avoid the lines.
Accio Butterbeer
Immediately after the ride we got started on our Butterbeer punch card. Jason had discovered that there was a total of six different ways to experience Butterbeer.
When I had previously visited Harry Potter World, I thought that I had tried all the Butterbeer delivery systems: Regular Butterbeer, Frozen, Warm, and Ice Cream. Since that time they have now added: Butterbeer Fudge and Butterbeer Potted Cream. So we were on a mission.
As it was already relatively warm outside, we each started the day off with a nice Frozen Butterbeer.
After that we spent some time exploring the shops and made sure to get a viewing of the Wand Selection Ceremony at Ollivanders.
From there we headed over to Springfield to check out The Simpsons Ride. Then we headed down to the Lower Lot and (four gigantic escalators later) hit the Jurassic Park, Transformers, and Revenge of the Mummy rides. (For the record, Jason #1 and Jason #2 both freak out when there are imaginary beetles crawling up your legs.)
Next it was time for lunch. So we headed back to Harry Potter Land to eat at the legendary Three Broomsticks.
While waiting in line we got to talking with one of the employees about Butterbeer. Sadly we discovered that Harry Potter Land has not yet implemented the Warm Butterbeer and the Butterbeer Ice Cream is only available from Florean Fortescue's Ice-Cream Parlour in Diagon Alley.
With this new information Jason amended our punch card goal from getting 6 of 6 to getting 6 of 4. Luckily the Three Broomsticks served three of the four Butterbeer options at this park.
So in addition to our meal, Josh, Jason, and I each got a standard Butterbeer and a Butterbeer Potted Cream. The Potted Cream was new for all of us. It came in a small canning jar of sorts. The base of the dessert had a pudding-like consistency, and was topped with a butterscotch sauce and whipped cream.
It was very rich and we needed something to wash it down with, but all we had at the time was more Butterbeer and that doesn't quite do the trick.
Repello Muggletum
At this time the Nintendo Inquirer crew headed off on their own, but we once again got to meet up with the mysterious Jorge Torres.
After a very filling lunch we wanted to take it easy. So we headed over to the Universal Backlot Tour. This hour-long ride takes you behind-the-scenes of Universal Studios. The tour is then interspersed with the Fast & Furious Supercharged ride and King Kong 360 3D.
As Studio Tour ended we decided it was time to head over and catch the next showing of Waterworld. This was my first time seeing the show and I was quite impressed by how much action they could fit into such a confined space. Very well done.
Mischief Managed
That wrapped up the list of major attractions that we came to see so we headed back to Harry Potter Land to do some shopping before we left. We had picked out most of our purchases earlier in the day, but we didn't want to carry them around on all the rides so we waited until the end.
Jason picked Voldemort's wand (along with two wand stands – check out Episode 78 for the full story) to go with his Harry Potter wand he had at home. I picked up The Elder Wand to join the Sirius Black wand I had at home. And Josh picked up his first wand.

We then headed to Honeydukes to pick up some Butterbeer Fudge. Then we made one last stop at the Butterbeer cart to bring our punch card total to 5 of 4. Didn't quite hit the goal, but it was a good day.
Butterbeer in hand, we said farewell to Harry Potter Land and began our trek back down to Anaheim.
Jason booked us at the (relatively) new Holiday Inn just a few blocks away from Disneyland. While it might be a slightly longer walk than staying at a Disney resort, the price is right and it had all the amenities I needed. This, of course, included a stellar WiFi connection. I would highly recommend this hotel to anyone planning a Disneyland trip.
Olé, Olé, Olé
Since the US National Soccer Team won their last game, they advanced in the tournament. This also meant that they had another game to play this week.
So as soon as we got into our room, Jason flipped on the TV to hunt down the game. Unfortunately, they did not have Fox Sports 1, but he was able to find the game on the Spanish channel. If you've never listened to a sporting event in Spanish before, you should definitely give it a listen. I think it's worth your time.
The US won again so we were all in good spirits, but we needed something to eat. Jason, being the Disney expert that he is suggested we head over to Downtown Disney. We wandered the streets for a while, did some window shopping, and then finally ended up at the Rainforest Cafe.
Another solid ending to another solid day.
Friday – June 17, 2016
I have been to Disneyland once before in my life. I was 10 years old. Needless to say a lot has changed over the past 20 years. For instance, California Adventure didn't even exist the last time I was in the area.
So I was very excited to see what I remembered and to see all the new attractions that Jason is always talking about.
Be…Our…Guest Guide
Friday morning we met Brett again just outside Disneyland. Brett has worked for Disney for the past 16 years and he was ready and willing to be our guide for the next two days.
Jason definitely knows his Disney, but Brett practically has it down to a science.
First Things First
Soarin' Around the World (formerly Soarin' Over California) opened to the public on Friday morning at California Adventure. We were originally thinking about hitting Soarin' on Day 1, but our plans changed and we decided to take over Disneyland on our first day.
But before we got started Jason found out that there was an Exclusive Soarin' Around the World pin at California Adventure. So, to ensure that he could get his hands on one, we went to California Adventure first (for about five minutes) then quickly exited and headed across the street to Disneyland for the remainder of the day.
A Full Day
QUICK TIPS: Utilize the app to monitor wait times. Use the FastPass system extensively, it's free. Make reservations if you want to eat at a sit-down restaurant.
Thanks to Brett's knowledge and guidance we were able to do and see everything we wanted and then some. At this point I can't remember the order in which we did everything, but here's a quick list of the attractions we hit throughout the day:
Indiana Jones Adventure
Jungle Cruise
The Many Adventure of Winnie the Pooh
Splash Mountain
Alice in Wonderland
It's a Small World
Matterhorn Bobsleds
Mr. Toad's Wild Ride
Peter Pan's Flight
Storybook Land Canal Boats
Big Thunder Mountain Railroad
Roger Rabbit's Car Toon Spin
Haunted Mansion
Pirates of the Caribbean
Buzz Lightyear Astro Blasters
Hyperspace Mountain (x2)
Star Tours
E Ticket Not eTicket
Throughout the day Brett kept mentioning E Ticket rides. I had no clue what he was talking about, but eventually I had him explain it.
To save you some time, here's a pretty good explanation from Wikipedia: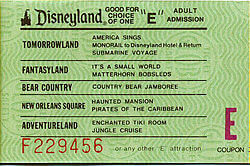 When Disneyland opened in 1955, visitors purchased an admission ticket to the park at the main gate booths and then purchased separate admission inside for each attraction. Less than three months after opening, Disney began selling "Value Books", each of which contained several of each coupon labeled "A" through "C", to supplement the pay-per-ride system. Attractions were then designated as "A", "B", or "C" attractions, and visitors needed to either purchase a specified coupon from a nearby booth or present the discount coupon book with the correct coupon attached. As determined by Disney, "A" attractions were the smallest or least popular, "B" attractions were more popular and/or more advanced, and "C" attractions were the most popular and/or most advanced. In 1956, Disney introduced the "D" designation for the most popular attractions and upgraded several former "C" attractions including Jungle Cruise to "D".



In June 1959, amid the completion of Disneyland's first major expansion, Disney introduced the "E" designation for the park's most popular attractions and made the new Submarine Voyage, Matterhorn Bobsleds, and Disneyland–Alweg Monorail "E" coupon attractions. Additionally, the Santa Fe & Disneyland Railroad, Rocket to the Moon, Rainbow Ridge Pack Mules, Rainbow Mountain Stage Coaches, Mark Twain Riverboat, Sailing Ship Columbia, Rafts to Tom Sawyer Island, and Jungle Cruise – all previously "D" rides – were upgraded to "E". "E" remained the highest attraction/coupon designation for over 20 years. Several "E" attractions were added throughout the 1960s and 1970s. In 1971 the coupon system was duplicated at the Magic Kingdom when it opened.



The coupon system was gradually phased out with the introduction of unlimited use tickets beginning in the late 1970s. This was largely due to competition from Magic Mountain, which, when it opened in 1971, allowed its visitors unlimited use of its attractions after paying the admission fee. By June 1982 coupons vanished entirely and were replaced by the present-day system where main gate admission entitles visitors to all rides and attractions, excluding coin-operated arcades.



Although they were officially called "coupons", visitors commonly referred to the admission media as "tickets", as they were often sold in "ticket books". This gave rise to the term "E ticket". Disney has continued to informally call its best attractions "E tickets", even those opened after the coupon system was discontinued, such as Splash Mountain, Indiana Jones Adventure, The Twilight Zone Tower of Terror, and Soarin' Over California. "E ticket" has survived the discontinuation of coupon admission at Disney theme parks and has transcended into the lexicon of popular culture.
We Finish Each Other's…Sandwichs
We had lunch at Cafe Orleans. Jason was desperate to get his hands on another Monte Cristo. Once again, I had no idea what this was.
After reading the description I actually thought it sounded kinda gross.

I mean, I don't typically put a fruit sauce on my meat, but with such a rave review I had to give it a shot.
I am very glad I did. Next time you're at Disneyland, I highly recommend trying out the Monte Cristo is you haven't already.
Making the Magic
Mickey and the Magical Map. It kinda sounds like some second-rate, straight-to-DVD movie that you would let your kids watch before their afternoon nap.
But at Disneyland, it's better than that.
It's a live show that melds some of your favorite Disney characters and songs into an original story. The show is well-choreographed and all the cast members put on a top-notch performance both visually and musically.
Breaking the Magic
We waited in line to ride Peter Pan's Flight for about 30 minutes. We finally made it to the front of the line. Brett and I got in the first car.
Josh and Jason were right behind us, but they were alternating cars with the FastPass lane so they had to wait and there was one car between us. However, Josh and Jason never quite got on the ride.
About 30 seconds into the ride, it stopped. The lights came on and there was an announcement over the PA system to let us know that they were experiencing some technical difficulties.
So I got to chat with Brett for 10 minutes while we were suspended over Skull Mountain. I also got a behind-the-scenes look at Peter Pan's Flight.
As you can see in the video, we had to ride the remainder of the ride with the lights on. They did give us additional FastPasses so that we could come back when they had the ride up and running again. We took advantage of this later in the day. Naturally, the ride looks a lot better with the lights off.
Experience the Night Life
After running around all day, we were ready to sit back and take in the night life.
First up was the Disneyland Forever Fireworks. Disney fireworks are one of the most vivid memories I have from previous trips to Disney parks. I was definitely looking forward to what they had in store.
If you just look at the fireworks portion of the show, I would actually say that I've seen better. However, this is a Disney show, so it's not just fireworks.
The way Disney manages to integrate fan-favorite songs in time with the fireworks along with the spotlights, laser projectors all the way down Main Street, and a few other surprise special effects that I won't spoil for you, is what really makes a Disney fireworks show special. It truly is a magical experience.
But Wait, There's More (Again)…
If you think the fireworks were the perfect way to end your night, just wait.
Brett found us a good spot on Main Street to watch the fireworks, but what I didn't realize is that this same spot became a great place to watch the Paint the Night Parade.
Once again, an amazing Disney experience. Gigantic floats, excited cast members, and they all came with appropriately themed Disney music.
Also, I'm still at a loss for words to explain the perplexity of Mickey's float at the very end of the parade. If you've seen it, I think you know what I'm talking about. If you haven't, do it.
When all was said and done we had spent a grand total of 16 hours at the park. It was time to get some sleep before we did it all again the next day.
Saturday – June 18, 2016
Saturday was our last full day in California and it did not disappoint.
We headed back to California Adventure. As I stated earlier, this park did not exist the last time I was here, so everything was brand new to me.
We got another early start and quickly jumped in line for Soarin' Around the World. I had no point of reference since I never got to experience Soarin' Over California, but it was very enjoyable.
Once again I do not remember the exact order we experienced the attractions in California Adventure, but here's the full list of what we were able to ride.
Luigi's Rollickin' Roadsters
Mater's Junkyard Jamboree
Radiator Springs Racers
Soarin' Around the World
Animation Academy
The Twilight Zone Tower of Terror
Goofy's Sky School
Ariel's Undersea Adventure
Mickey's Fun Wheel
Silly Symphony Swings
Toy Story Midway Mania
Let It Us Go
Early in the morning we had grabbed the (required) FastPass to attend the Frozen show. So after just a few rides it was time to line up for the show.
The show was 58 minutes (not an hour) long, but due to some technical difficulties it got off to a late start.
It was a very well done show. It included all the music you would expect and the lighting and special effects were spectacular.
All the cast members performed well, except unfortunately I was a bit disappointed with Elsa. I sincerely hope that she was just having a bad day because Disney should definitely be able to find someone who can perform a leading role much better than what we saw.
Regardless, overall the show was well worth the wait and I would recommend it to anyone visiting the park.
More Recommendations
On Brett's recommendation we had made reservations for lunch at Carthay Circle. It's definitely one of the classier (and pricier) restaurants in the park, but the food was amazing!
If you ever get the chance to eat here, you MUST get an order of the Signature Fried Biscuits. I think I could eat them all day.

I think we all got something different to eat, but I think everyone was pleased with the food.
Return to the Jedi
After hitting the reminder of the rides we wanted to see in California Adventure we still had a bit of time before the nighttime events. So we jumped back over to Disneyland to catch a few attractions we missed the day before. These included:
Star Wars Launch Bay
Path of the Jedi
Star Tours
A Power Far Greater…
While Brett was our guide and magic ticket in the parks for the vast majority of the two days we spent in the parks, Jason still has the occasional ace up his sleeve.
In this case the ace was a Disney credit card. (Nobody's really sure why Brett doesn't have one of these.)
In the Star Wars Launch Bay there was an exclusive character meeting for card holders. Jason's card gave us access to meet the mysterious Kylo Ren.
Now it was time to head back to California Adventure. We grabbed some highly anticipated Disney corn dogs for dinner then got in place for the World of Color show.
The show was good, but I wasn't quite as impressed as the night before with the fireworks and parade in Disneyland.
After the show Josh still had a bit of shopping he wanted to do, but for the most part that concluded our trip to Disney. I thoroughly enjoyed it all and will gladly go back anytime.
Sunday – June 19, 2016
Sunday morning Josh had a long drive ahead of him, so he got up extra early as he wanted to make the trip in one day.
Jason and I took a more leisurely approach. We got to sleep in a little bit longer, grab some breakfast, and then one last Uber back to the airport.
Four hours later I was back in Minnesota which meant that I still had a 90 minute drive home.
Trips are always a lot of fun, but there's always something special about coming home.
Thank YOU!
Thank you to everyone reading this. Without folks like you this site would not have lasted as long as it has. Without the site I wouldn't have met Josh and Jason. And if I hadn't met Josh and Jason I don't know if I ever would have had the courage to apply for E3. And if it weren't for E3 I wouldn't have gone on this trip.
Another big thank you to everyone that I met on this trip. There are a lot of awesome people in the industry and I hope that I will get to work with more of you in the future.